Dawg Pound haunted: Browns fans try to bury memories of QB failures
A mannequin with all of the names of the Browns starting quarterbacks since 1999 was not enough for diehard Browns fans Tony and Jill Timoteo. Instead, the Timoteos decided to celebrate Halloween with a graveyard of all 23 of the Cleveland starters, from Tim Couch all the way down to Josh McCown.
The Timoteos painted up headstones for each quarterback and painted on the years each played with the franchise. No detail was spared, as initials were used to separate the McCown brothers. Don't forget that Josh's younger brother, Luke, started four games back in 2004 as a rookie. The Timoteos even added a pair of gloves to Brian Hoyer's headstone, indicating that he's still lurking in the shadows.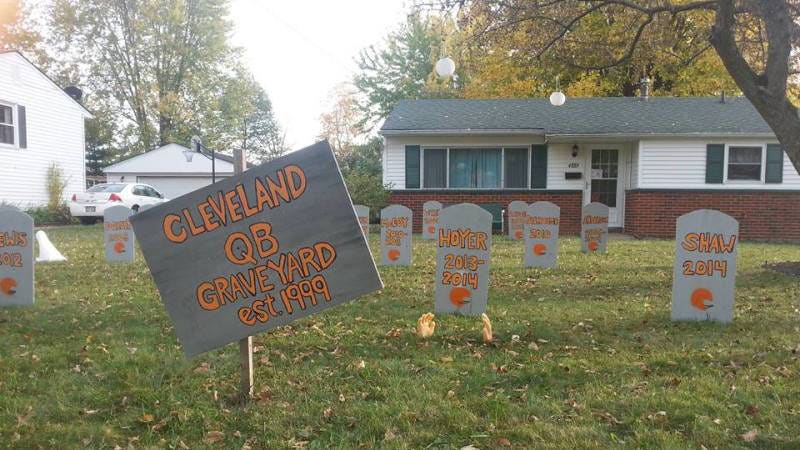 "We just kind of feel like he's still in the league, and he is going to come back to haunt us at some point. We don't know when, so he is really trying to raise from his grave," said Tony via Cleveland 19 News.
The Timoteos are hoping that Johnny Manziel also rises from the ashes. Two-year-old son Cooper is a big fan, and even still flashes the money sign that Manziel ditched this offseason. And at least it would save the Timoteos from building more tombstones for next year.
Cleveland 19 News|Cleveland, OH|News, Weather, Sports
h/t: Cleveland 19
MORE NEWS:
Want stories delivered to you? Sign up for our NFL newsletters.