Andy Benoit: "I don't believe that Carson Wentz is going to spend his entire rookie season inactive"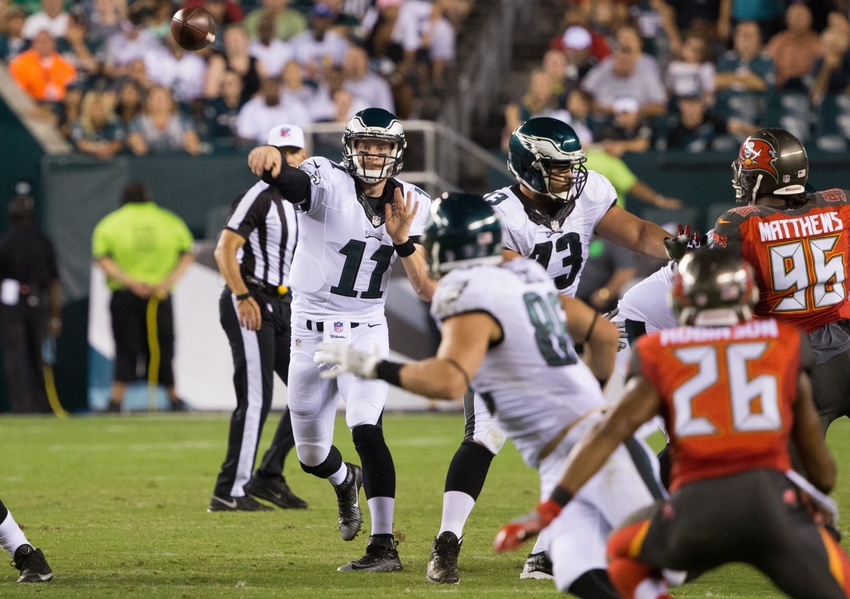 Just when you thought that the Carson Wentz stories had subsided, another one comes along.
It seems like forever since you heard that roar from the fans as rookie quarterback Carson Wentz stepped out onto the field for the first time against the Tampa Bay Buccaneers. It truly wasn't, but a lot has happened since then. There's been a rib injury, surprises, roster cuts and two other games. Stephen A. Smith of ESPN's hit television show First Take has argued with Max Kellerman over everything from when Wentz will finally take the reigns to whether or not the Eagles gave up too much to take him in the first place.
Let's settle that one once and for all. If a team needs a franchise quarterback, and that team believes that one is available, you do whatever you have to do to land him, period. With that being said, Andy Benoit  of Sports Illustrated's MMQB publicly made a statement that shows he's on the side of not only Stephen A, Smith, but on the side of every journalist, radio host and fan who believes the same thing. Carson Wentz's 2016 season will see the Eagles burn the rookie's redshirt at some point during the regular season.
Recently, in Benoit's "10 Things That I Think I Think" column, he recently offered a scouting report on the Eagles for their 2016 campaign. His number one take away? Wentz will become the Eagles' starting quarterback by Thanksgiving. His exact words? "I don't believe that Carson Wentz is going to spend his entire rookie season inactive"
Let's face it. No one thinks current starter Sam Bradford is a long-term answer at quarterback. Everyone knows that he's probably out after this season, and everyone is aware of his injury history. There's no guarantee that Bradford will even be on the field for 16 games.
What makes one really start to think is, even though Wentz comes from an inferior level of college football, he had total control of a pro-style offense and ran it masterfully. Bradford and Wentz have had exactly the same amount of time in Doug Pederson's new offense, and no one, at all, feels comfortable with trotting backup Chase Daniel out onto the field except, maybe, Pederson.
The belief was, once we heard that Wentz was definitely out for the pre-season finale versus the New York Jets, that the Buccaneers game would be our only in-game evidence in 2016 of what Wentz had a chance of becoming. Less than a few hours later, yet another voice says something to the contrary.
We'll just have to wait and see what happens.
This article originally appeared on