5 reasons Drew Brees extension is brilliant move by Saints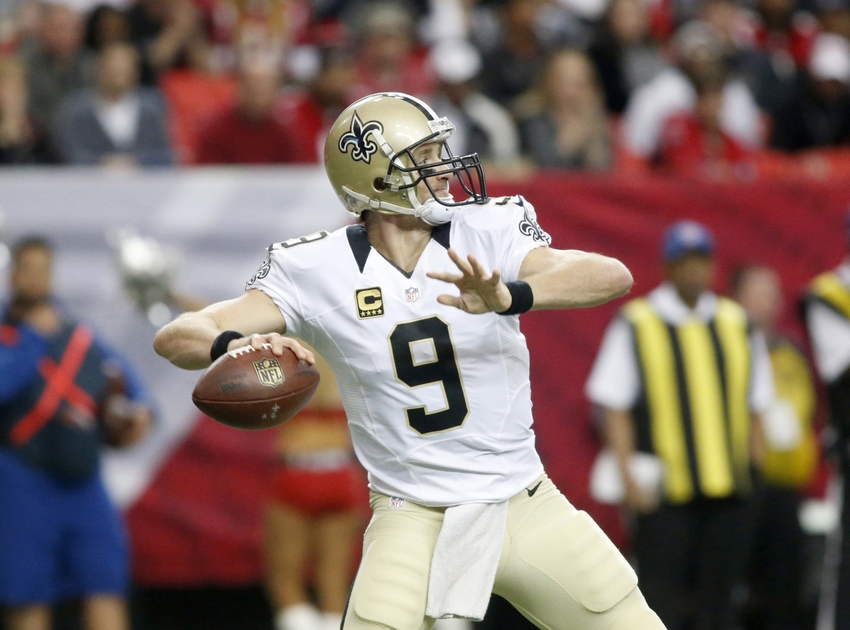 The New Orleans Saints have agreed to a five-year extension with 37-year-old quarterback Drew Brees. Here are five reasons this deal makes perfect sense.
The New Orleans Saints and veteran quarterback Drew Brees have agreed in principle on Wednesday to keep Brees with the Saints for the next five seasons. This deal has Brees making a guaranteed $44.25 million over the next two years, according to ESPN's Adam Schefter. Schefter's ESPN colleague Ed Werder points out the Saints can void the five-year extension after two seasons if they feel so inclined.
Brees is the best offensive player in Saints franchise history. He'll go down as a top-10 quarterback all-time. At 37 years old, Brees still has enough left in the tank to help guide the Saints through this transitional rebuilding process.
While many football fans may hate the deal, here are five reasons that Brees' five-year contract extension makes nothing but great sense for him and the Saints organization.
5. Brees plays his home games in a dome
This often gets overlooked, but playing eight games a year at home in a dome environment is huge for an NFL quarterback. Brees will have ideal field conditions and crowd noise shamelessly on his side every time he takes the field at Mercedes-Benz Superdome.
Crowd noise impacts the running game more than anything. The Superdome crowd will quiet when Brees needs to make an audible. On defense, crowd noise makes it harder for the opposition to run on the Saints.
Brees won't have to toil in bad weather in his 30s for a northern outdoor team. Playing in a dome will inflate his passing statistics, bringing confidence to a Hall of Fame passer with an inevitably declining skill set.
New Orleans is guaranteeing 16 more home starts for Brees at Mercedes-Benz Superdome, a place that he has won at a high level for over a decade. It brings out the best in Brees and we'll just have to wait and see how he plays away from New Orleans.
4. The Saints would be horrid without him the next three seasons
The Saints cannot afford to pull the plug on Brees as their starting quarterback just yet. They don't have the roster to sustain that type of locker room blow. Brees is the elder statesman in the New Orleans locker room and he will help guide the Saints through potentially a rough next few years.
New Orleans had a historically bad defense in 2015. The pass defense was about as bad as one could imagine an NFL team ever having. Having a quarterback like Brees who can win shootouts masks major defensive liabilities on the defensive side of the ball.
Brees is also the type of quarterback that elevates the play of his teammates. Can we really say the Saints have an offensive weapon that would be great in the NFL without Brees? Wide receiver Brandin Cooks is a compelling argument, but other than him, the offense lacks elite playmakers.
Even in his late 30s, Brees is a security blanket that the Saints could not think about parting ways with in 2016. They may not be great with him in 2016-17, but would have been one of the worst teams in football without him at quarterback.
3. Look at the quarterbacks in the NFC South
The NFC South has the best quarterback situation of all eight NFL Divisions entering 2016. Cam Newton is a reigning MVP for the NFC Champion Carolina Panthers. Matt Ryan has been a Pro Bowl-level quarterback for the Atlanta Falcons since 2008. Jameis Winston could very well be the answer to the Tampa Bay Buccaneers' quarterback woes.
To win the NFC South, a team has to be great at quarterback. The competition among the four teams' quarterbacks is always high. New Orleans could not afford to let Brees walk knowing they'll have six annual games against Newton, Ryan, and Winston for the foreseeable future.
There is a reason few great NFL quarterbacks ever hit the open market. A franchise quarterback's employer knows the value in stability at the most critical position on the gridiron. With Brees in tow, the Saints don't have to fret about the quarterback position for the next two-five seasons.
If Brees stays healthy, he's good enough to hang tough with three Pro Bowl quarterbacks in his own division. Let's not forget that the NFC has a franchise quarterback — on paper — in all 16 cities now that the Los Angeles Rams have Jared Goff and the Philadelphia Eagles have Carson Wentz.
Why would the Saints want to be the lone NFC team with franchise quarterback issues when they really don't have to? Re-upping with Brees gives the Saints confidence to compete at least for the next two seasons.
2. Deal can be voided after two seasons
Essentially, the Saints found away to getting around not being able to franchise tag Brees with this deal. Brees wasn't eligible to be franchise tagged after so many years of NFL service, including 10 with the Saints.
New Orleans is paying him in full for both 2016 and 2017. From there, it'll be a one-year deal sort of situation until Brees is no longer the player he has been. Brees can be cut by the Saints in 2018 at the age of 39. After the 2017 season, New Orleans won't have to pay Brees a dime if the Saints don't feel up to it.
Brees could play into his early 40s, but even elite NFL quarterbacks nosedive in productivity in their late 30s. Peyton Manning fell off a cliff in 2015, Tom Brady isn't young, and neither is Carson Palmer.
It's not an immediate need, but the Saints, Patriots, and Cardinals could be in line for a new franchise quarterback in the next few NFL Drafts. Arizona will probably be the first of the three to need a new quarterback. Brees and Brady could play into their 40s with their passing styles, but if Brees can't be a productive NFL quarterback after 2017, the Saints have no incentive not to cut him.
1. Gives Saints more time to find suitable long-term replacement
With more and more college football offenses giving way to the spread, the NFL is getting fewer and fewer quarterback prospects that played in a pro-style offense. The next two 'can't-miss' franchise quarterbacks that will headline NFL Drafts are Clemson's Deshaun Watson and UCLA's Josh Rosen.
Watson can enter the 2017 NFL Draft after his junior season for the Tigers. He has dual-threat capabilities. He is an accurate passer that can run a pro-style offense but seems too slight of built to start in the NFL at 22 years old.
Rosen is only a sophomore, so he can't go pro until 2018. The UCLA signal caller is slight as well, but can make all the throws and isn't afraid of tough competition. He'll need two more years of growth under center, but he looks to be the real deal for Jim Mora's Bruins.
Though Watson and Rosen have franchise quarterback potential, neither are guaranteed to be NFL successes right off the bat. By extending Brees, this removes the Saints from being forced to draft and start either rookie right away in 2017 or 2018.
Brees would be an ideal player/coach for either of these franchise quarterbacks. They won't have to start rookie season Week 1 like Wentz has to in Philadelphia. They can grow and mature for at least a year under Brees' guidance.
Should the Saints cut ties with Brees after 2017, there is another quarterback to keep an eye on. While he's only a true freshman, Georgia Bulldogs quarterback Jacob Eason has the build and the arm strength to play Week 1 in 2019. If his college career pans out, Eason is the type of quarterback the Saints can rally behind in 2019, regardless if Brees is still in New Orleans.
This article originally appeared on