3 reasons why Teddy Bridgewater will return better than ever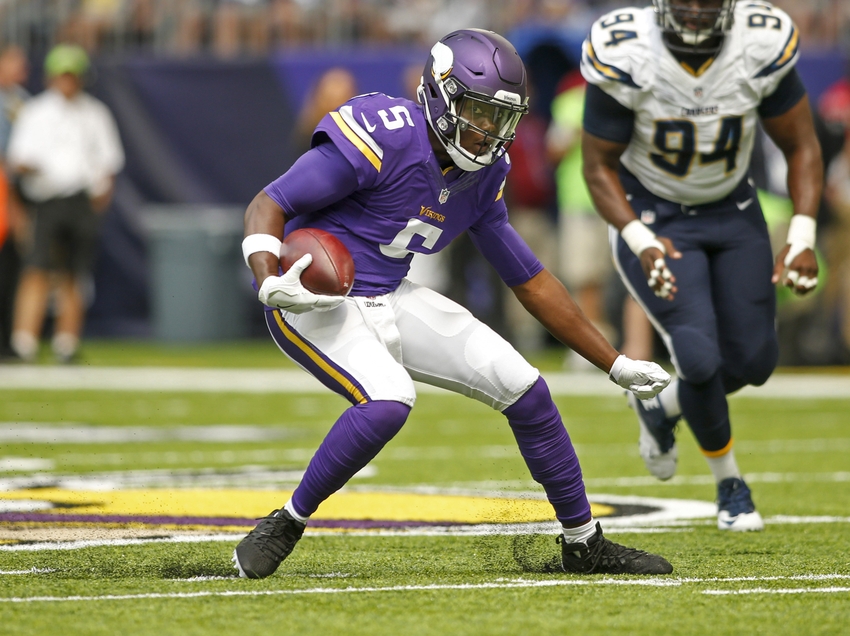 The Vikings QB may be down for the count in 2016, but there are plenty of reasons to believe in him again in 2017 and beyond.
The reportedly gruesome injury to Minnesota Vikings quarterback Teddy Bridgewater suffered during practice on Tuesday afternoon sent the Vikes into immediate scramble mode for 2016. And while it remains to be seen what the team does in regards to fortifying its now unsteady quarterback situation, one thing that is for certain is that Bridgewater himself has a long road of recovery ahead.
Here are three reasons why Bridgewater will be back better than ever:
#3) It is a gruesome injury, but not a death sentence
The likelihood of an athlete suffering an ACL injury is much higher than that of an everyday person, increasing from a 1 in 1,000 rate, upwards to 250 to 350 times that for athletes. Among those athletes, skill position players in football –such as Bridgewater at quarterback— have proven to be among the most susceptible to this injury.
So that is not to say that it was an inevitable outcome for him due to the position/sports he plays, but rather that is something that there is plenty of experience and rehab knowledge to help him bounce back from. Currently Jordy Nelson and Kelvin Benjamin are returning from similar injuries suffered a year ago at relatively the same time frame, and both are set to start Week 1 for their respective teams. Among quarterbacks that have successfully returned from ACL injuries are Sam Bradford, Robert Griffin III, Philip Rivers and Tom Brady, all of whom are still starters on their respective teams.
It is certainly unfortunate timing for such an injury, but the nature under which he suffered it (the non-contact variety) says that it was potentially just a matter of time. The knee dislocation he suffered along with the torn ACL is also an unfortunate, yet returnable from, injury and if early reports on the extent of the injuries are accurate, nothing besides Bridgewater's 2016 availability should be considered called off.
What's more is that with a year of rehabbing and strengthening, there is room for the already athletic 23-year-old to come back even stronger by the start of next year.
#2) He has plenty of talent around him

While losing a year on the field at such a young age is an unfortunate delay in the development of a young quarterback, Bridgewater also stands to return to an increasingly talented receiving corps in 2017. The Vikings have dedicated parts of each of their previous three Drafts to improving their wide receiving corps, and thus far the results have been promising. Charles Johnson, Stefon Diggs, Jarius Wright and 2016's first round pick Laquon Treadwell all have upside that should continue to grow this season, regardless of who is throwing them the ball (capable, but non-flashy vet Shaun Hill at the moment).
Diggs made a big splash on the season last season, catching 52 balls for 720 yards as rookie, while finding the end zone four times. He was Bridgewater's favorite target last season, being targeted six or more times in five games.
Diggs' breakout follows in the footsteps of a similar debut for Johnson in 2014, when he had 475 yards and a pair of scores. He regressed a year ago, but is in position yet again to prove himself atop the depth chart across from Diggs this year.
The hope is that Treadwell, whom the club took with the 23rd overall pick in this year's draft, can quickly take to the league as well and cap off the group with another big play threat. As a junior at Ole Miss, he was an All-American, making 82 receptions for 1,153 yards and 11 scores.
This is a group who will ultimately be made even better by Bridgewater's return, but will be a superior product for him to ease back into game shape with as well. With the 27-year-old Johnson being the 'elder' statesman of the group, it could still become one of the most dynamic young group of pass-and-catch pairings in the game in short order.
#1) Bridgewater has a high football IQ
Despite the fact that injury took away his knee, one thing that cannot be taken from Bridgewater is his football IQ, which has long been his greatest weapon. He is a smart play caller and pass thrower, who has shown a noticeable development curve in each season of his career thus far. It was his development as a passer that allowed the Vikings offense to expand beyond just being the "Adrian Peterson Show", and it has been this element that has allowed him to so quickly blend his natural athletic ability into opening up opportunities down field.
Bridgewater does not rely on a cannon of an arm to make plays; rather he learns defenses and then exposes matchups. For his career, he has posted a completion percentage of 65% or greater in both of his first two seasons, which proves is acumen to understanding the game is strong. No other QB drafted along with Bridgewater can boast that number yet, nor can they claim the 17 victories that he has accumulated thus far as a starter.
Bridgewater's greatest asset along the road to recovery is his attention to detail and feel for the game. While the path to rebuilding his strength –and comfort zone— will be lined with challenges, he has an understanding for the game that he can still continue to hone from the sideline, in tape review and in meetings that will allow him to continue to improve while being inactive.
This article originally appeared on