2017 NFL Draft: UCLA Conor McDermott Scouting Report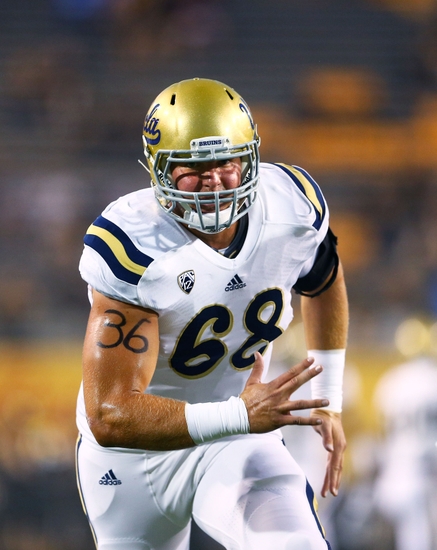 UCLA's Conor McDermott is one of the tougher 2017 NFL Draft offensive line prospects to develop a comfort level on his evaluation.
Conor McDermott features good length for the position with the long arms needed to keep defenders off his frame. He's a hard worker who fights for position and works to the whistle. There are times where he looks like a solid prospect, but others where he looks undraftable.
The biggest issue with McDermott's game is that he's limited as an athlete. He struggles to play with balance and lacks fluidity. This makes it tough for him to consistently protect the quarterback—especially when working in space.
He lacks the foot speed to keep quicker defenders from reaching the edge. His balance issues also make him susceptible to the inside counter move. McDermott's weaknesses were very noticeable during this year's game against Texas A&M.
No In-Editor Preview for 120 Sports Videos
Video Details
ID: 198944956
Source: 120 Sports
Myles Garrett completely dominated their matchup by using his speed to gain the edge, over powering him on bull rushes and easily countering inside. Garrett is a special player who dominates a lot of matchups, but this gives a glimpse of what type of issues McDermott will have at the next level.
A way for him to make some improvements would be to do a better job keeping his pads down. McDermott tends to play too high and linear. This exposes a lot of his frame and hurts his overall balance.
More from With the First Pick
If he commits to gaining better leverage and keeping a wide base there's a chance he could fix some of his problems.
McDermott isn't a complete lost cause as he does show skills that will translate to the next level. The most noticeable are his commitment to gaining inside hands and use of angles. He does a nice job of quickly getting out of his stance which helps him gain proper position.
His fit in the NFL is tough to project because there are too many high-end pass rushers who will give McDermott problems. He's capable of holding his own against average rushers, but NFL coaches are smart enough to take advantage of his weaknesses.
McDermott will get some draft love thanks to his size. He's the type of prospect coaches will look at and see potential.
Current Draft Position: 5th Round
This article originally appeared on