2016 GoPro Grand Prix of Sonoma Qualifying Results: Pagenaud Steals Pole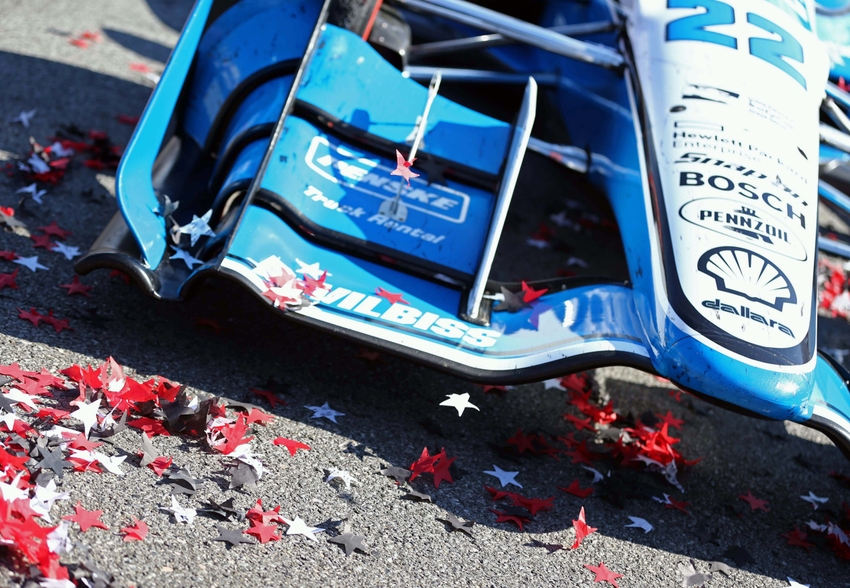 IndyCar championship leader Simon Pagenaud stole the pole position for Sunday's GoPro Grand Prix at Sonoma – and possibly a title hope – from Will Power.
For a while Saturday, it seemed like Will Power would capture the pole for IndyCar's 2016 GoPro Grand Prix of Sonoma and give himself an early advantage over teammate Simon Pagenaud in their title fight. Then Pagenaud came roaring back, and swiped the Verizon P1 Award from Power.
The Frenchman also set a new single-lap Sonoma track record. His time of 1:16.253s beat Power's previous record of 1:16.259. As for Power, he fell all the way to fourth on the grid as fellow Team Penske drivers Helio Castroneves and Juan Pablo Montoya surpassed him during the Firestone Fast Six.
Pagenaud took the pole from Castroneves by just 0.156, and led each round of Saturday's on-track action, perhaps setting the tone for Sunday's final race.
While he's obviously pleased with the result, he's also mindful of how the leeway between him and his inaugural championship can work against him.
"It's a good position, but it's also a bad position because I can't control what's going to happen behind [me], when people are going to start to pit," said Pagenaud during his post-qualifying press conference.
"I can't see what anyone is going to do. I'm going to go through Turn 11, and people can pit behind me. I can't control that."
Power is familiar with that concern; he's won five poles at Sonoma. But he came up short on Saturday and afterward, said he simply couldn't get what he needed from the car to make it six. The 2014 IndyCar champion believes tire degradation played a heavy role in the results.
"We just really pretty much didn't have it all qualifying," he said. "Just thereabouts. I think we've been like that in practice, as well. Just hanging in there. A top-six car. Same in qualifying. Definitely were worse on the red tires."
Castroneves shared the same sentiment regarding the Firestone red tires, explaining that the softer compound increased the dancing abilities of his car on the circuit.
"I didn't have quite the way I wanted, especially when you put the reds," Castroneves said. "The car was moving around."
Graham Rahal came up just five-hundredths of a second shy of interrupting the Penske front bloc; he'll begin Sunday's race from fifth. Ryan Hunter-Reay will line up alongside him in sixth position.
Scott Dixon, who is Sonoma's defending champion and winner of the last two races at Sonoma, salvaged a seventh-place finish despite technical difficulties. Dixon's day became complicated between the first and second sessions.
After he reported feeling major vibrations coming from the car, his crew took the liberty of replacing the brakes on the No. 9 Chip Ganassi Chevrolet, eating a significant chunk of time from his second session. Dixon would ultimately miss the Fast Six by just 0.003 seconds.
"We had some major vibrations on the qualifying run with the black tires, and then when we switched to the red tires it got even worse," he lamented. "I was actually surprised we were able to get through to [Segment 2]. We've been struggling with overall grip.
"The times are just so close. The Verizon IndyCar Series is just so close and cutthroat these days. You can miss by just a little and be on the outside looking in."
Hometown sensation Alexander Rossi — who had never driven at Sonoma until last week's test sessions — will start just beside Dixon in eighth. Sebastian Bourdais and Josef Newgarden rounded out the Top 10 from Saturday's qualifying session.
Below are the complete qualifying results for the 2016 GoPro Grand Prix of Sonoma:
1. (22) Simon Pagenaud, Chevrolet, 01:16.2565 (112.594)
2. (3) Helio Castroneves, Chevrolet, 01:16.4134 (112.362)
3. (2) Juan Pablo Montoya, Chevrolet, 01:16.5400 (112.177)
4. (12) Will Power, Chevrolet, 01:16.6659 (111.992)
5. (15) Graham Rahal, Honda, 01:16.7149 (111.921)
6. (28) Ryan Hunter-Reay, Honda, 01:16.9132 (111.632)
7. (9) Scott Dixon, Chevrolet, 01:16.5700 (112.133)
8. (98) Alexander Rossi, Honda, 01:16.5840 (112.112)
9. (11) Sebastien Bourdais, Chevrolet, 01:16.6115 (112.072)
10. (21) Josef Newgarden, Chevrolet, 01:16.8142 (111.776)
11. (7) Mikhail Aleshin, Honda, 01:16.8909 (111.665)
12. (83) Charlie Kimball, Chevrolet, 01:16.9627 (111.561)
13. (10) Tony Kanaan, Chevrolet, 01:16.9481 (111.582)
14. (27) Marco Andretti, Honda, 01:16.9288 (111.610)
15. (14) Takuma Sato, Honda, 01:16.9661 (111.556)
16. (26) Carlos Munoz, Honda, 01:17.0314 (111.461)
17. (41) Jack Hawksworth, Honda, 01:17.0823 (111.387)
18. (8) Max Chilton, Chevrolet, 01:17.1310 (111.317)
19. (20) Spencer Pigot, Chevrolet, 01:17.3052 (111.066)
20. (5) James Hinchcliffe, Honda, 01:17.1926 (111.228)
21. (18) Conor Daly, Honda, 01:17.6771 (110.535)
22. (19) RC Enerson, Honda, 01:17.3264 (111.036)
The 2016 GoPro Grand Prix of Sonoma takes place Sunday, Sept. 18 at 3:30 p.m. PT/6:30 p.m. ET from Sonoma Raceway. The race will be televised on NBCSN.
More from Beyond the Flag
This article originally appeared on