The Anatomy of Washington Husky Quarterback Jake Browning
Bret Stuter/FanSided via The Husky Haul

Fansided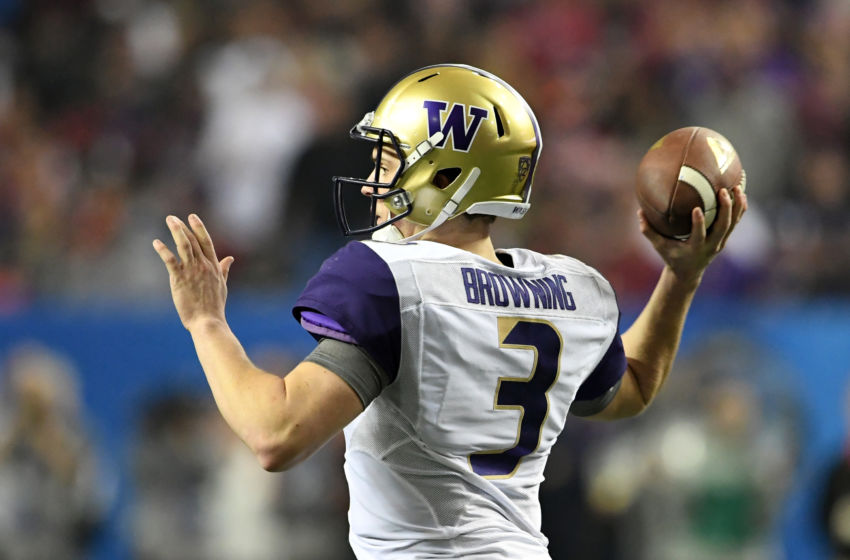 Washington Husky Quarterback Jake Browning is recovering from surgery on his throwing shoulder. Here's why this is very good news
Quarterback Jake Browning led the Washington Huskies to the NCAA football playoffs. There, he ran into a tough Alabama defense and the team lost the game 24-7. But unknown to many, Browning was not up to 100%. In fact, he had injured his throwing shoulder early in the season in the home victory over Arizona State.
The following week, the Huskies would lose to the visiting USC Trojans 26-13. They would not lose another game until the playoffs.
In retrospect, his performance in the Arizona State and USC games were below average for the young hurler. With a season average rating of 167.5, his Arizona State win came in at 61.4 percent completion for 338 yards, two touchdowns and two interceptions for a rating of 131.8. The following week, he completed 37.5 percent of his passes for 118 yards two touchdowns and zero interceptions for a rating of 106.3. In the playoff game facing Alabama, he completed 52.6 percent of his passes for 150 yards, one touchdown and two interceptions for a rating of 83.9. All efforts contributed to the two season losses.
What We Know
But an injury to the throwing shoulder can lead to below average performances. While we do not know the exact nature of the injury, we do know these facts:
I: The injury was to his throwing shoulder
II: The injury happened against the Arizona State Sun Devils on November 19
III: Surgeons operated on Browning's shoulder in mid-January 2017
IV: Recovery is estimated at six weeks. That means his sling will likely come off at the end of
February 2017.
V: After healing, Browning will need to rehab his shoulder. That could mean several
additional weeks of building strength and flexibility.
So in summary, the injury is relatively minor. But based on the evidence, what is the most likely injury?
Minor Shoulder Surgery
In summary, there are three types of soft tissues that could be mended with a minor surgical procedure: cartilage, ligaments, and tendons.
While cartilage is the plastic-like tissue that covers the ends of bones, acting like lubricant and shock absorbers, ligaments are the soft connective tissue that holds the joint together. Secondly, tendons are the soft connective tissues that anchor muscles to bones and joints. In the case of a minor shoulder injury, any of the three tissues could be injured.
Healing any of these types of injuries are similar in arthroscopic surgery. So let's discuss the process:
Phases
Phase I : Post Operative recovery – This is the period of time immediately following surgery. Browning will need to keep the shoulder as immobile as possible and to keep his arm in a sling. The use of the sling keeps the weight of his arm off of the soft tissues which assists in the healing process. (through Feb 2017)
Phase II: Passive Physical Therapy – For the next six to eight weeks, Browning enters passive physical therapy. Now he will work with a physical therapist to perform gentle, assisted exercises to help regain movement and range of motion in his shoulder. Because damaged tissues are still actively healing, his shoulder joint needs to be supported during movement. (Mid April 2017)
Phase III: Active Physical Therapy – Now the therapy changes from motion to strength. Browning will be tasked with building his shoulder strength gradually to avoid reinjury, but at an intensive pace to meet the demands of the 2017 football season. While this period will progress quickly, the minimum is likely to be three months time. (End July 2017)
Husky Football Schedule
The Washington Husky Spring Football game will be held on Saturday, April 22nd. It's highly unlikely Jake Browning will be playing in that game. The team will likely have Tony Rodriguez, Jeff Lindquist, Blake Gregory, Daniel Bridge-Gadd and K.J. Carta-Samuels active for the game. The team also has 2017 recruit QB Jake Haener in the mix for the 2017 season.
It is very unlikely that Jake Browning will suit up for this game.
The Huskies' regular season begins on September 1st on a coast to coast road trip to Piscataway, New Jersey to face the Rutgers Scarlet Knights. As of now, Browning will very likely be suited up and ready to go for the season opener.
With his shoulder fully healed, Browning should be far more effective to close out this season. It was the Seattle Times' Adam Jude who first reported the shoulder injury to quarterback Jake Browning in mid January. He followed up with a second article on February 1 to confirm that Browning's status was determined to be "doing well" by head coach Chris Petersen.
"We've already had a plan — you know, Jake is one of those guys that just loves to throw and throw and throw," Petersen said. "So from really when he got here, we've been trying to back him off (after) these long years, to make sure. And so he should be fine for spring ball, but also want to give these other (quarterbacks) some really good work in spring ball." – Chris Petersen per Adam Jude's interview
And so, there was a little ambiguity here. Yes, Jake Browning is right on track. Yes, He will be fine for spring ball. He may even be throwing by then. But don't panic when he isn't suiting up for the annual Spring Football game.
He will be good, but he won't be THAT good.
This article originally appeared on