The Hit List: The Top 5 moments from UFC 180: Werdum vs. Hunt
November 16, 2014

MEXICO CITY -- The UFC made its first trip to Mexico City and despite injuries to some of the bigger-name talent on the card, the action did not disappoint.
Fabricio Werdum won the interim UFC heavyweight title with a second-round TKO of Mark Hunt, and Kelvin Gastelum announced his name as a top welterweight prospect by choking out veteran Jake Ellenberger in the first round.
There were so many big moments and important storylines coming out of UFC 180. We'll try to pick out the best five below.
Fab performance
Fabricio Werdum went through some trying moments in the first round. You never really want to be on the other side of big punches from Mark Hunt. But Werdum survived a shaky start to knock Hunt out in the second with a picture-perfect jumping knee. This is a guy known for his Brazilian jiu-jitsu, yet his striking has improved enough where he can catch a high-level kickboxer like Hunt with a technique like that. Impressive.
Werdum carried the ball here in Mexico City when Cain Velasquez fell injured three weeks ago. He was swarmed with Spanish-speaking media all week and looked incredibly comfortable. Werdum, a Brazilian, is fluent in Spanish from spending many years in Spain growing up. Without his charisma with the Latin American press this week, UFC 180 might have been dull. Aside from his Performance of the Night bonus for starching Hunt and winning the interim UFC heavyweight title, Werdum should be commended for saving the card with regard to local buzz.
Coming-out party
We all knew Kelvin Gastelum was good. We just didn't know he'd be this good, this quickly. Gastelum had his starmaking performance Saturday when he submitted Jake Ellenberger with a rear-naked choke in the first round. The way Gastelum took Ellenberger's back was ultra slick. Against the best level of competition he has ever faced, Gastelum rose to the occasion and did arguably his best work.
Gastelum is just 23 years old and coming off a win over Nico Musoke, who isn't exactly a household name. Ellenberger joked this week that he couldn't list a single person Gastelum has beaten. Well, he can now. The Ultimate Fighter 17 winner is the real deal and should be in the welterweight top 10 when the rankings come out this week. It's still very early, but it might be time for a contender matchup for the Mexican American. He's going to be big for the UFC's push into Latin America.
'Bully' awareness
All of the talk this week was about Dennis Bermudez and how he was one of the next in line for a title shot in a loaded featherweight division. Ricardo Lamas was coming off a close win over unranked Hacran Dias in June that many people felt he actually lost. So, it was assumed that Bermudez, a sizeable favorite, would leave Mexico City with an eighth straight victory. Not so. Lamas spoiled everything with a picture-perfect power jab to drop Bermudez, and he quickly finished things up with a gorgeous guillotine.
Lamas might still be ranked No. 4 among UFC featherweight contenders, but his stock was as low as it has been in some time. "The Bully" lost to Jose Aldo at UFC 169 in February and, though he came on late, Aldo dictated essentially the entire fight. UFC 180 gave Lamas new life. And not just from a wins and losses perspective. He showed off a ton of personality this week, speaking to the Mexican fans in Spanish and busting out some very funny impressions. Who knew Lamas, a quiet guy, had it in him? We figure it won't be the last we see it.
Ear for an Eye
It was one of the most gruesome finishes in the UFC this year, and yet somehow both women ended up increasing their stock. Jessica Eye landed a straight right hand in the first round of the FOX Sports 1 prelims that basically exploded Leslie Smith's cauliflower ear. Eye continued to attack the same spot and by the second round, Smith's ear was basically hanging off. Referee Herb Dean put a halt to the action, and doctors said Smith could not continue.
It was the right choice, especially taking a closer look at the injury later. A few more blows would have put that ear in serious danger. Smith didn't want the fight to end, of course. But her corner, angry at the decision at first, felt it was the right call afterward. It wasn't just something gross to look at it. Smith could have actually lost her ear, a la Sakuraba and pro wrestling's Mick Foley. It didn't have to come to that. Eye's impressive victory and Smith's incredible toughness elevated both.
A long time coming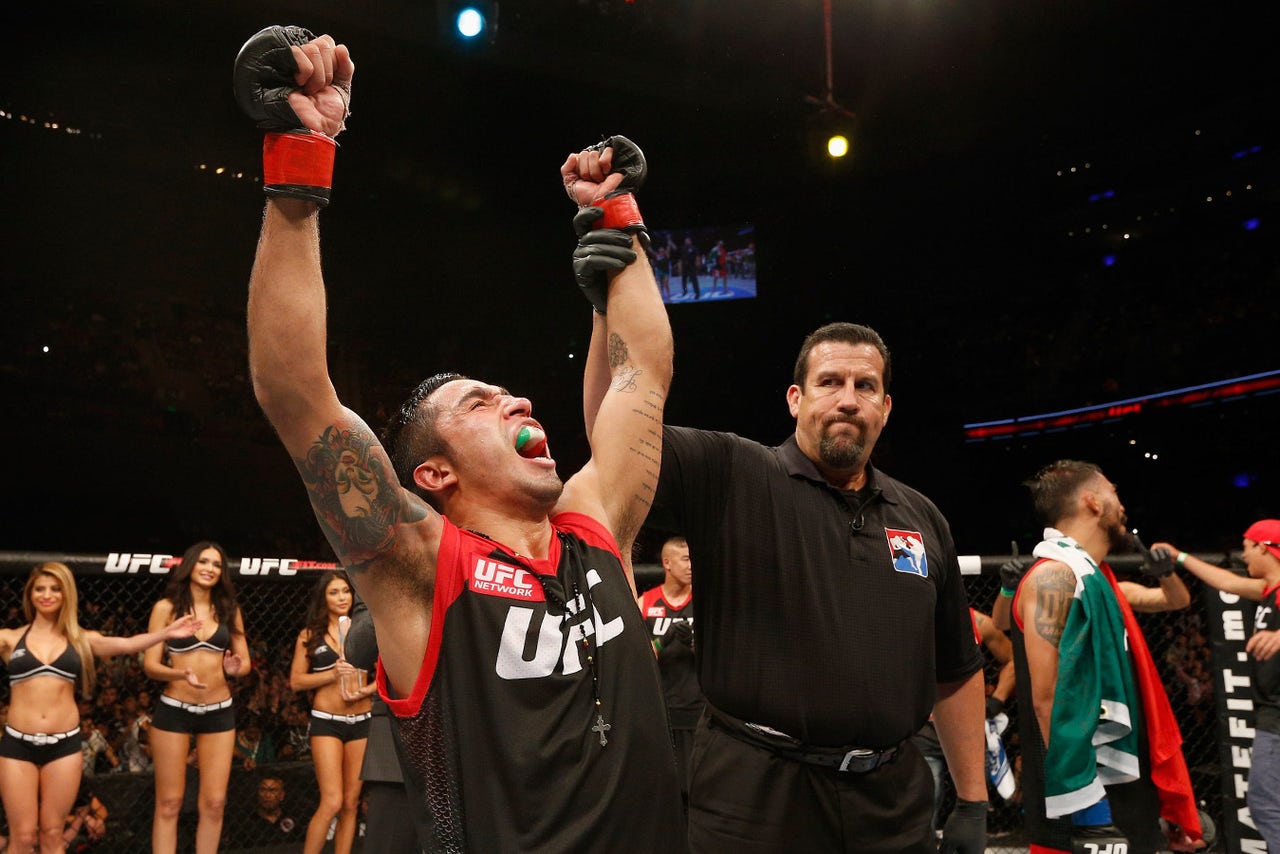 Alejandro Perez was incredibly emotional after winning the TUF title Saturday night.
One of the most emotional moments of UFC 180 came on the FOX Sports 1 prelims when Alejandro Perez clutched his Ultimate Fighter Latin America trophy tight to his body and fell to the ground with tears in his eyes. "Diablito" has been a mainstay of the still developing Mexican MMA scene for the last nine years -- since he was 16 years old. He always knew the UFC would one day come to his country. But he didn't think it would happen while he was still fighting.
Perez was by far the most experienced fighter on the reality show, and it was a special moment for him after the win against Jose Quinonez. The fight itself was odd and unorthodox. In the third round, Quinonez hit a grounded Perez with a headbutt to the face, busting open Perez's nose. Quinonez got two points taken away, making the decision basically academic for "Diablito." It didn't really matter how he won. Both men will likely be brought back for the UFC's next trip to Mexico, which will almost surely come in the first half of 2015. But whatever happens from here, nothing can take that moment from Perez. He fought in the smallest of small shows, and he got to celebrate in front of more than 21,000 in the brand new Arena Ciudad de Mexico. Not too bad.
---
---