Jon Jones: I'm going to annihilate Daniel Cormier
May 3, 2016

On the night of his last fight against Ovince Saint Preux at UFC 197, Jon Jones was hypercritical of his own performance after returning to action nearly 16 months from his last bout in the Octagon.
Despite a change of opponents and a case of ring rust, Jones still shut out Saint Preux with a lopsided unanimous decision after five rounds.
Looking back now, Jones knows it wasn't his best night but the result still shows how dominant he can be even if he wasn't arguably in top form.
"I was in jail as the same month of my fight. Just going through a lot of stuff. I hadn't fought in over 15 months and everybody's talking about my performance being so bad -- I got punched twice. I won by unanimous decision so if that's a bad performance look at the level people expect from me. It's really not a bad problem to have," Jones explained at the UFC 200 pre-fight press conference.
"I went out there, I didn't feel comfortable in the Octagon and I still absolutely dominated that fight. I believe everything happens for a reason. I got that ring rust off of me and I got right back to the strategy and the game plan that I originally had."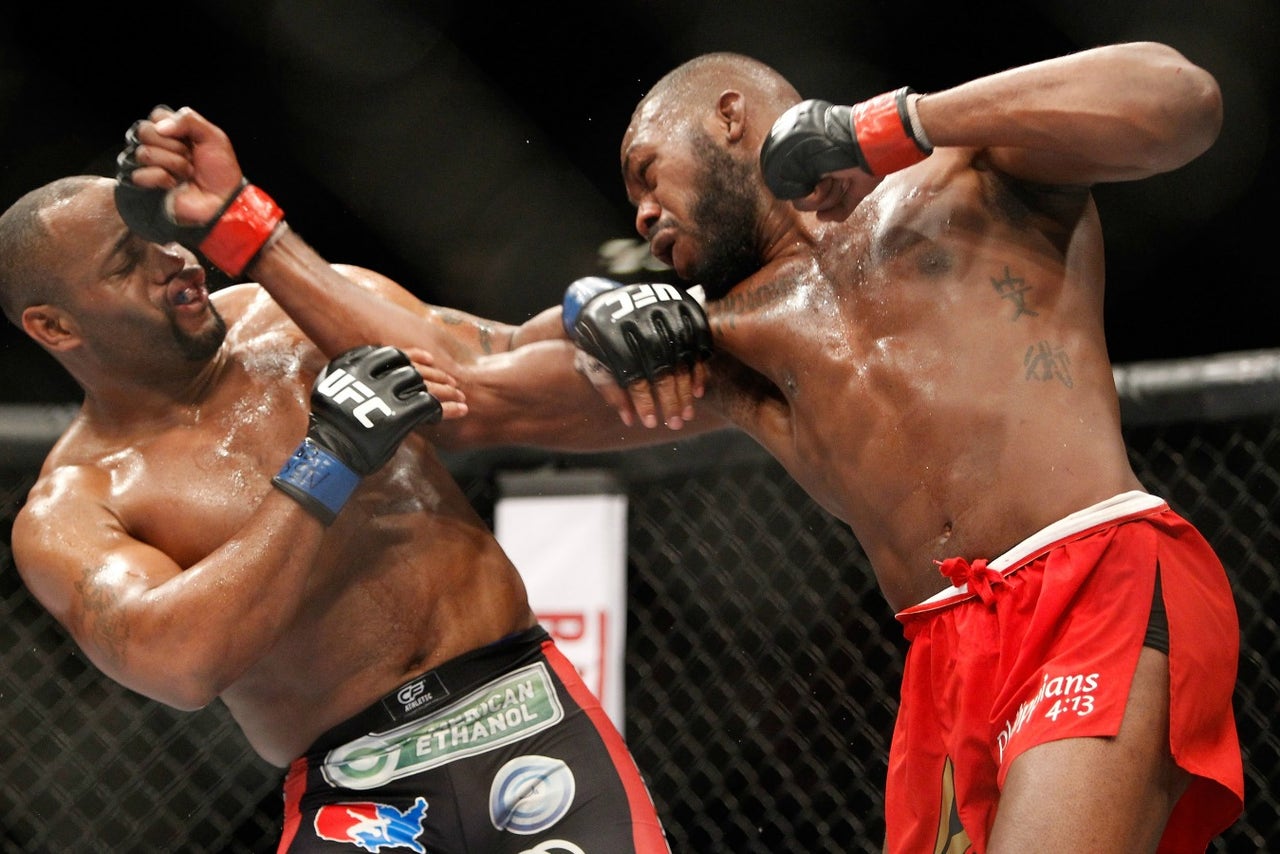 Jones also revealed a personal tragedy at home because his mother had her leg amputated the same week as his fight at UFC 197.
Jones still fought, but he was distracted while worrying about his mother's health and that was plenty to occupy his mind as he did his best to focus on Saint Preux.
"In my last fight, I had a lot of stuff stacked up against me. A lot of you guys don't really realize what's been going on in my personal life. My mom is in a real bad position. She's really losing a fight to diabetes right now. She got her leg cut off the same week of my fight," Jones said.
"So that really messed with me a lot."
The fight with Saint Preux ultimately taught Jones a lot about what he's capable of doing when he's not at his best, but he promises that won't be the case when he rematches Daniel Cormier at UFC 200 in July.
Whatever distractions kept him from being his best against Saint Preux won't stop him from destroying Cormier for the second time.
"I believe I'm going to annihilate DC," Jones said. "So far, it's all I've ever done to every opponent. Alexander Gustafsson's the only person who had a competitive fight with me. 
"Expect to see a hell of a lot more out of me this next fight. I have a strong strategy for DC."
Jones also takes motivation from his opponent's words after hearing Cormier call his fight against Saint Preux at UFC 197.
Cormier was the guest commentator and while he was paid to critically analyze the fight from start to finish, Jones didn't enjoy much of what he heard.
So he plans on teaching Cormier a thing or two about fighting when they face off at UFC 200.
"I listened to him commentate my fight and I got to hear all the things he thinks he knows about me," Jones said. "You guys will see."
---
---