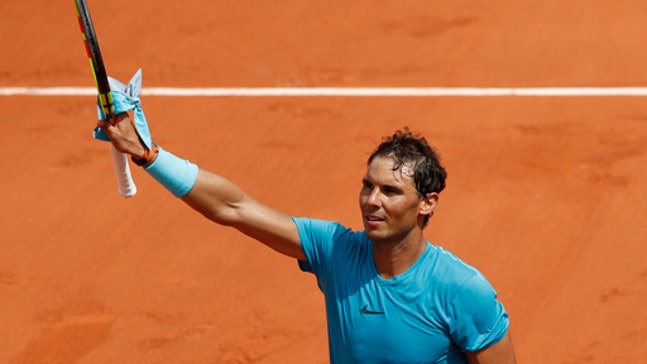 The Latest: Muguruza overwhelms Sharapova 6-2, 6-1 at French
Updated
Mar. 4, 2020 9:31 p.m. ET
PARIS (AP) The Latest on the French Open (all times local):
---
8:05 p.m.
The two remaining men's quarterfinals suspended by rain will resume on Thursday at 12 p.m. local time.
The first women's semifinal between top-ranked Simona Halep and third-seeded Garbine Muguruza will start at 3 p.m. as planned. It will be followed by the all-American matchup between Madison Keys and Sloane Stephens.
---
7:30 p.m.
Play at the French Open has been called off for the day because of rain.
The two remaining men's quarterfinals were suspended in progress and will resume Thursday.
Rafael Nadal dropped the opening set of his match against 11th-seeded Diego Schwartzman 6-4 and was serving for the second at 5-3, 30-15 when play was halted.
Marin Cilic and Juan Martin del Potro are even at 5-all in their opening-set tiebreaker.
---
6:50 p.m.
Play in the men's quarterfinals has been stopped again due to rain at the French Open.
Matches resumed for about 15 minutes following a first rain delay before players were sent back to the locker room.
---
6:30 p.m.
Play has resumed at the French Open after a suspension due to rain of about 55 minutes.
---
5:35 p.m.
Play is being delayed by rain during the French Open men's quarterfinals.
Rafael Nadal is trailing by a set and is down a break at 3-2 in the second against Diego Schwartzman at Court Philippe Chatrier.
Marin Cilic and Juan Martin del Potro are at 5-all in the first set at Court Suzanne Lenglen. Cilic is serving at love-30 in the 11th game.
---
5 p.m.
Rafael Nadal has dropped a set at the French Open for the first time since 2015. That ends his streak of 37 consecutive completed sets won in the tournament.
Nadal was broken three times and lost the opening set of his quarterfinal Wednesday against 11th-seeded Diego Schwartzman of Argentina by a score of 6-4.
During the changeover after the set, a trainer came out to tape both of left-handed Nadal's wrists.
Schwartzman compiled a 20-4 edge in winners for the set, closing it with a forehand that landed right at the baseline. That was Schwartzman's third set point, and it was played after a delay of a few minutes while an ill spectator was attended to in the stands at Court Philippe Chatrier.
Nadal, a 10-time champion at Roland Garros, had not ceded a set in Paris since 2015, when he was beaten in the quarterfinals by Novak Djokovic. In 2016, Nadal won two straight-set matches, then withdrew before the third round because of an injured left wrist. Last year, he took the trophy without dropping a set.
The 37-set run was Nadal's longest at the French Open. The record for the clay-court Grand Slam tournament was Bjorn Borg's 41-set winning streak from 1978-81.
---
4:30 p.m.
Top-ranked Simona Halep has rallied past Angelique Kerber 6-7 (2), 6-3, 6-2 to reach the French Open semifinals.
Halep went all out in the first set but her bold strategy backfired badly as she hit 30 unforced errors. She reacted well to limit her mistakes while staying aggressive on her German opponent's service games.
''After the first set I just stayed strong, I did not give up at all,'' said Halep. ''I missed a lot at the beginning of the match. I tried to do too much. Then I changed a little bit of tactics and it worked.''
Halep is still chasing her first Grand Slam title. She led Jelena Ostapenko by a set and 3-0 in last year's final at Roland Garros. But she fell apart and eventually lost to the unseeded Latvian in her second French Open final.
Halep next faces third-seeded Garbine Muguruza.
---
3:50 p.m.
Top-ranked Simona Halep has leveled at one set-all in her French Open quarterfinal against Angelique Kerber of Germany.
After making 30 unforced errors in the first set, which she lost 7-6 (2), Halep finally found the right rhythm to dictate points with deep groundstrokes and aggressive returns.
The Romanian broke at the start of the second set and then held for 6-3 as Kerber dropped her serve again in the ninth game.
Halep has won five of her past nine matches against the 12th-seeded Kerber, including their most recent encounter in the Australian Open semifinals when she saved two match points.
---
3:30 p.m.
Garbine Muguruza overwhelmed Maria Sharapova 6-2, 6-1 in a matchup of past French Open champions to reach the semifinals.
The No. 3-seeded Muguruza had lost all three previous meetings against Sharapova, who won two of her five Grand Slam titles at Roland Garros.
Muguruza has not dropped a set so far in this year's tournament as she seeks a second championship in Paris and third major trophy overall. The Spaniard won the French Open in 2016 and Wimbledon last year.
She needed only 70 minutes to eliminate Sharapova and dominated her with superb returning, breaking the former No. 1 a half-dozen times.
Sharapova was hardly at her best right from the start, double-faulting three times to get broken in the opening game. She ended up with six double-faults and 27 total unforced errors, 12 more than Muguruza.
Muguruza raced to a 4-0 lead and never looked back.
Sharapova didn't need to play a point in the fourth round, because Serena Williams pulled out of their much-anticipated match with an injured chest muscle. Muguruza essentially got that round off, too: Her opponent, Lesia Tsurenko, quit with an injury after only two games.
Muguruza will face Simona Halep or Angelique Kerber in the semifinals.
---
2 p.m.
Rafael Nadal has won 37 completed sets in a row at the French Open heading into his quarterfinal against Diego Schwartzman.
Top-ranked Nadal enters Wednesday's match bidding to reach his 11th semifinal at Roland Garros.
The 11th-seeded Schwartzman has never made it to the final four at any Grand Slam tournament.
Two past U.S. Open champions meet in the other men's quarterfinal: No. 3 Marin Cilic against No. 5 Juan Martin del Potro.
Two women who have won the title at Roland Garros, Maria Sharapova and Garbine Muguruza, play each other in the quarterfinals. Sharapova was the French Open champion in 2012 and 2014; Muguruza took the trophy in 2016.
In the other women's quarterfinal, No. 1 Simona Halep takes on former No. 1 Angelique Kerber in a rematch of their epic Australian Open semifinal in January. Halep saved two match points to win that one.
Kerber is a two-time Grand Slam champion. Halep is a three-time runner-up at majors, including in Paris in 2014 and 2017.
---
More AP tennis coverage: https://www.apnews.com/tag/apf-Tennis
---
---