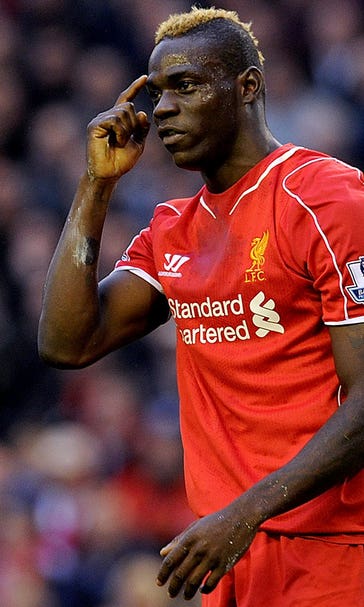 Mario Balotelli vows to turn scoring fortunes around at Liverpool
BY foxsports • November 21, 2014
Liverpool striker Mario Balotelli is confident he will soon start scoring again and become a "top player" at Anfield.
Balotelli admits he has made a slow start to his career with the Reds since returning to the Premier League after a season with AC Milan. The Italy striker scored 26 times in 43 Serie A matches for the Rossoneri but has since failed to find the target in nine Premier League games.
However, Balotelli, who scored in the Champions League against Ludogorets and against Swansea in the League Cup, insists he is not worried by the lack of goals. When asked to rate his performances this season out of 10, Balotelli gave himself a seven, compared to a figure of six-and-a-half two years ago while at City.
"I give myself half a point more, so seven, because I run more than before," Balotelli said. "I run, I'm running now, I've never run like this... so I give myself half a point more. Because goals, they will come. It is something that's just not coming at the moment. But it's not something that has just gone."
Balotelli has come under-fire for his performances with the Reds but he remains unfazed by criticism.
"I don't need people to believe in me so long as I believe in myself," he added. "The important people for me are my family and my few close friends, as long as they believe in me. Some think because I didn't score and didn't start well this season that I can't be one of the top players, a really good player for this team. That's their business.
"I don't care what stories people say about me because I know they are lying."
---