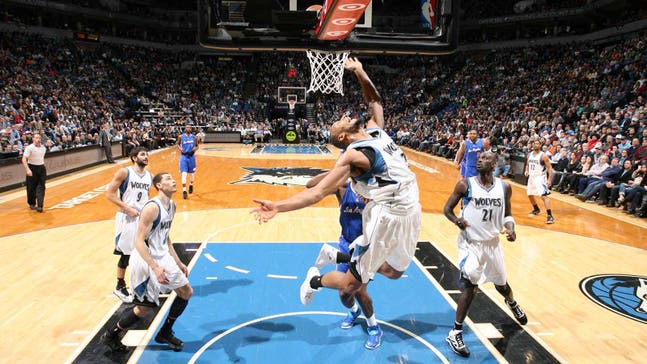 Wolves season report card: Adreian Payne
Published
May. 5, 2015 6:00 a.m. ET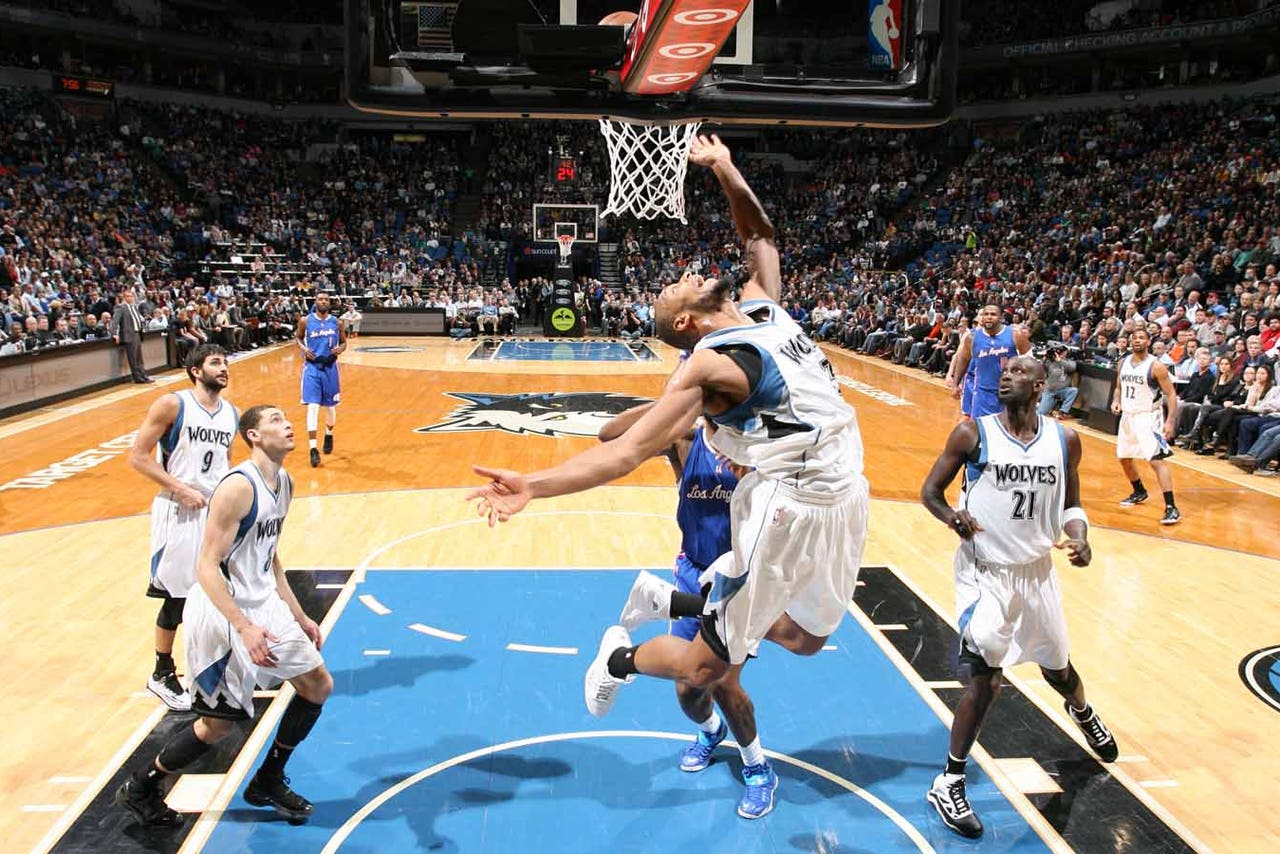 This is the sixth in a 15-part series evaluating each Timberwolves player's performance during the 2014-15 season. Find the entire series here.
When the calendar flipped to 2015, and contending NBA teams -- including his own -- began saddling up for the season's stretch run, Adreian Payne was lacing up his bright-red high-tops in the bowels of Austin, Texas' Cedar Park Center.
Two months later, he was wowing at the Staples Center by dunking over DeAndre Jordan.
Picked 15th overall by Atlanta, left out of the Hawks' first-place Eastern Conference championship jaunt, sent to the D-League on several occasions then traded to the Timberwolves in February, Payne endured a rookie season much more turbulent than that of the average lottery pick. Then again, Payne's not the usual NBA prospect; he's 24 but relatively raw, blessed with physical gifts but doesn't always take full advantage thereof.
It all showed, the good and the bad of it, during his limited NBA minutes in Minnesota.
"I thought he showed glimpses of what we thought he could do, being very aggressive and athletic and doing some of those things," Saunders said of the 6-foot-10, 245-pound Michigan State product he nearly drafted at 13 but ultimately passed up in favor of Zach LaVine, "yet he just has to learn to slow down and be more consistent."
After Saunders gave up a lottery-protected, first-round pick for him Feb. 10, Payne appeared in 29 games with the Wolves, making 22 starts and averaging 24.8 minutes per game. There were blips of brilliance -- like his 16-point, 15-rebound night against the Clippers on March 9, and two other double-doubles -- and incompetence, like the five starts in which he registered two points or fewer.
Injuries to Anthony Bennett and Kevin Garnett opened the door for Payne's playing time. Uncertainty regarding both players' futures leaves it ajar. But as Minnesota (league-worst 16 wins this past season) continues its rebuilding project with a top-four pick in this year's draft, it's unclear where Payne fits into the youth movement.
As noted in yesterday's Anthony Bennett report card, Saunders is far from convinced there's a cornerstone power forward on the roster at present.
"I couldn't say that. I couldn't say I do or I don't," Saunders said when asked if he has his long-term four-man in the fold. "I think you always put yourself in a situation -- I've always believed you want to make yourself better. I'm not going to lock in anything when you win 16 games on anybody, to be honest. Guys come out, they've got to play and they've got to earn spots.
"The team that ended the year on the floor, some of those guys are going to be in a lot of competition when we start next October."
Payne, especially.
Scoring: C-minus
He's hardly a finished gem, but Payne appears to possess the right kind of mindset for his wiry, explosive frame at this point in his career -- attack or try and be effective from mid-range. More than half his shot attempts came from within 14 feet of the basket, and 87 percent of them came from less than 19 feet away. Payne has a nice mid-range stroke to complement his length and post moves.
Now, if he could just start converting.
With the Wolves, Payne shot 41.8 percent from the floor and went 1-for-8 from 3-point range for an average of 7.2 points per game. He was particularly taxed by contested shots just outside the restricted area, shooting 33.3 percent on attempts 5-9 feet away from the rim. He's still not bulky enough to consistently bang with NBA bigs and hasn't developed enough of a jumper to render him the stretch four Saunders thinks he can be. Shot selection and strength should be two points of emphasis this offseason.
Rebounding: C-plus
When Payne's at his best, he's flying around the paint, dodging box-outs and selling out for loose balls. Efficient rebounding tends to come as a result of such activity.
But Payne's 5.1 boards per game exhibit an inconsistency Saunders says must be eradicated if Payne is to stick in this league. He was particularly ineffective on the offensive glass, averaging just 1.5 rebounds per game on that end. A player of Payne's size must be able to clear out the lane and chase down boards, an art he has yet to master after a total of 32 NBA games.
Defense: C-minus
It's hard to dismiss the energy with which Payne sometimes played defensively. It isn't necessarily evident in the numbers (0.3 blocks and 0.6 steals per game), but perhaps the greatest facet of Payne's upside is his peskiness in contesting shots and poking at passing lanes.
But, much like his rebounding acumen, it's about sustaining that aggression level without getting into foul trouble.
Too often, Payne either went overboard (four or five fouls in a third of his games) or softened up too much (opponents shot 58 percent from the floor against him). The aesthetics are there, but the reliability is not.
Overall: C-minus
Payne's topsy-turvy rookie season makes for a difficult overall evaluation. Film on him reveals a kid with plenty of room to grow and flashes of evidence he can do it.
But he hasn't yet, which makes his first NBA offseason a pivotal one as the Wolves -- who have the 2014-15 rookie of the year in Andrew Wiggins and the best chance at picking first overall in this year's draft -- seek to move past the last decade and change of futility.
And those who aren't up to snuff will be left behind.
"I feel like I got better (this season)," Payne said. "We're young. We've got a lot of talent. I think we've got a high ceiling."
Next: Zach LaVine
Follow Phil Ervin on Twitter
---