Wings, Leafs face off in final meeting this season
BY foxsports • December 13, 2014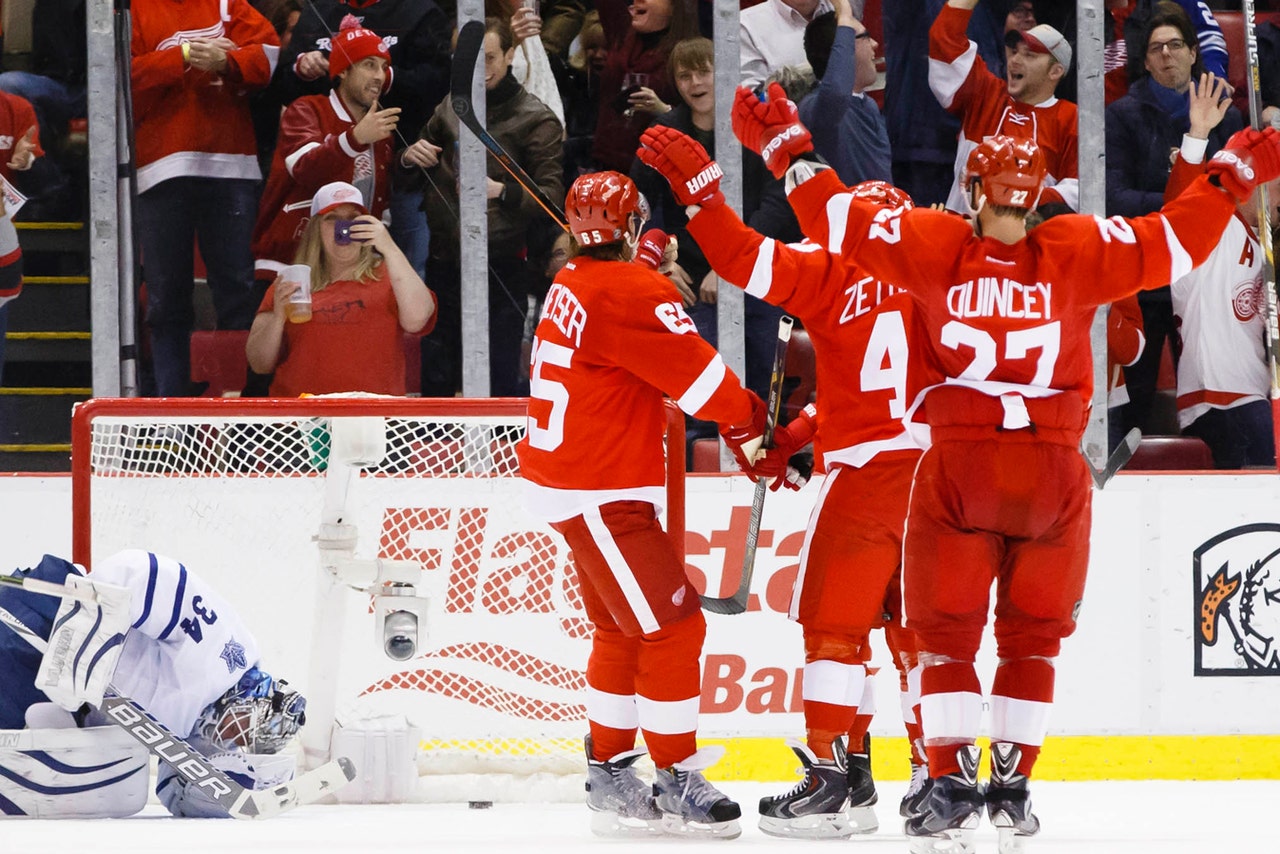 The Toronto Maple Leafs have not been entirely pleased with their play of late. They have, however, been pleased with the results.
The Maple Leafs look for their first four-game win streak of the season Saturday night when they host the Detroit Red Wings in the teams' fifth and final meeting this season.
James Reimer made 41 saves and Phil Kessel scored his fourth goal in five games to lead Toronto to a 2-1 shootout win at Detroit on Wednesday, despite being outshot 42-19.
"There's lots of different recipes to win," James van Riemsdyk said. "It's not just a black and white game where you outshoot the other team and automatically win. That's not how this game works.
"There are many other factors - goaltending, goal scoring, power play, penalty kill - different things where you've got to find a way to win games."
Kessel's ability to find the net may be one of those factors, and his current trend of production bodes well for the Maple Leafs (16-9-3) moving forward. Toronto is 10-2-1 this season when Kessel scores.
"We need a couple bounces here or there, but we're winning. That's the most important," Kessel said. "We're working hard. We're doing the little things right."
Reimer, who had not played since Nov. 18 before Wednesday, will likely sit again Saturday in favor of Jonathan Bernier, who is 6-1-1 with a 2.50 goals-against average in his last eight starts. He is 1-0-1 with a 0.96 GAA in two this season against Detroit.
The Maple Leafs have not won four straight since a six-game streak Jan. 12-21.
Detroit (17-6-7) enters this contest coming off a second consecutive shootout loss, 3-2 to Florida on Friday. The Red Wings have picked up eight of a possible 10 points in their last five games (3-0-2).
"Right now, when we get to the shootout we're not a confident group so we've just got to keep working on it," coach Mike Babcock said. "No sense hanging our heads or getting disappointed."
Jimmy Howard made 24 saves through overtime before falling to 0-5 in shootouts this season. Howard, though, is 5-1-2 with a 2.34 GAA in his last eight starts.
After going scoreless on the power play in the previous three contests, the Red Wings tallied twice with the man advantage Friday. They are 11 for 38 on the power play (28.9 percent) over the past 10 games.
"They're good," Kessel said of the Red Wings. "You watch them play, they skate, they work, they got good defense and they got a good goaltender. Every night you play them, it's a tough game."
Detroit took the first two meetings against Toronto this season to stretch its win streak in the series to four before the Maple Leafs claimed a 4-1 victory at home on Nov. 22.
Henrik Zetterberg has six points in the season series, including a four-assist performance in Detroit's 4-1 win at Air Canada Centre on Oct. 17. He has 16 points in 13 career games against the Maple Leafs.
---