Wild 'feel sick' after being eliminated by Blackhawks for third straight year
Published
May. 8, 2015 2:40 a.m. ET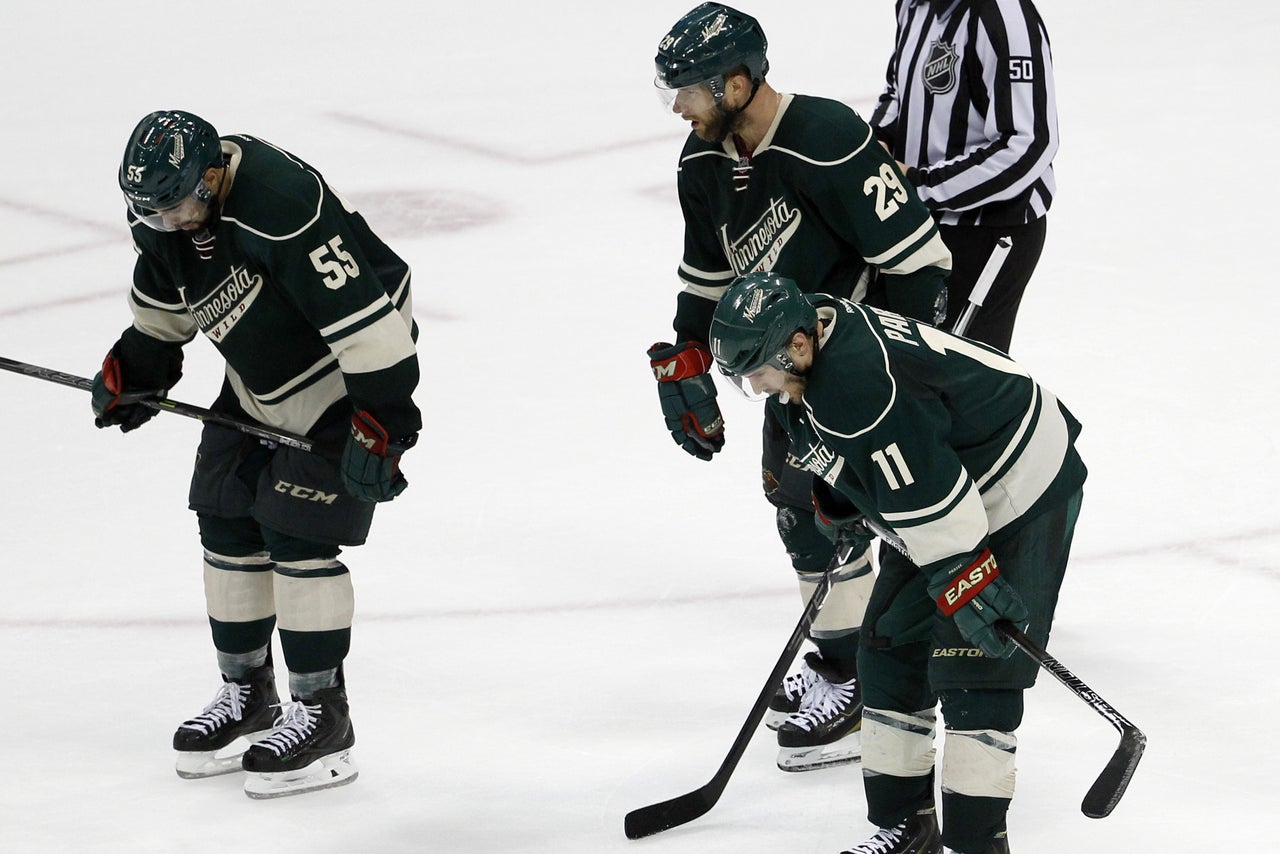 ST. PAUL, Minn. -- One final, muted "Duuubbss" echoed through the Xcel Energy Center, the appreciative chant for Minnesota Wild goaltender Devan Dubnyk feeling hollow to the netminder who helped turnaround Minnesota's season.
The Wild held their sticks to salute the crowd before skating slowly off the ice, swept and sent into the offseason by the same team for the third consecutive season.
"Feel sick; doesn't feel right," Dubnyk said after Thursday's 4-3 loss and sweep at the hands of the Chicago Blackhawks. "To be with the group that we have, to finish it that way, it just doesn't feel right."
Inside Minnesota's dressing room, Dubnyk wore a look of bewilderment. His head was down as reporters approached. After answering several questions, Dubnyk undressed. His movements appeared painstakingly slow.
Forward Jason Pominville was slumped back in his stall, peering straight ahead. The disappointment of losing in the second round, being beaten by Chicago again, wearing on the Wild.
"We've got to beat this team," Pominville said. "We've got to find a way to get to that next level. I don't think we're that far off -- just a bounce here, a bounce there would've probably helped. Being able to solve their goalie is obviously something that we weren't able to do for the most part in this series."
Minnesota scored seven goals in the series on 131 shots. Blackhawks goaltender Corey Crawford finished the four-game sweep with a .947 save percentage. The playoff nemesis frustrated the Wild again.
This year was supposed to be different.
Minnesota had stars in Zach Parise and Ryan Suter, depth in Pominville, Mikko Koivu and Chris Stewart. Thomas Vanek was signed in the offseason. The young players like Mikael Granlund, Jason Zucker, Charlie Coyle, Nino Niederreiter, Jonas Brodin, Jared Spurgeon and Marco Scandella had playoff experience from facing Chicago the previous two years.
And there was Dubnyk, who arrived in the fateful Jan. 14 trade from the Arizona Coyotes, to help the Wild to the NHL's best second-half record and become a finalist for the Vezina Trophy, given to the league's top goaltender.
"I think maybe we went in with too many, I don't want to say expectations, or too many . . . we have to learn from it," head coach Mike Yeo said. "All the talk, this is our year, things are going to be different, everything else, instead of just staying with the process a little bit more. That led to a lot of the frustration, a lot of the getting away from our game a little bit."
There will be time to reflect later, perhaps time offering perspective on Minnesota's run from 12th in the Western Conference when Dubnyk arrived to earning a wild-card spot and beating the St. Louis Blues in six games in the first round. 
There was no reflecting in the immediate aftermath of Thursday's loss.
"You always remember what last happened," Parise said. "Unfortunately we're here after losing four straight. Right now, it's just tough. . . . We got swept. We didn't do nearly enough. I don't know how else to characterize it."
Resilient and unflappable had become words to describe the Wild during the past three months. 
Perhaps trying to prove it all again, Minnesota threatened to force a Game 5. Chicago's Marian Hossa scored an empty-net goal with 3 minutes, 7 seconds left to make it a 4-1 game.
Then Pominville scored a power-play goal with 2:13 left. Nino Niederreiter scored 51 seconds later to draw within one. When Blackhawks center Jonathan Toews sent a shot off the post, a comeback almost seemed destined to happen.
But Minnesota would fall one goal short, the Wild's season ending without ever leading in the series.
"Certainly we felt good about the game we were playing, felt good about the way things went in the first round," Yeo said. "Probably needed to take a little step back and realize the next one, it's not just going to carry over to that. We seemed to have a tough time adjusting. And we were chasing every game. It's an incredible stat; we never had the lead in this series."
Dubnyk called being a part of Minnesota and the team's run since mid-January "an absolute honor." The big goaltender seemed to take Thursday's loss particularly hard. Perhaps with time, like the rest of the Wild, Dubnyk will be able to appreciate the journey.
"It's going to take a while," Dubnyk said. "This was a special year and a special group. Again, it just doesn't feel right that we're done playing now. It's going to take a while and after that, you move on and get better the next time."
Follow Brian Hall on Twitter
---