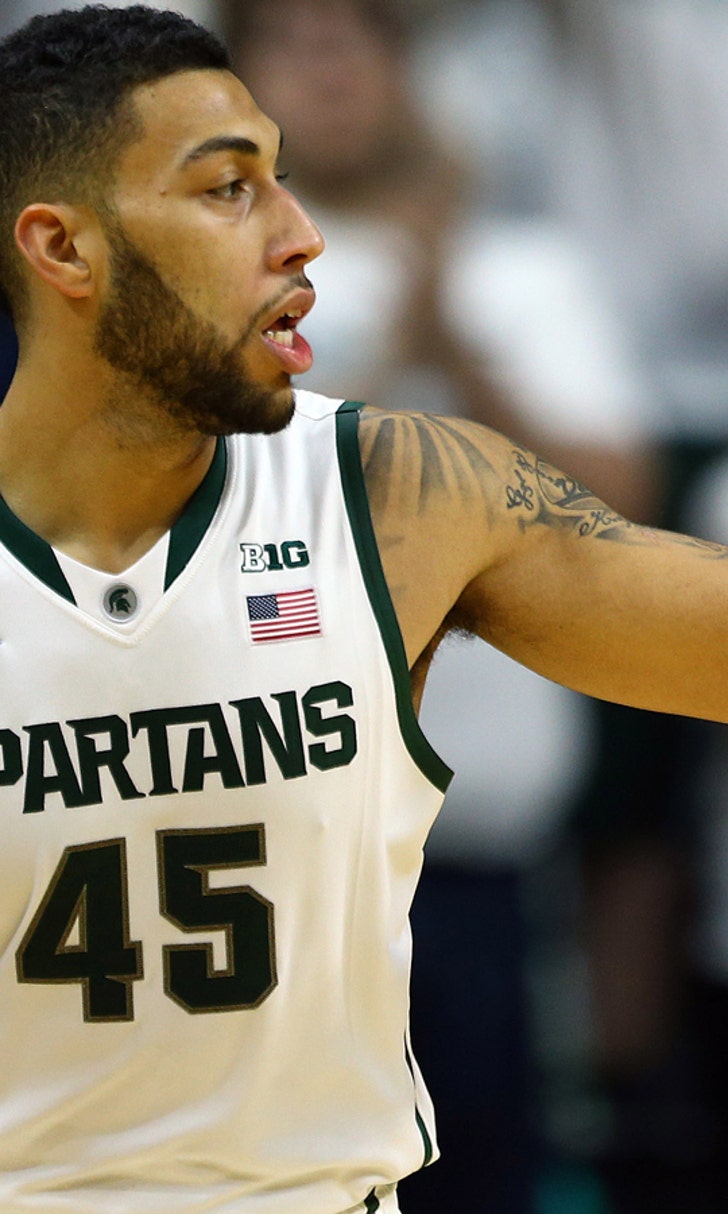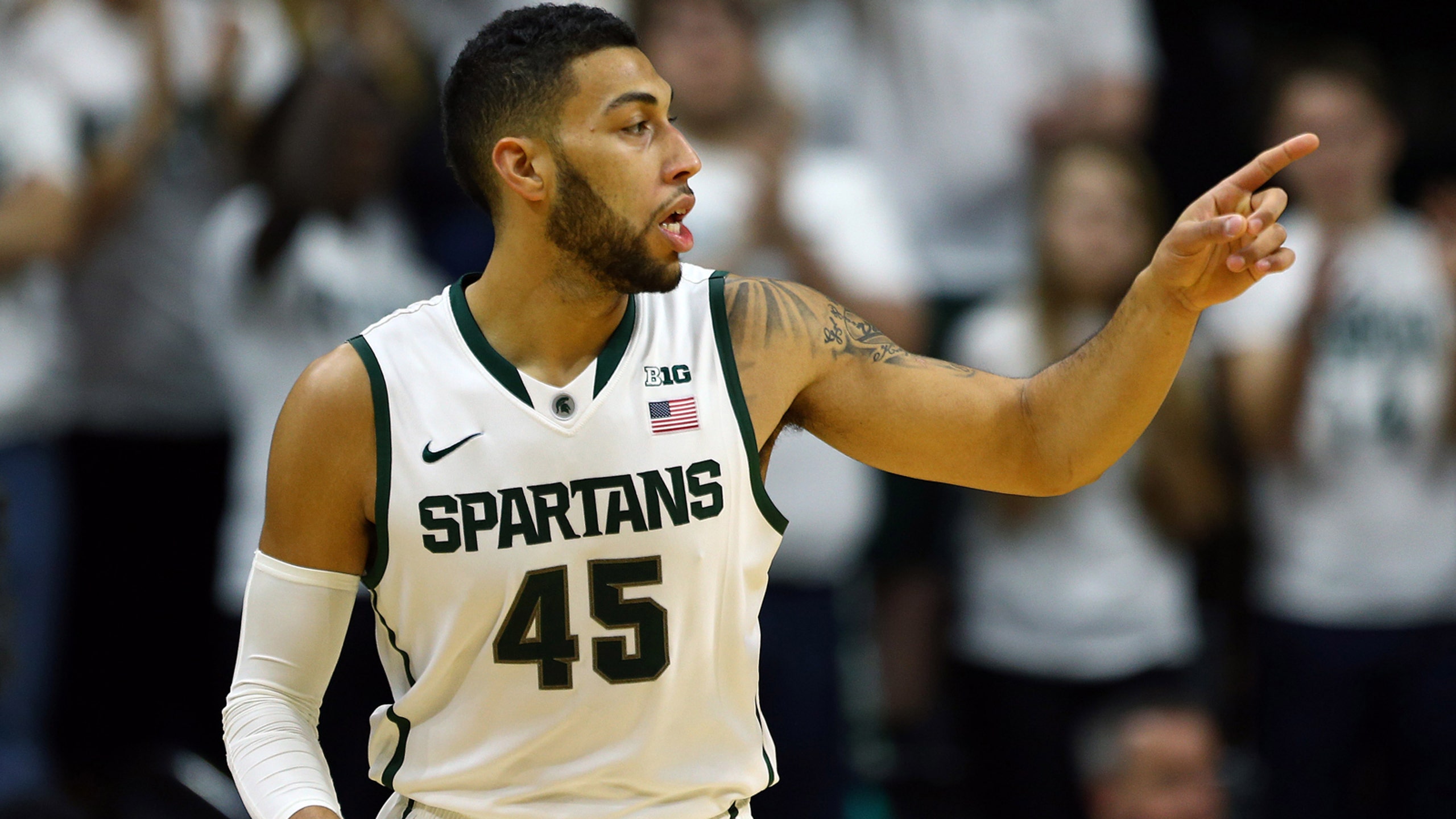 Valentine leads MSU past Oakland
BY foxsports • December 14, 2014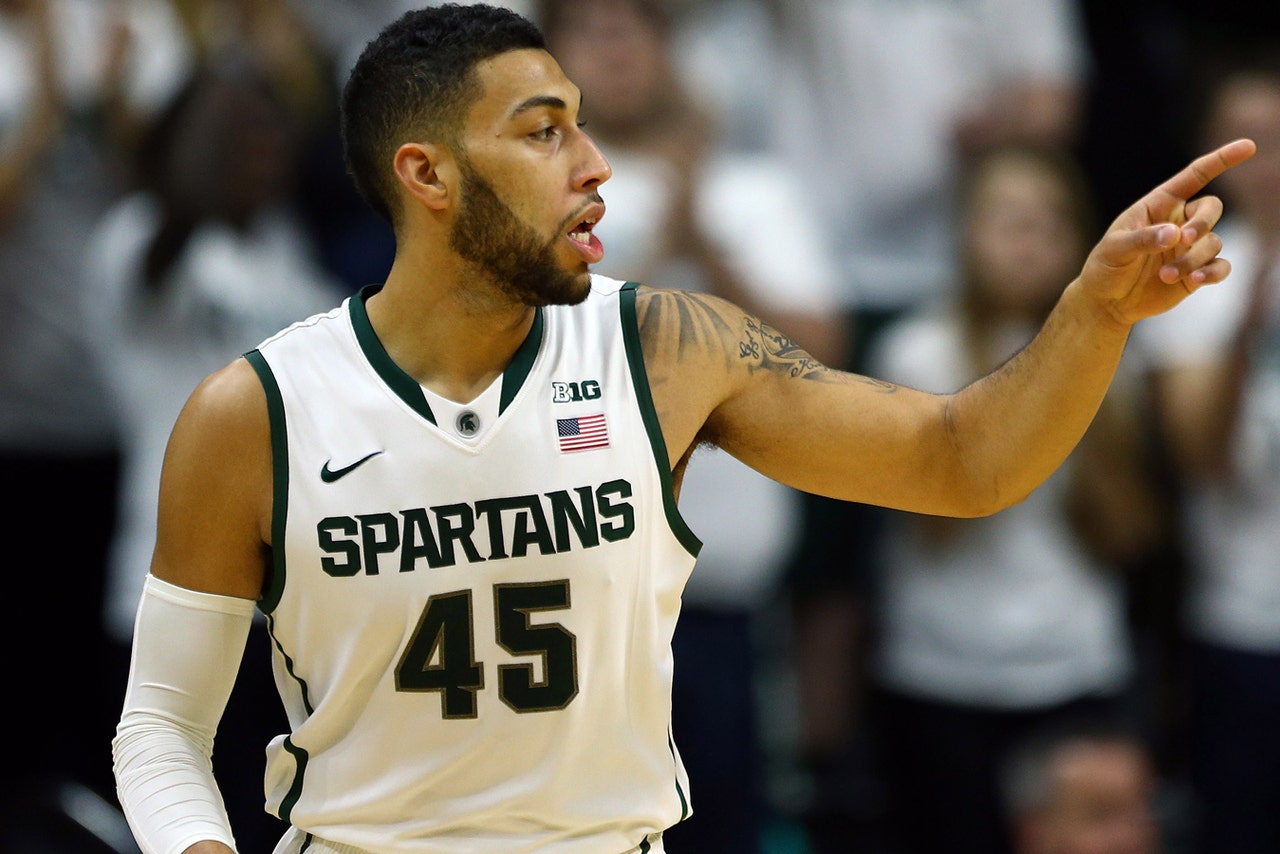 EAST LANSING, Mich. (AP) -- Denzel Valentine drew a crowd of defenders, then drew praise from a tough-to-please Tom Izzo after Michigan State's latest display of hot shooting.
Valentine, labeled by his coach as his team's hardest worker, scored 19 points -- hitting 5-for-6 from 3-point range -- as the Spartans beat Oakland 87-61 on Sunday night.
"I shot the ball fairly well and played decently on offense," Valentine said. "Defensively, I need to play a little better. We need to come out with more intensity and pick it up for the next game."
Branden Dawson had 15 points, Bryn Forbes and Marvin Clark Jr. 12 each and Matt Costello 11 for Michigan State (7-3), the nation's leader in 3-point percentage at .456 after 10 games.
"I was very concerned coming off finals," Izzo said. "I have great respect for Greg Kampe's team. When (Corey) Petros gets it down low, he's a load."
Dante WIlliams scored 15 to lead the Golden Grizzlies (4-6). Petros scored 13 points and grabbed 10 rebounds and Kahlil Felder added 13 points.
"I think I did OK," Williams said. "But I'd rather score zero points and win than have 15 points and a loss. So I guess it's kind of disappointing."
The Spartans shot 58.8 percent from beyond the arc and 55.7 percent from the field, assisting on 25 of 34 baskets.
"We knew if they shot the ball well, we'd be in trouble," Kampe said. "We knew they had three amazing shooters and amazing players. I don't care who they play, even if they play Kentucky, if they shoot it well, they'll be in the game."
The Golden Grizzlies, who gave Michigan State a scare two years ago -- trailing by four in the closing minutes, thought they could make it a game again if they could contain two of the Spartans' top three players.
That didn't happen.
The Spartans had 10 steals, contributing to 15 Oakland turnovers.
The Golden Grizzlies shot 39.6 percent from the field and just 25 percent from deep.
"We had some open looks," Kampe said. "We executed and ran some good stuff. I'm not smart enough to know why they didn't go in."
Oakland outscored Michigan State 14-9 at the foul line and was competitive on the boards, trailing 37-32.
But the key was the Spartans' unselfishness, moving the ball in-and-out and side-to-side until someone found a high-percentage look.
"I really don't remember the ball moving better than this at this time of year," Izzo said. "I give (San Antonio assistant) Jimmy Boylen a lot of credit for that. We were talking this summer about how much fun it was to watch the Spurs move the ball, and we've really been harping on that. We have excellent passers who get along really well. The ball never stops."
The game was tied at 22 when Valentine and Forbes, teammates on two state championship teams at Lansing Sexton High, hit back-to-back 3s to give the Spartans a six-point lead.
"At the half, B.J. (Dawson), Costello and Schilling each had one rebound," Izzo said. "That's unacceptable. But when you shoot the ball well, it cures a lot of evils."
Oakland never got closer than four points in the last 26 minutes, as Michigan State closed the first half with a 22-9 run and stretched the margin to 20 on another Forbes 3 early in the second half.
The Spartans shot 60 percent from the field and 63.3 percent from long range before the break, as the teams combined for 25 assists on 30 baskets.
"At halftime we went over all the mistakes we were making," Izzo said. "We didn't seem to have the grit we'd had, so we really challenged them at halftime."
When Michigan State added more aggressiveness to its shooting accuracy, the Golden Grizzlies' upset bid was over.
"We had a chance to experience this moment," Kampe said. "I hope we learn a lot from it."
TIP-INS
Oakland: The Spartans were the first of five straight opponents from Power Five conferences this month for the Golden Grizzlies. They will face two ranked teams, Arizona and Maryland, in their toughest non-conference challenge since 2010-11. "I believe we're going to win one of those games," Kampe said.
Michigan State: Forbes and Dawson were both in position to reach the 1,000-point plateau on Sunday, something no pair of Spartans had done in the same game. That happened for Forbes, who boosted his total to 1,010. But Dawson will have to wait another game, climbing to 998. Forbes scored 905 points in two seasons at Cleveland State, thanks largely to 142 3-pointers.
UP NEXT
Oakland visits No. 3 Arizona on Tuesday night..
Michigan State hosts Eastern Michigan (8-1) on Wednesday night.
---