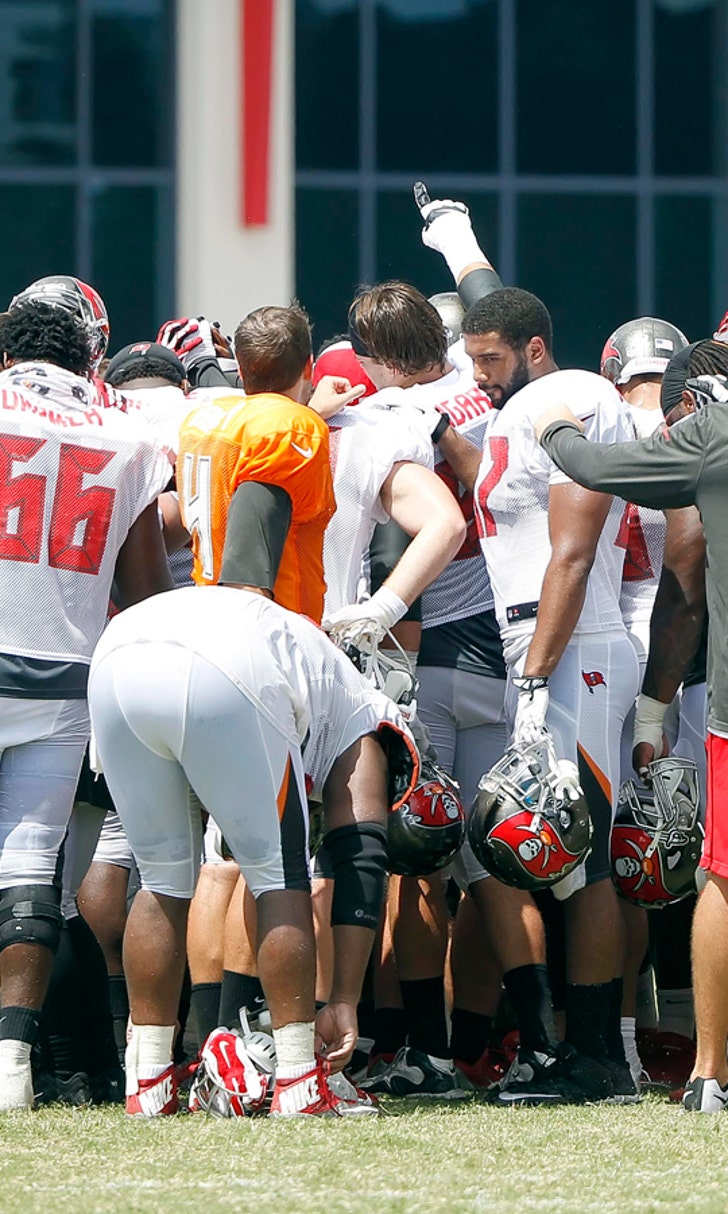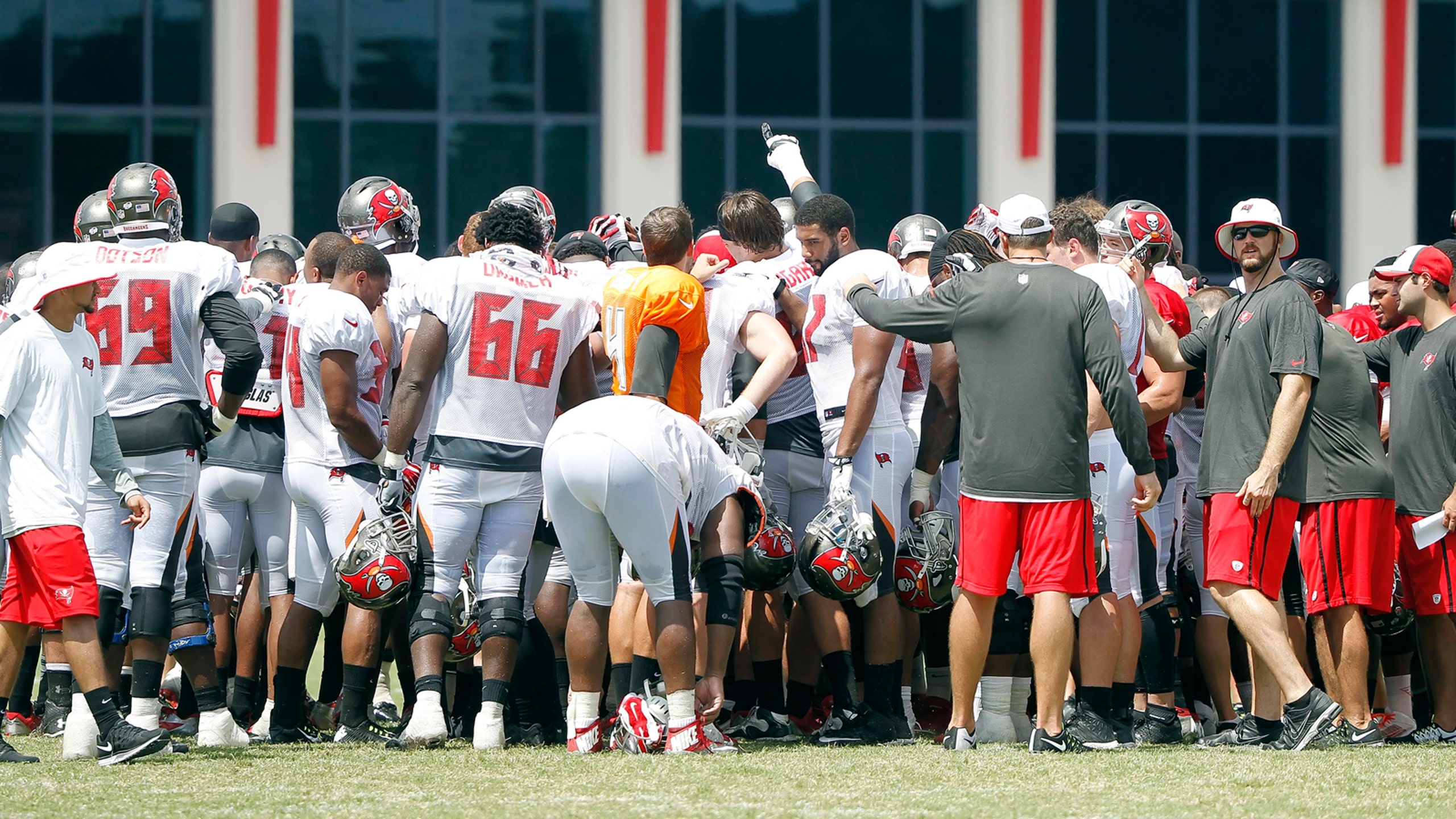 Training camp wrap: Questions remain for Bucs after first go-round with Lovie Smith
BY foxsports • August 14, 2014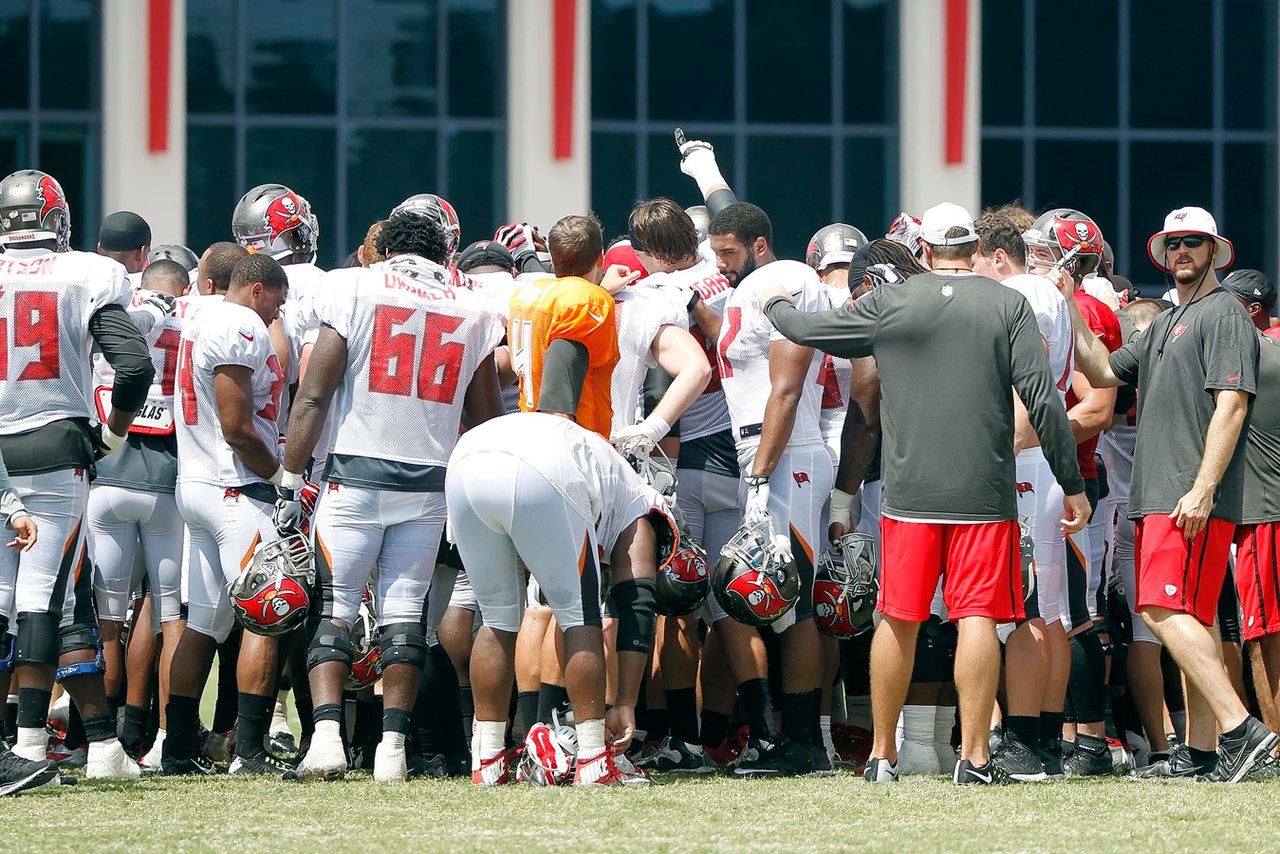 TAMPA, Fla. -- Lovie Smith's first training camp as the Tampa Bay Buccaneers' coach ended Thursday. There's more clarity about where the Bucs stand than when they reported July 24, but this remains a team with room to evolve.
There's no escaping concerns with the offensive line. That was the cringe-worthy memory last Friday in Jacksonville, and the questions have deservedly followed in the days since then. All the grandiose visions of a high-tempo Jeff Tedford attack, featuring Vincent Jackson, Doug Martin and the rest, will never happen if the issue goes unresolved. The Bucs' defense can become a Top 10 unit under Smith, but if the offense falters because of poor protection, it's hard to see Tampa Bay rising from the NFC South cellar any time soon.
Now, time for the other side. Here are some positives: Defensive tackle Gerald McCoy, with his play and his words, has given every indication that he'll become the leader the new regime envisions; overall, the top defense looked strong in practices and against the Jacksonville Jaguars last Friday, so there seems to be no alarming concern there; and quarterback Josh McCown, despite running for his life last week in the preseason opener, has carried himself well in his new environment.
"More than anything, we learned that we're a group that's willing to work," McCown said Thursday. "That's what I found out. The guys, we came out every day and really put the time in and got quality work when we're out here. Guys pushed themselves, and every guy on the roster was trying to help us get better. So I think that's the most encouraging thing, because when you're starting out in a new system and a new organization and new head coach and all those things. That's the main thing that you want to make sure you have is guys who will put the work in. I think we set that standard, set that tone for ourselves this camp, because from the highest-paid guy on the roster down to the last guy, everybody worked hard. And that's what you want to have."
The Bucs should want more as well, like striving to be competitive in the NFC South and beyond. It's too early to say that will or won't happen this season, but there are some takeaways to be gained from Smith's first training camp here.
Here's a look at some highlights and lowlights ...
STORY OF CAMP
Offensive line concerns
This didn't take long to develop, and it's no surprise to anyone who tracked the Bucs in the offseason. After the offensive line turnover, the area remains a question mark, and no answer appears on its way. Yes, patience must be exercised, but unless the Bucs show large gains Saturday against the Miami Dolphins, the concern will continue. They used various options at guard throughout camp, including Jamon Meredith, Oniel Cousins, Jace Daniels, Kadeem Edwards and Patrick Omameh.
So far, no one has jumped out to make anyone say, "That man is the answer."
Beyond the guard spot, there's more stability. Demar Dotson and Anthony Collins will be the starting tackles, and Evan Dietrich-Smith will be a veteran presence at center. Dietrich-Smith, for one, has emerged as someone who should be a group leader within the unit. He's insightful and grounded from his previous years with the Green Bay Packers, a franchise no stranger to playoff berths and Super Bowl aspirations. If he stays healthy, he should be a figure the Bucs can depend on as their line's anchor.
Still, something must be figured out at guard ... fast. Nothing is more important for the Bucs now.
BEST BATTLE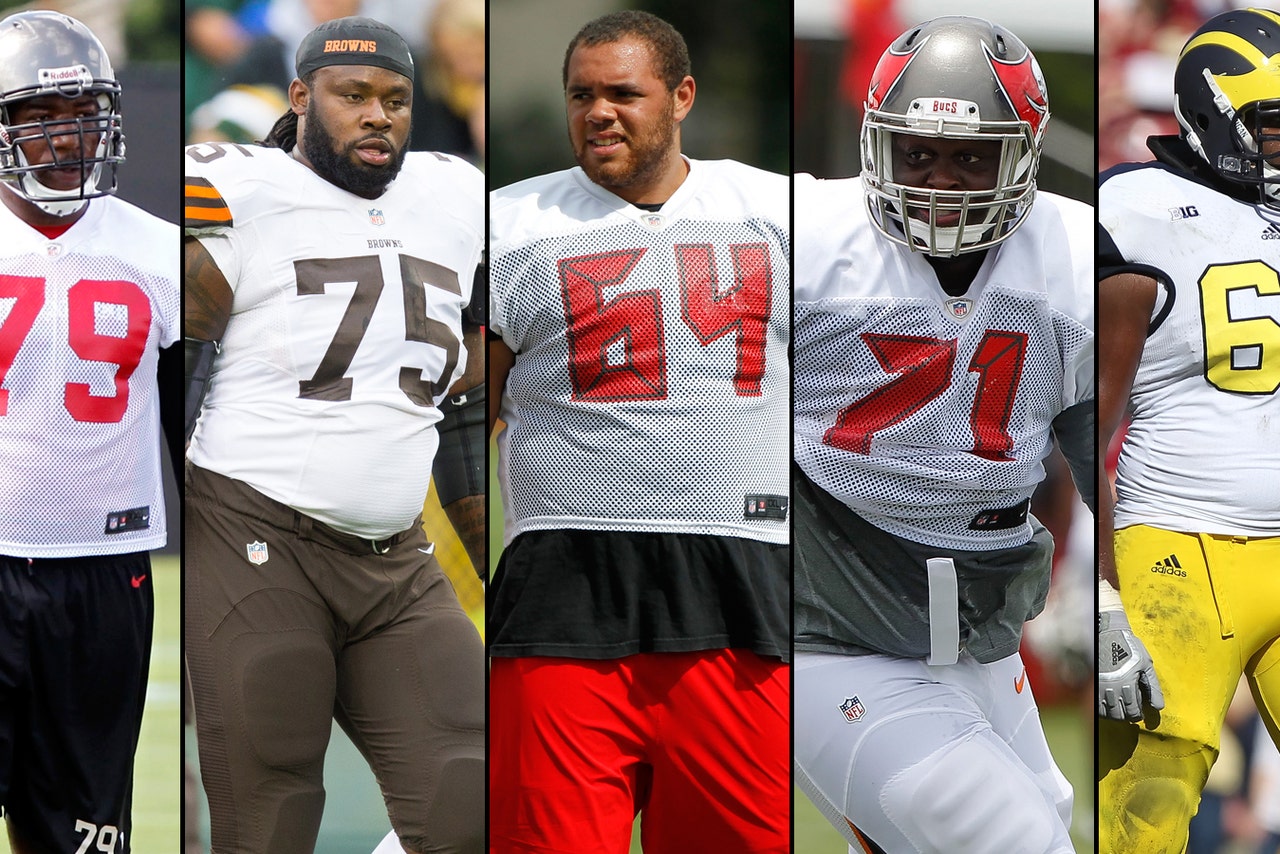 From left: Jamon Meredith, Oniel Cousins, Jace Daniels, Kadeem Edwards and Patrick Omameh.

Offensive guard: Jamon Meredith vs. Oniel Cousins vs. Jace Daniels vs. Kadeem Edwards vs. Patrick Omameh
Meredith struggled in the preseason opener against the Jaguars, so he'll receive more work at tackle. Daniels was a surprise rise to the first-team spot, but Omameh and Cousins were the top guards Thursday.
It's difficult to handicap this race because there has been no shortage of turnover at the spot throughout the past month. If the struggle continues Saturday, the Bucs should look elsewhere. Alex Boone, holding out of training camp with the San Francisco 49ers, has been tossed around as an option. Some have mentioned Richie Incognito as well, but it's almost impossible to believe that Smith and general manager Jason Licht will go that route.
So much rides on the guard spot being solved: The development of Tedford's offense; possibly McCown's health; and the effectiveness of running back Doug Martin, wide receiver Vincent Jackson and more.
Someway and somehow, the Bucs must find a way to fix their issue here.
STOCK RISING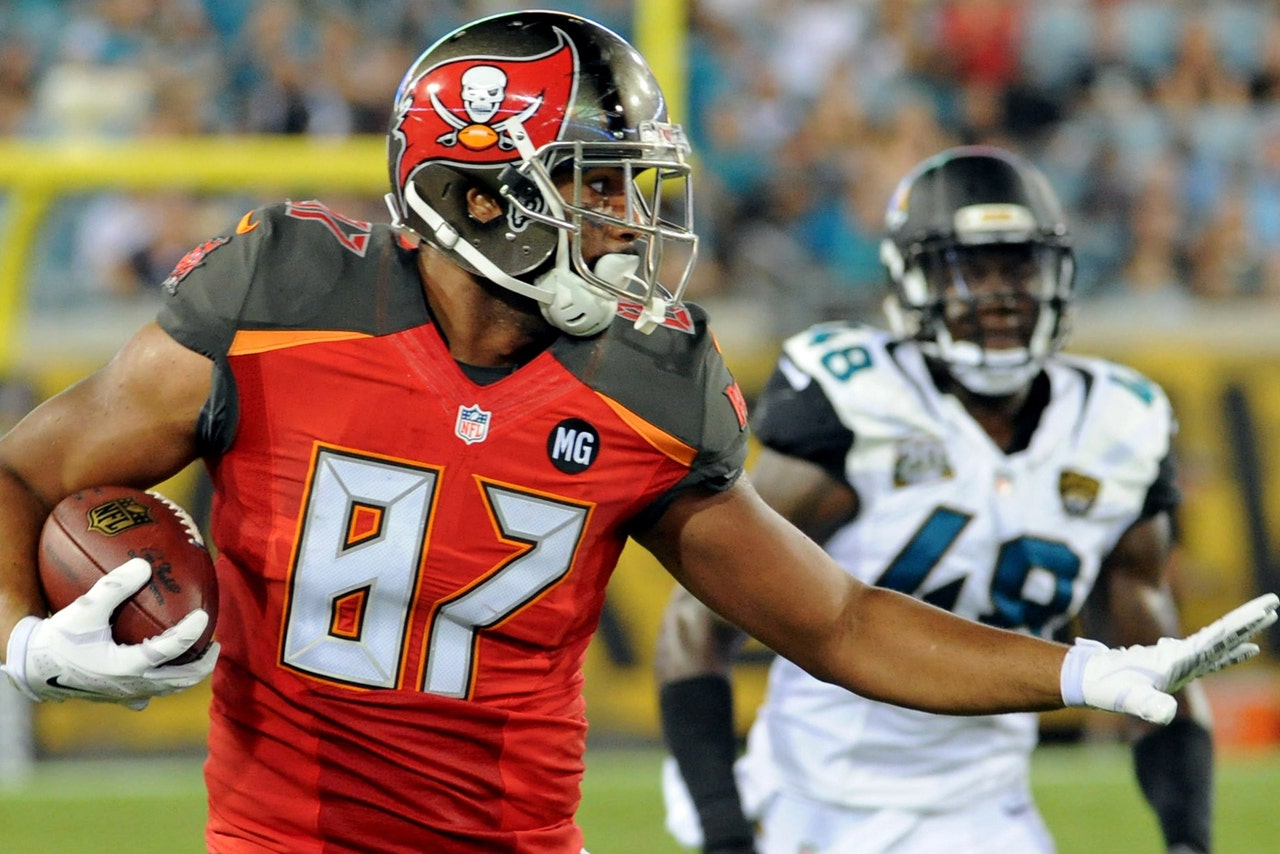 Austin Seferian-Jenkins.
Tight end Austin Seferian-Jenkins
He was an unknown entering training camp, because he missed OTAs and the mandatory minicamp due to Washington's academic schedule. In addition, a stress fracture in his left foot limited his mobility during rookie minicamp. Still, even after all the questions, Seferian-Jenkins flashed often on and off the field.
He's a sizable target at 6-foot-5, 260 pounds. When he wasn't using his athleticism to cradle impressive catches, he showed his maturity by how he analyzed his play after practices. He was self-critical, yet aware of how to improve his play in these important weeks for him.
Honest question: How many rookies will criticize themselves in public harder than a coach ever would? In the modern NFL, a versatile tight end is necessary to stretch the field. Bucs coaches considered Seferian-Jenkins a steal in the second round at 38th overall, and if first impressions count for anything, Tampa Bay should be excited with what he'll offer this fall.
STOCK FALLING
Da'Quan Bowers.
Defensive end Da'Quan Bowers
Surprise, surprise. No player entered training camp with more pressure. It was clear the stakes were high when general manager Jason Licht said before the start of practices last month that Bowers had to prove that he wanted to be on the team.
Given the challenge issued, Bowers has underwhelmed, continuing the theme of his short NFL career. Sure, he had a decent showing against the Jaguars last Friday, when he lined up as a defensive tackle as well as his usual defensive end spot in earning three tackles. But since Monday, he was a rare sight on the practice field because of an upper leg injury.
It's hard to tell how much patience Smith's staff will have with Bowers. In an ideal world for the Bucs, the former second-round pick would use his obvious physical gifts to become a dynamic presence on the defensive line. But it's not a good sign when there always seems to be something wrong with him. His time could be running out.
TAKEAWAY THOUGHT
As with any training camp, much remains to be learned about the Bucs' identity after this one. Dietrich-Smith said that only about 5 percent of Tedford's offense was revealed against Jacksonville. Despite all the concern about the offensive line, specifically the guard, there are bright spots: The defense's development, McCoy's strong play, Seferian-Jenkins' rise and intrigue about running back Charles Sims' possibility (if he stays healthy).
More will be learned soon, particularly in the third preseason game against the Buffalo Bills during the so-called dress rehearsal for the regular season. A new attitude is present with the Bucs' new direction. Whether that feeling can translate to winning remains to be seen.
You can follow Andrew Astleford on Twitter @aastleford or email him at aastleford@gmail.com.
---