Titans free agency: Breaking down team's potential re-signings
BY foxsports • February 27, 2014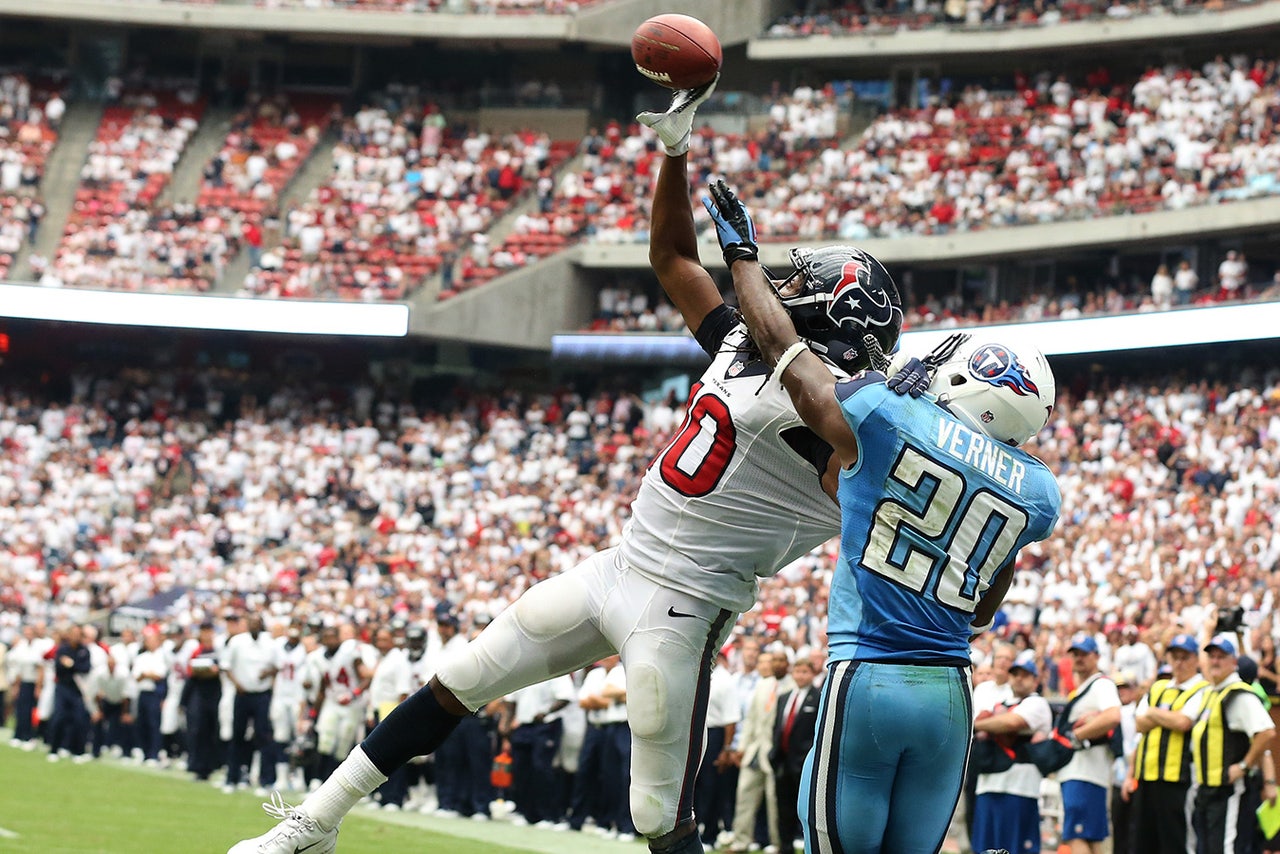 NASHVILLE, Tenn. -- During free agency last year, the Titans went on an unprecedented spending spree.
More than $100 million was committed to signing free agents in hopes of making the playoffs for the first time since 2008. By season's end, third-year head coach Mike Munchak was fired after the team struggled to a 7-9 record.
It's a completely new era for the franchise. With the passing of longtime owner Bud Adams last October, son-in-law Tommy Smith assumed the lead role for the family's ownership group as Titans president and chief executive officer. Chargers offensive coordinator Ken Whisenhunt, the former Cardinals' head coach, was hired in mid-January, and his working relationship with general manager Ruston Webster continues to evolve as the NFL Combine closed earlier this week.
Now it's off to free agency -- retaining their own and/or signing new players -- when it begins March 11.
The new Titans' coach feels confident that leadership from the top is committed to securing the best talent -- either through free agency or the draft -- to fit his offensive and defensive plans and needs.
"I didn't realize how involved he'd been in football for so long," Whisenhunt said of Smith, "and just his depth of knowledge about players has been very impressive. But one of the things I'm really excited about is his direction that he wants to go with the team. He's committed to wanting to put a good football team out there, and everything he's shown to this point to me has been outstanding."
While evaluations for draft prospects will continue all the way to the NFL Draft, the Titans can now conduct negotiations and sign their own free agents and, starting March 8, begin talks with free agents from other teams. In the meantime, Whisenhunt continues to evaluate the Titans' roster, including those who are under contract and will either be retained or cut loose.
"I think there's a lot of pieces in place with our roster," Whisenhunt said, "but as with anything you're always looking for opportunities to improve. We're going through that process right now. ... And we've got free agency coming up in a few weeks. I think, as always, you're looking for opportunities to improve, but I'm encouraged with a lot of the pieces I've seen."
Unless he renegotiates a contract that is set to pay $8 million this year, six-year running back Chris Johnson is expected to be released.
"I think you just work through the process and go through all the pieces of the puzzle," Webster said of dealing with Johnson, " ... seeing what is out there at that position and all that. And Ken has to take some time because he has never coached Chris Johnson, so he is going through the evaluation process himself. We are not going to push it. If we did make a decision, it would be whenever we felt comfortable."
The Titans can place the franchise tag on any of its free agents, but then they would be forced to pay that player the average salary of the top-five highest paid players at that position. The Titans haven't used the franchise tag since placing it on tight end Bo Scaife in 2009.
"It's a year-to-year thing," Webster said. "If it makes sense for you financially, if it gives you extra time to negotiate, then you use it. If it doesn't, then you don't use it and move on. It really depends on what that tag is and how much money it is and are you willing to guarantee that. Because once a player signs it, it's fully guaranteed."
Among the 15 Titans that could become free agents, only running back and special teams standout Jackie Battle, an eight-year veteran, has been re-signed. As the third back, he rushed for 142 yards on 36 carries last season. Battle also played 275 special teams snaps.
While the Titans continue to assess their own group of players who turn free agents on March 11, should they not be re-signed, we offer this assessment of each:
Cornerback Alterraun Verner: In his fourth season, Verner had a breakout year and made his first Pro Bowl after tying for the AFC lead with five interceptions. He will surely command top dollar on the open market, so the Titans will probably move on. The franchise tag is an option, but could be too pricey.
Strong safety Bernard Pollard: After helping the Ravens win the Super Bowl two seasons ago, Pollard led the Titans in tackles in 2013. More importantly, he added a dogged determination the defense previously lacked. If deemed fit for the hybrid 3-4/4-3 schemes of new Titans defensive coordinator Ray Horton, he might be the most important free agent to be re-signed.
Wide receiver Kenny Britt: The former first-round draft pick entered last season as the No. 1 receiver, but struggled to catch the ball and fumbled it too many times when he did. With quality depth at the position, he was a healthy inactive in four games, including three of the last four. It's time for a change of scenery for the oft-injured but athletically gifted Britt.
Defensive end Ropati Pitoitua: Signed last season to help bolster the rush defense, the 6-foot-8, 298-pounder led the line and finished fifth on the team with 91 tackles. But he also had a career-high four sacks, an area the team had been sorely lacking. Once again, his return will be determined by his fit in the new defense.
Quarterback Rusty Smith: After four seasons as the No. 3 quarterback, Smith hasn't moved into the backup slot. While it is unsure whether veteran Ryan Fitzpatrick, the current backup to starter Jake Locker, will be released, it's a safe bet Smith won't be back. Also on the roster is former Raiders quarterback Tyler Wilson.
Returner Leon Washington: Signed late in the season after previous kickoff and punt returners Marc Mariani was injured and Darius Reynaud imploded, the eight-year veteran proved he still has it. He averaged 30.1 yards on kickoff returns.
Wide receiver Marc Mariani: A seventh-round draft pick in 2010, he burst on the scene as a return specialist and made the Pro Bowl as a rookie. But after consecutive season-ending injuries, and plenty of quality depth at receiver, there just isn't room for the fan favorite.
Wide receiver Kevin Walter: Signed to provide depth and insurance against Britt last season, the 11-year veteran didn't play a down after being injured in preseason. A sure-handed possession receiver, he could be re-signed at the veteran minimum salary.
Wide receiver Damian Williams: The former third-round draft pick has had four seasons to move up the depth chart, but has been drafted over for the past two years by Kendall Wright in 2012 and Justin Hunter last seasons, despite finishing second on the team in catches in 2011. With a new regime, Williams might get another chance.
Offensive tackle Mike Otto: The six-year veteran can play either tackle or guard and provide quality depth or be a spot starter. He'll sign somewhere, and the Titans need this kind of versatile depth up front, so don't be surprised if he's back.
Defensive tackle Antonio Johnson: Like most Titans defensive linemen going forward, the seven-year veteran will need to fit. He is a traditional run stuffer and could be big enough at 328 pounds to play noseguard. He played in all 16 games last year and had 35 tackles.
Center/guard Chris Spencer: The 2006 first-round draft pick of the Seahawks is a proven veteran who is still good enough to start for some teams at guard or center. He played in all 16 games last season, including every game on special teams. Every team needs quality depth like this.
Center/guard Rob Turner: After starting all 16 games for the Rams in 2012, the six-year veteran was the biggest free agent disappointment last season. The Titans cut previous starter Fernando Velasco to make room for Turner, who started the first six games at center before being placed on injured reserve. Don't expect him to return.
Center Kevin Matthews: The pedigree is there for Matthews, but the level of play is not. His father is former Titans offensive line coach and Oilers/Titans Pro Football Hall of Fame lineman Bruce Matthews, while his brother, Texas A&M tackle Jake Matthews, is expected to be a top 10 draft pick. He won't be back.
---