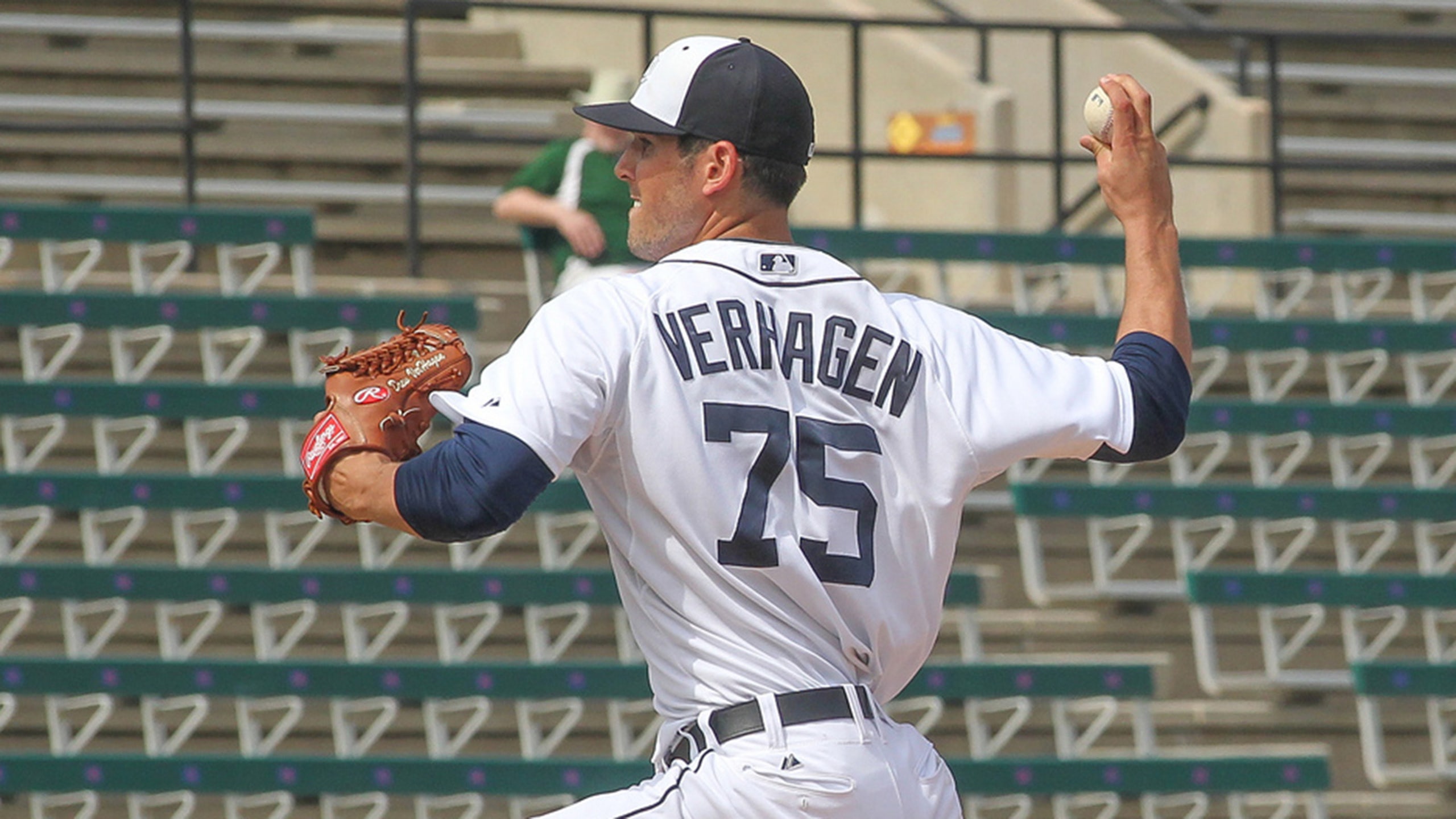 Tigers prospect VerHagen impresses vs. Florida Southern
BY foxsports • February 25, 2014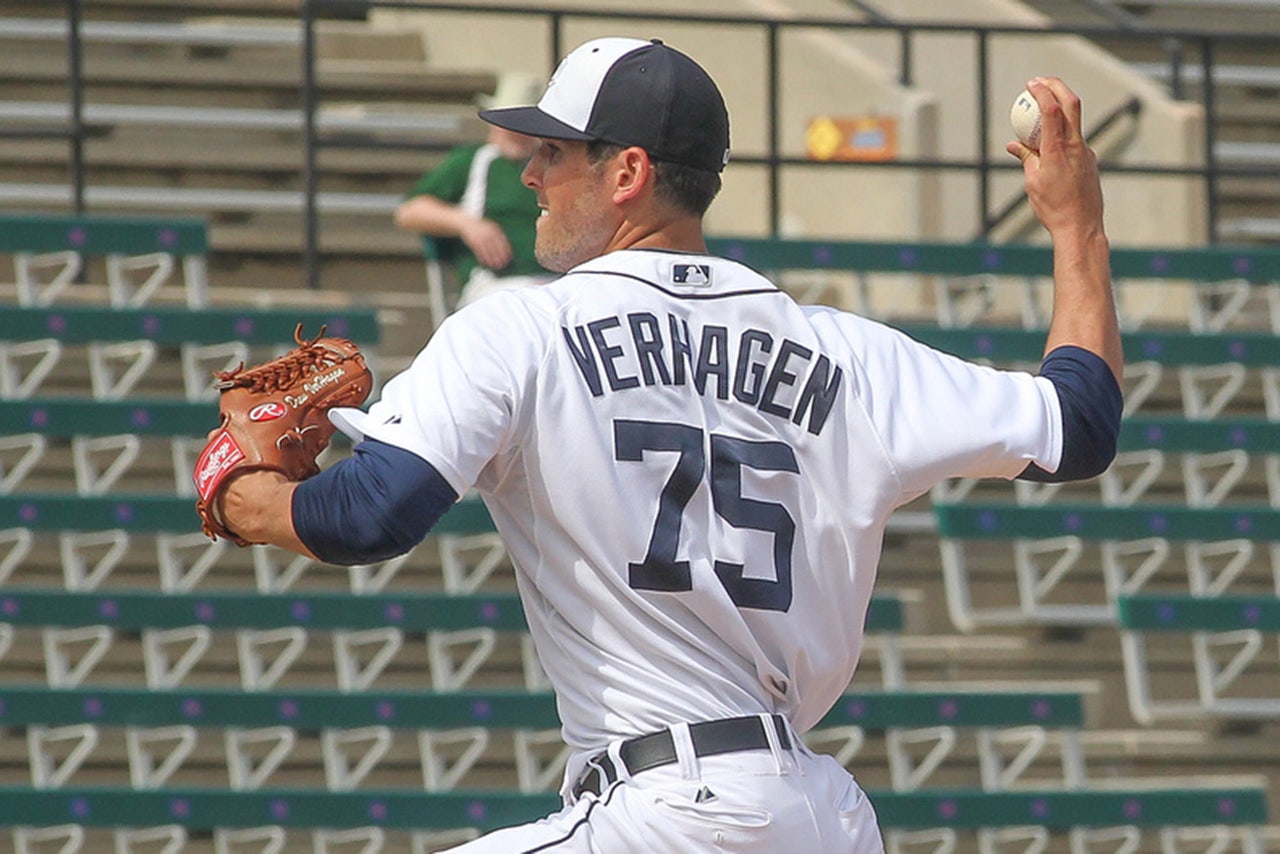 LAKELAND, Fla. -- Drew VerHagen is tall, talented and willing to play along with a good joke.
On Tuesday, VerHagen got the honor of starting the Tigers' annual exhibition game against Florida Southern College.
VerHagen pitched two innings, did not allow a hit and struck out two.
"He looked good," Tigers manager Brad Ausmus said. "His stuff looked good. He's got a good curveball, he's got good mound presence. Looks a little bit like a young Ben Affleck. He's a big guy. You certainly always like to have a little bit of size on the mound. It doesn't always translate but it doesn't hurt."
It has to be imposing for a hitter, seeing a 6-foot-6, 230-pound pitcher on the mound staring down at you.
That's what the Tigers hoped for when they selected VerHagen in the fourth round of the 2012 First-Year Player Draft out of Vanderbilt.
VerHagen, 23, made 23 starts in the minors last season, 11 with Single-A Lakeland and 12 with Double-A Erie.
With Lakeland, VerHagen went 5-3 with a 2.81 ERA and 1.13 WHIP.  Opponents batted .207 against him.
With Erie, VerHagen went 2-5 with a 3.00 ERA and 1.17 WHIP. Opponents batted .240 against him.
VerHagen could spend more time in Erie this season but could also see time at Triple-A Toledo, depending on how he starts the season.
He already knows what he needs to work on.
"Just developing more consistency with my off-speed pitches," VerHagen said. "My fastball's kind of my bread and butter. I need to develop the ability to command my breaking ball and change-up every time, every start. I know I'll have a few misfires here and there but it needs to be more consistent, something I can count on.
"I made huge improvements on that last year, working with Mike Maroth in Lakeland and then Jaime Garcia in Erie. I've already made big strides with that. I just want to continue to work on those pitches."
The Tigers invited VerHagen as a non-roster player to big league camp this spring.
"So far it's been a really good experience, just being able to watch how the big league guys approach every day," VerHagen said. "They're very routine-oriented and I try to pick up on certain things from them. It's been a really good time so far."
VerHagen said he's taken every opportunity to talk to the Tigers' pitchers, particularly the starters, asking them how to stay healthy over the course of a long season.
He's also had the chance to pitch to big-league hitters during live batting practice. He's faced Ian Kinsler, Austin Jackson and Don Kelly.
"It's obviously awesome considering I don't have any big league experience," VerHagen said. "These are guys I watched on TV and they were the best hitters in the world. But I try not to pay too much attention to that and just kind of work with my catcher and not pay too much attention to who's standing there in the box."
VerHagen said the hitters often give him positive feedback.
"Here and there, they'll say, 'That's a good pitch, you kept the same delivery on that' or 'I can't see that as well coming out of your hand so that's good,'" VerHagen said. 
The other good thing is getting acclimated to the big league atmosphere.
Ausmus has helped further that cause by holding a daily meeting about baseball and other things.
One of those other things was having VerHagen and catcher James McCann visit Cirque Italia when they were performing in a tent in the back parking lot at Joker Marchant Stadium.
"I got close to learning how to juggle," VerHagen said. "They had us hold up a couple of the real light guys that are the acrobats, which was cool because I hardly did any of the work. He just kind of lifted himself up and did a handstand. It was pretty cool."
VerHagen and McCann also interviewed some of the circus performers for a video that was played at the morning meeting two days later.
"James McCann came up with a good idea," VerHagen said. "We set it up. We asked one of the guys if he knew (Justin) Verlander and he said no, asked if he knew (Max) Scherzer and he said no. Then we asked him if he knew Drew Smyly and he's like, 'Oh, yeah, the shooter, the big shooter!' He said, 'He's very famous in our country (Russia).'"
---