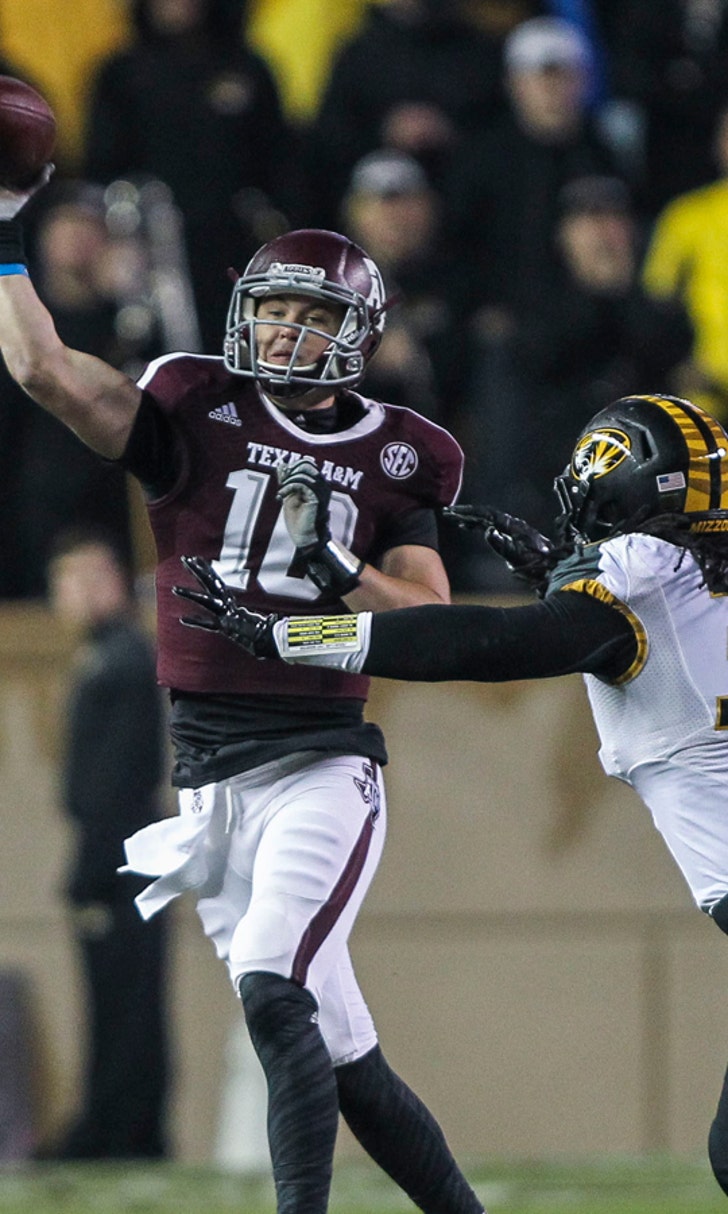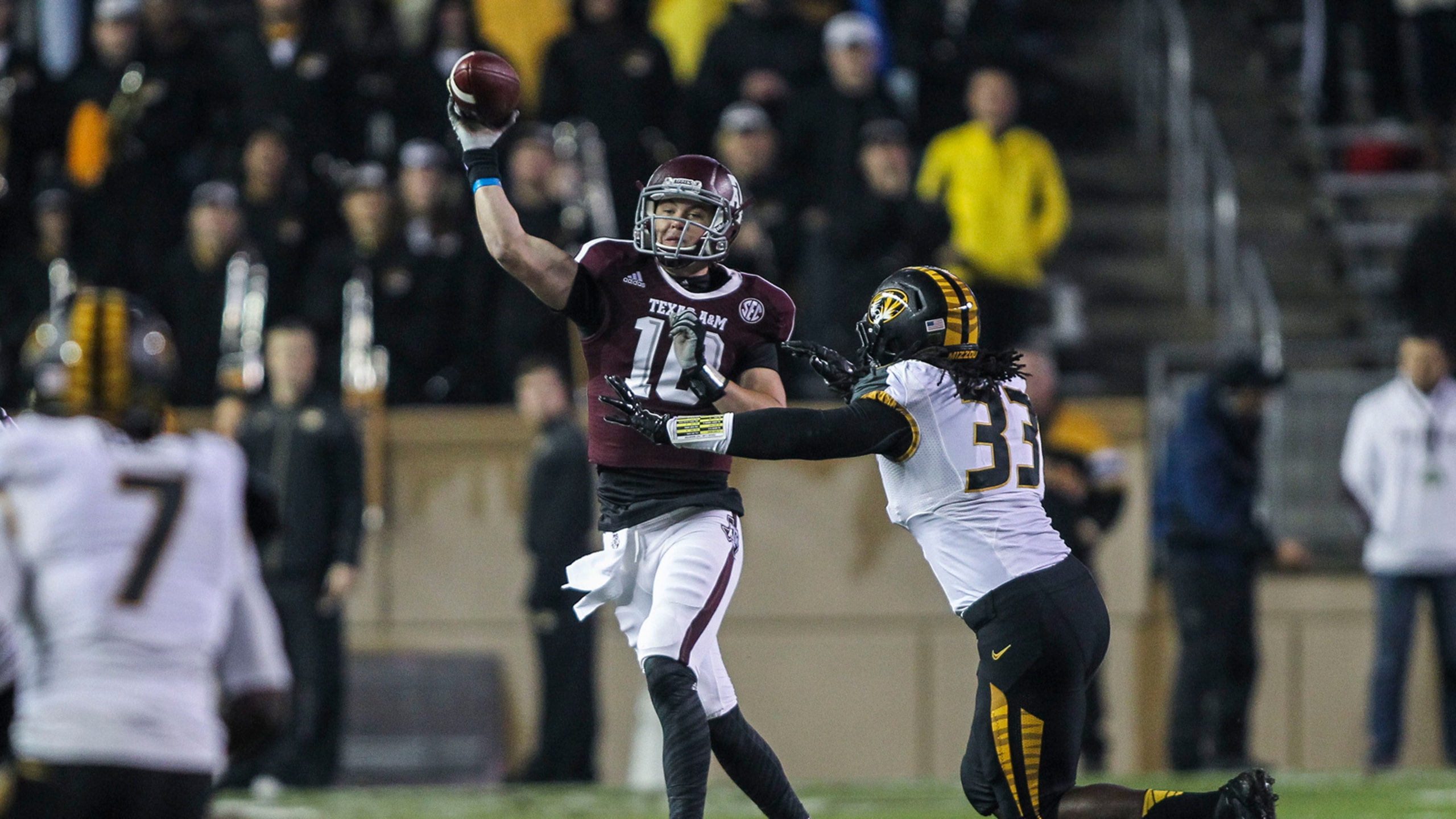 Texas A&M returns home after upset with letdown loss to Mizzou
BY foxsports • November 16, 2014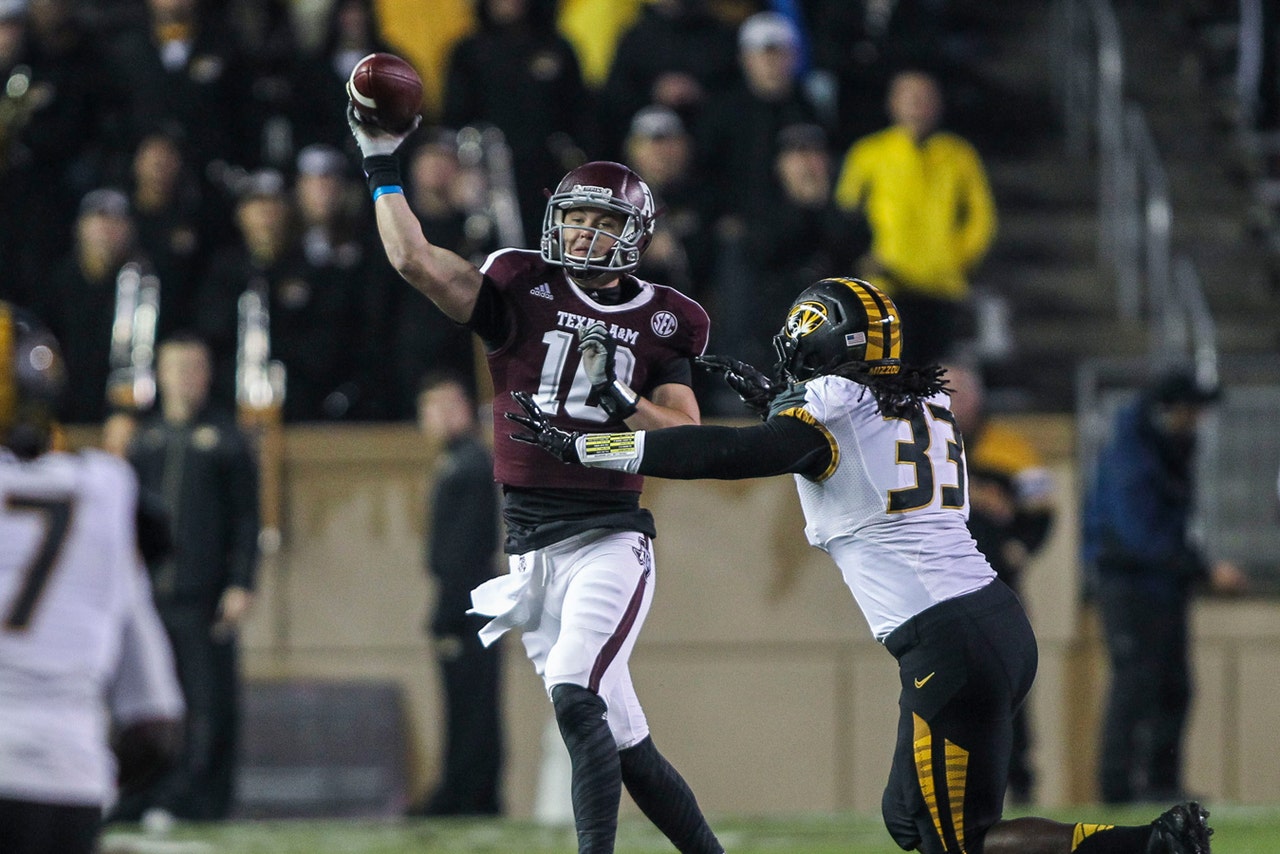 COLLEGE STATION, Texas -- There were no lucky late breaks this time for Texas A&M.
A week after the everything bounced their way in a stunning road upset of then-No. 3 Auburn, the No. 24 Aggies couldn't ride the momentum as they returned home with a 34-27 loss to Missouri on Saturday. 
Many of the 104,000-plus in attendance began to head for the exits after the Tigers took a 34-20 lead heading into the fourth quarter. But it also could have been due to the cold and rainy weather, because the Aggies were never out of the game. 
After a failed Mizzou field goal attempt that hit the right upright with less than five minutes left to play, Texas A&M quarterback Kyle Allen marched the offense into the red zone with a chance to tie. 
But on fourth down at the 3-yard line, the Aggies couldn't convert. 
"Devastating is the word because that was to tie the game," Texas A&M coach Kevin Sumlin said. "It's a play that we practiced a lot and they held it. It's a tough deal because that was to try to send this thing into overtime."
Allen followed up his brilliant performance last week with another near-flawless game in just his third career start, going 24-of-35 for 237 yards passing, three touchdowns and one interception. 
"I thought he operated pretty well," Sumlin said. "Nothing glaring or major mistakes that would give the other team points. The interception went right through the receiver's hands. 
"Overall, I think he took care of the ball. I think he looked confident." 
The Aggies' defense, who were without injured linemen Myles Garrett and Ivan Robinson, fell apart in the third quarter after holding the Tigers out of the end zone in the first half. 
"To lose a few guys that have done so much for us this year, it had to affect us some," Sumlin said. "Hopefully, we'll have those guys back for the LSU game."
Mizzou running back Russell Hansbrough rushed for 199 of the Tigers' 335 yards on the ground, and they pulled away with four touchdowns after trailing 13-6 at halftime. 
"I don't know what happened," defensive lineman Julian Obioha said. "I think they saw a hole in our defense and exposed it. They had their go-to play that we really couldn't stop."
It's been a frustrating roller-coster season for the Aggies, who only have wins over Lamar, Rice, and Louisiana-Monroe at the new and improved Kyle Field. 
"I'm pretty upset," wide receiver Malcome Kennedy said. "We played hard and just came up short. We did some good things, just not good enough."
They'll have one more chance to get a conference home win on Thanksgiving night when LSU visits College Station.
Follow me on Twitter @LouisOjedaJr
---