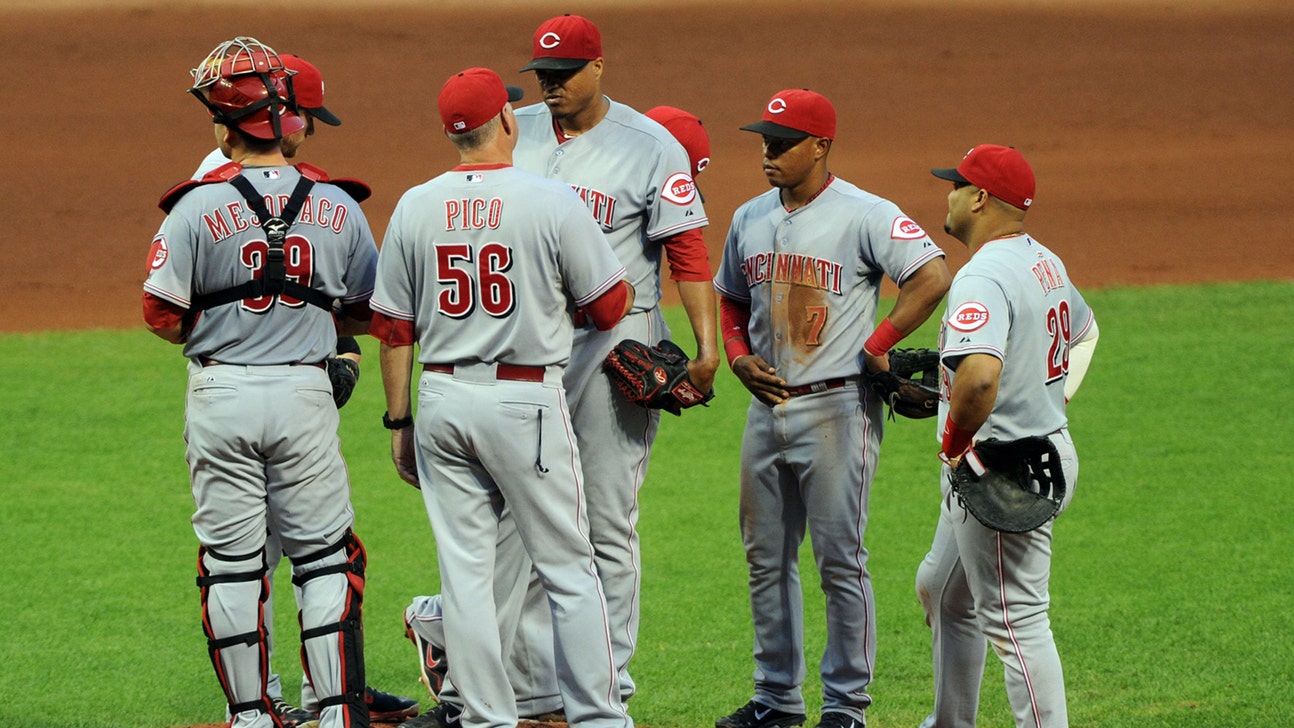 Simon's troubles not about fatigue
Published
Aug. 10, 2014 12:48 p.m. ET

CINCINNATI -- Something is wrong with Alfredo Simon but it's not fatigue. That's too easy of an excuse, although it is a valid question given the unchartered waters the Reds' right-hander has entered this season.
Never before has he thrown as many innings as the 143 he has tossed this season, the latest being a five-inning outing in Saturday's 4-3 loss to Miami. Simon didn't take the loss Saturday -- that went to reliever Sam LeCure, who gave up a pair of runs in the sixth inning that broke a 2-2 tie -- but Simon didn't do himself or his teammates any favors by running his pitch count to 91 through those five innings. He walked five batters on top of the four hits he allowed, including three walks in the fifth and final inning.
He was able to pitch around that mess in the fifth inning but that was also the end of his night. It was the fourth time in five games since the All-Star break that the All-Star Simon didn't pitch past the fifth inning. He's lost his last four decisions and the Reds have lost five straight starts by Simon.
"It really comes down to pitch execution," said manager Bryan Price. "You don't see guys who are centering pitches pitching from behind, elevating pitches, throwing a lot of two-strike elevation pitches that are having great years. That's what's been going on."
Simon was highly efficient through his first 18 starts of the season leading up to the All-Star game. Forget the 12-3 record he amassed. He pitched into the seventh inning or beyond in 13 of those 18 starts and only twice did he not go at least six innings. In his last 10 innings, Simon has walked eight batters and hit one. Only three times in his previous 22 starts had he walked three or more batters but he's done it in consecutive starts against Cleveland and Miami.
According to FanGraphs.com, Simon's velocity is not an issue. He's still throwing his fastball consistently in the low-to-mid 90s. Hitting his spots is the issue.
That's why while Price understands why the question of fatigue comes up with Simon, he's not buying that as a reason.
"We'd have to know that he's tired either through velocity or a general malaise or fatigue that we could see, or he'd have to tell us he needs a break," said Price. "He's the same. He's champing at the bit to stay in the game. He didn't want to come out of (Saturday's) ballgame but he had to with 91 pitches in five innings. He wasn't sharp.
"I want to stay away from the fatigue thing because it's too easy for me to go that route and just say he's tired or that he's never thrown this many innings. Going into this season he was going to pitch and he was going to pitch every fifth day until he pitched his way out of the rotation or we needed him in the bullpen. He has pitched his tail off. He's got 12 wins. It stinks that he hasn't been great since the All-Star break but I can't just pin the fatigue/he's tired thing on him because I just haven't seen that."
The rest of the Reds rotation -- Johnny Cueto, Homer Bailey, Mat Latos and Mike Leake -- all have experience pitching this deep and long into a season. They've all had multiple seasons of making 30 or more starts and all of them with the exception of Leake have thrown 200-plus innings in a season previously. Leake's 160 2/3 innings pitched this season are second on the team to Cueto, who leads the National League with 171 innings.
It's a lot for Simon to live up. He pitched so well in the first half of the season, beyond what anyone could've hoped for given he was just supposed to be filling in for Latos while he recovered from offseason elbow and knee surgeries. The Reds have compiled the most innings pitched (754 2/3) by their starters of any team in Major League Baseball. Their overall ERA of 3.23 is second in the majors, behind only the 3.19 ERA of the Los Angeles Dodgers.
For a team built on its pitching and defense, the Reds need Simon to figure out his troubles quick.
---