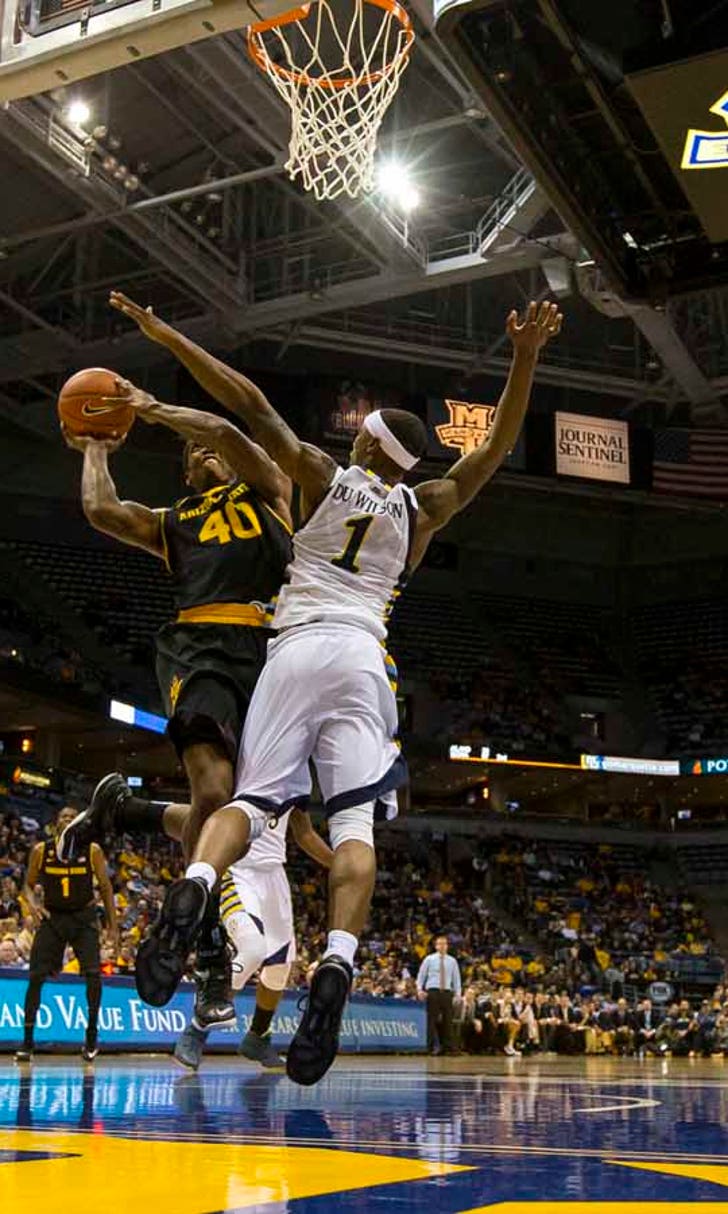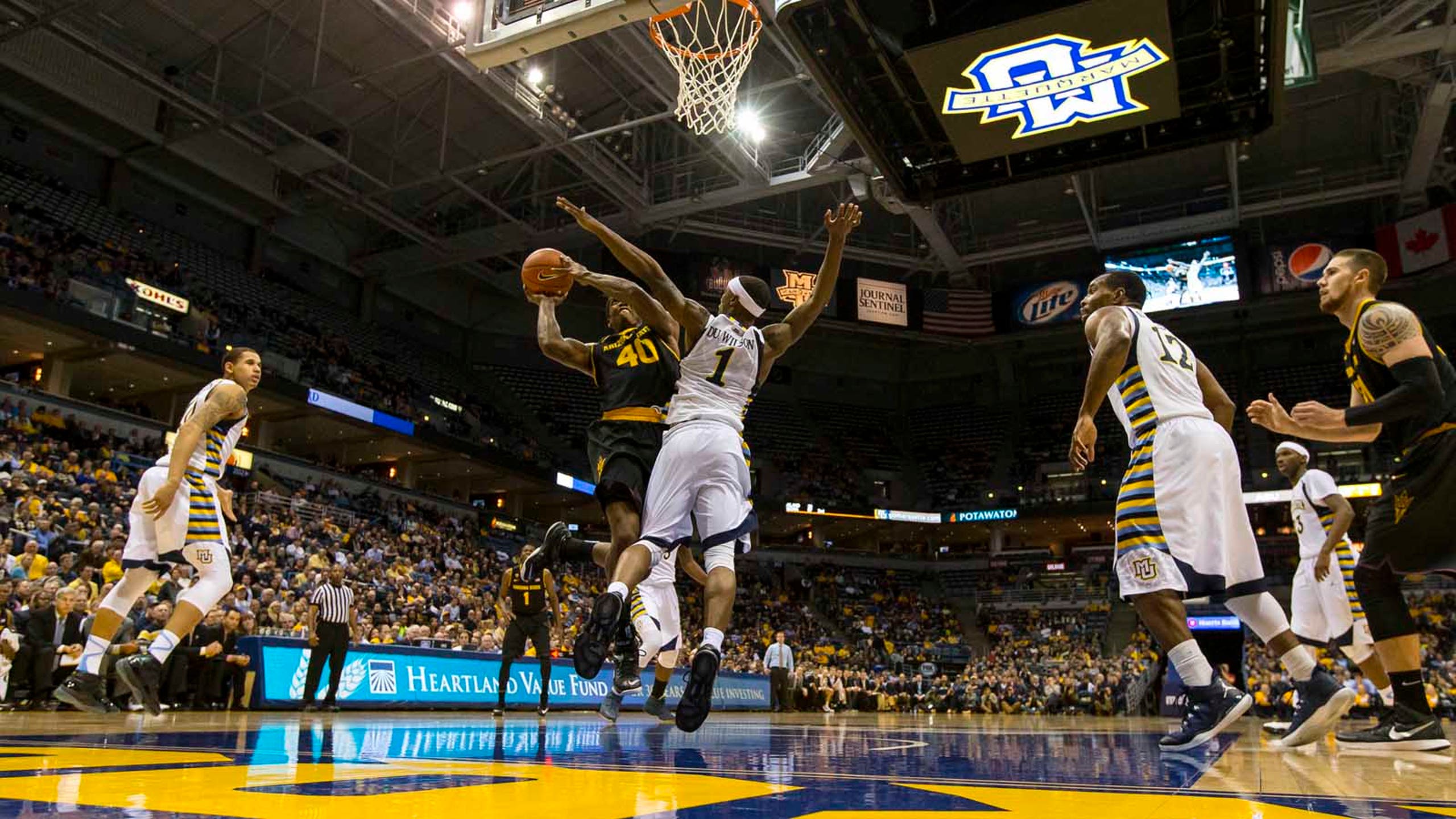 Short-handed Marquette squad adopting '8Strong' mentality
BY foxsports • December 18, 2014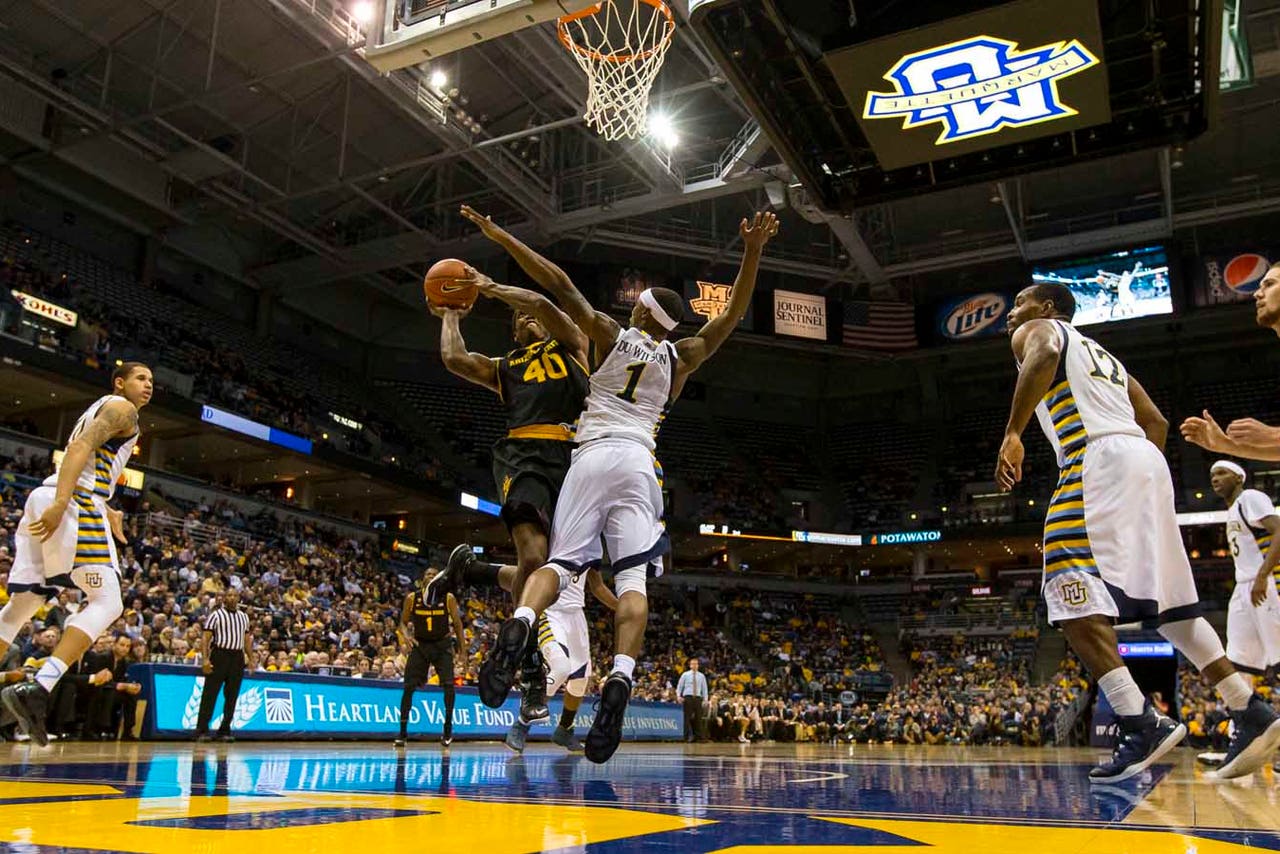 MILWAUKEE -- Shortly after Deonte Burton and John Dawson announced their intentions to transfer, the Marquette men's basketball program began embracing its current roster predicament of having just eight available scholarship players.
From a graphic appearing on various promotional items to a hashtag in tweets from players and coaches, "8Strong" has become a rallying cry for the Golden Eagles as they prepare to host Alabama A&M at the Al McGuire Center on Friday.
"Absolutely," sophomore center Luke Fischer said. "We knew we would come together as a team eventually. I think we finally have now. We realize it doesn't matter how many guys we have, we're going to play with those guys and those guys are going to play with each other.
"You hear all around that we're done for the year after losing some guys that could have been key for us. Now that we have our set team we can move on and get better from that."
The potential for team morale issues is there any time players depart during the season, but Marquette coach Steve Wojciechowski wasn't worried about his current group of eight available scholarship players, one newly added walk-on and a redshirting transfer.
Marquette played its best game of the season Tuesday, as the seven-point final margin doesn't show how thoroughly the Golden Eagles whipped an Arizona State team ranked 73rd by KenPom.com.
"I thought it was something that could be good," Wojciechowski said. "We want people who want to be here at Marquette and who are fully invested in what we're doing. That's not a knock on those guys; we wish them the best of luck. But when you go in the locker room and know everybody's on the same page about what we're trying to accomplish -- our group goals are first -- that's a good feeling. And I think everybody senses that."
Marquette began the season with 11 scholarship players on the roster, with junior guard Wally Ellenson redshirting after transferring from Minnesota in the summer. With Fischer unable to play until this week, the Golden Eagles had nine available players for the first eight games of the year.
Wojciechowski is not placing any restrictions on where Burton or Dawson can transfer to, but the Big East prevents players from transferring within the conference. The more attractive of the two is Burton, who is reported to be considering Iowa State and UCLA.
"Look, they don't want to be here, then they can go anywhere," Wojciechowski said. "My sole and total focus is the guys that want to be here. I don't put conditions on anyone.
They're kids; they have the right to do what they want. I'm not a big believer in that. So they can go play anywhere."
Ellenson is able to practice while redshirting and the Golden Eagles recently added walk-on guard Pete Thaus, but Marquette has had to adjust the way it practices. The same players are receiving every repetition in practice, forcing Wojciechowski to have to shorten practices at times.
Along with Wojciechowski, staff members Chris Carrawell, Brett Nelson, Travis Diener, Justin Gainey and Tyler Thornton all played high-level college basketball and are still able to lend a hand at practice.
"Having eight guys, if they're healthy and they're all good players and they're all fully invested in what we're doing, that's fine," Wojciechowski said. "I think the morale of the team is good. I think we've had really good practices. Without question, everybody's all in. I like where we are right now, and I think the guys do, too."
Burton and Dawson departing leaves Marquette with three available scholarships for next season. Wojciechowski has already signed a four-player recruiting class ranked in the top 10 nationally by multiple outlets, and the first-year coach can go in a few different directions in order to fill the three scholarships.
He can opt to add a fifth-year graduate transfer -- similar to Matt Carlino -- who is eligible to play right away next season, a transfer who must sit out a year, a junior college player or another prep recruit.
"It may be all of the above," Wojciechowski said. "We are constantly on the lookout for ways to improve our team. Having guys leave opens up more spots. We have to figure out who is available and if they fit what we are doing. Do they fit a need we have right now, or is it best to hold it for the future?
"There are already 30-something kids that announced they are going to transfer. Most schools' exams just ended. We evaluate everyone. We have to be ready to make moves as soon as next year."
As for this year's team, Tuesday's victory over Arizona State left Marquette with a good chance to enter Big East play on a four-game winning streak. The Golden Eagles have three home games before traveling to DePaul for the conference opener on New Year's Eve: Alabama A&M on Friday, North Dakota on Monday and Morgan State on Dec. 28.
Marquette can ill afford a slip up against one of its last three non-conference opponents -- KenPom.com ranks none higher than 298th -- if it wants to keep its postseason hopes alive.
"This is a big stretch for us coming into conference play," Fischer said. "We need these four games. We have one down and another big one on Friday."
Follow Andrew Gruman on Twitter
---