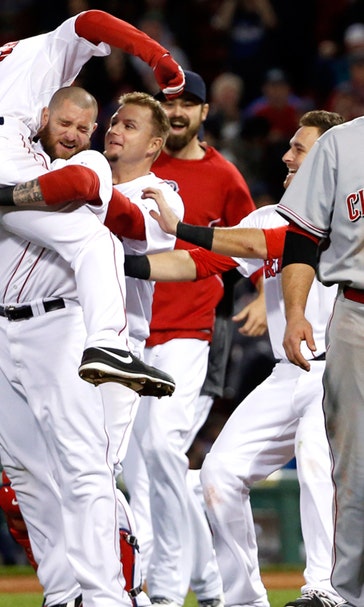 Red Sox beat Reds 4-3 in 12 on Sizemore Wall ball
May 6, 2014

BOSTON (AP) -- Grady Sizemore lined one off the Green Monster to score the game-winning run in the 12th inning and the Boston Red Sox beat the Cincinnati Reds 4-3 on Tuesday night.
It was the longest game between the two teams since the Red Sox won Game 6 of the 1975 World Series on Carlton Fisk's 12th-inning homer.
Craig Breslow (1-0) pitched one inning of scoreless relief for the win.
Logan Ondrusek (0-2) took the loss. He pitched a scoreless 11th but gave up singles to David Ortiz and Mike Napoli before Sizemore lined one off the left-field Wall. The outfielders did not even bother retrieving it as Ortiz scored easily.
Dustin Pedroia had three hits, including two doubles, and Sizemore also had three hits for the Red Sox, who won for the third time in four games. Napoli drove in a pair of runs as the Red Sox opened a 3-1 lead only to see Junichi Tazawa give it up in the eighth.
Cincinnati beat the Red Sox in the '75 Series in seven games despite Fisk's 12th-inning homer in Game 6. The teams also met for interleague series in 2005 and `08.
Red Sox starter Felix Doubront allowed one run on five hits, but he walked two batters in the sixth before leaving with one out and a 3-1 lead. Burke Badenhop threw one pitch to Skip Schumaker to get an inning-ending play.
It was still 3-1 in the eighth when Joey Votto drew a one-out walk and Brandon Phillips doubled to put runners on second and third. Todd Frazier singled in one run, and Ryan Ludwick tied it 3-all with a sacrifice fly.
NOTES: The Reds placed RF Jay Bruce on the 15-day disabled list with a torn meniscus in his left knee and selected the contract of OF Roger Bernadina from Triple-A Louisville. Bruce had arthroscopic surgery on Monday and is expected to miss about a month. ... The game marked the 99th anniversary of Babe Ruth's first of 714 career homers, on May 6, 1915. The Red Sox LHP also pitched 12 1-3 innings and took the loss in a complete game against the Yankees at the Polo Grounds. ... The Reds announced that their April 28 rainout against the Cubs will be made up as part of a day-night doubleheader on July 8. ... Red Sox DH David Ortiz played in his 2,000th career game.
---