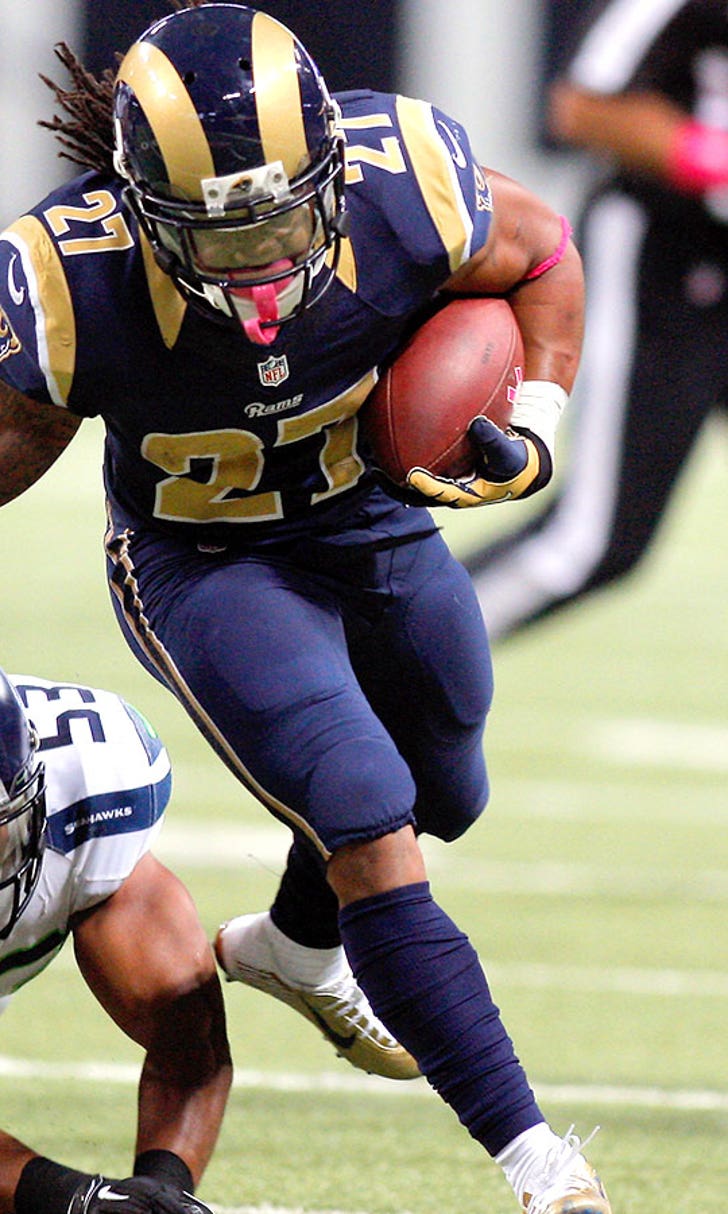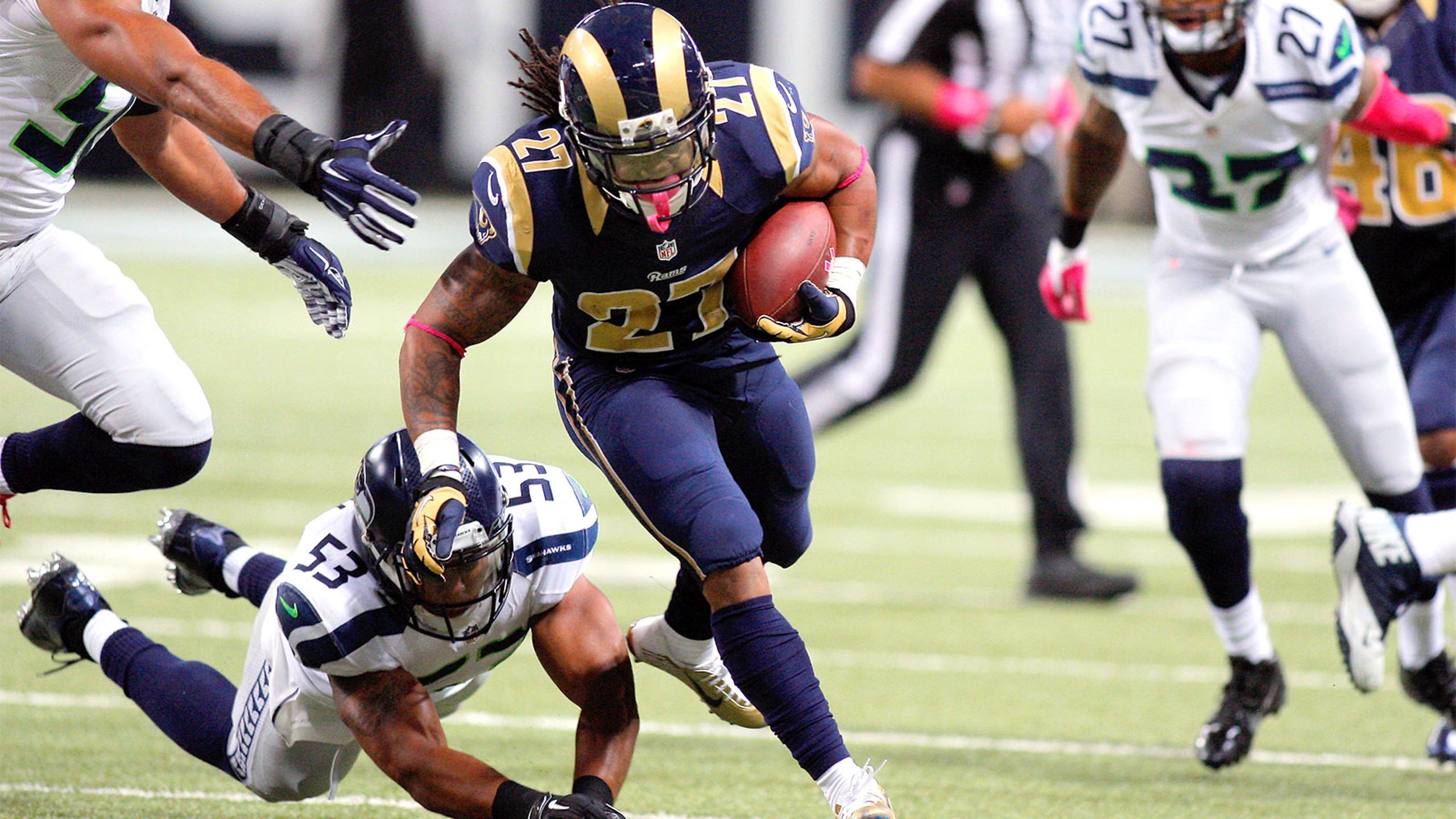 RBBC: Mason steps up in St. Louis
BY John Halpin • October 21, 2014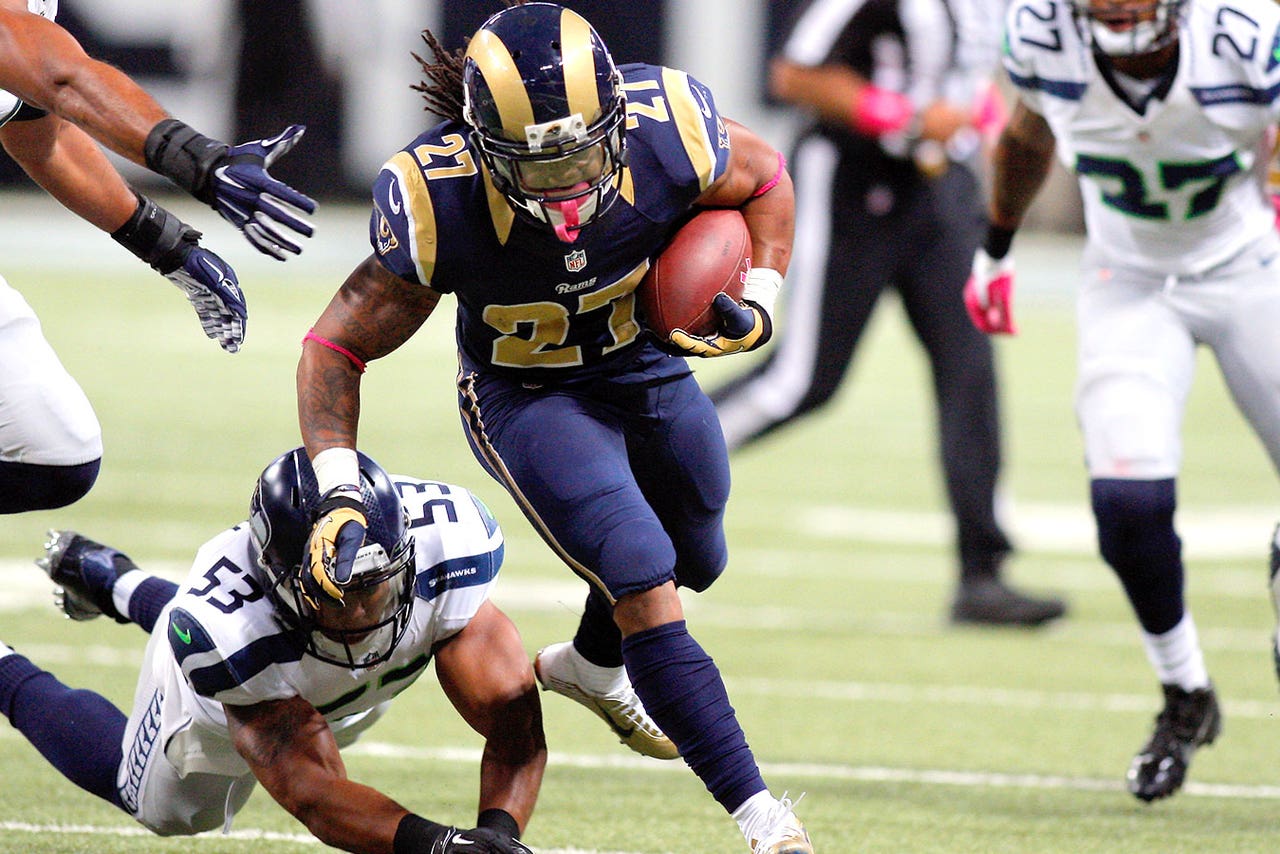 Each week during the 2014 season, we're going to take a look at five running-back-by-committee (RBBC) situations that you should keep a close eye on. Some will have big questions, while others might be noted due to their circumstances becoming clearer. Finally, we're going to focus more on the week ahead than look down the road.
Week 8 byes: Giants, 49ers
And now, in alphabetical order ...
Green Bay Packers
Over the last two games, Eddie Lacy has had 29 touches (26 carries, three receptions), while James Starks has had 18 touches (15 carries, three receptions). Both backs have run near the goal line, and from Weeks 5-7, Lacy and Starks pretty much split snaps until Starks left Sunday's blowout with an ankle injury.
A shared workload certainly doesn't mean Lacy is worthless, nor does it signal that Starks is ready to be a weekly start for your fantasy squad. However, those of you that drafted Lacy in Round 1 are in for more disappointment as the season moves forward. If you want more reason to get depressed about Lacy, read this piece from our friend JJ Zachariason at numberFire. Manage your expectations, Lacy owners.
Jacksonville Jaguars
They've finally found someone! YAY! Denard Robinson ran 22 times for 127 yards against the Browns on Sunday, and head coach Gus Bradley said, "Yeah, I think so" when asked after the game if Robinson would keep the job as the Jags' feature back. He also said, "We'll look at the film. He did a good job, and we hope to get Toby (Gerhart) back."
That second quote is not meant to dissuade you from picking up Robinson if you can. He's the second-best free-agent back out there this week (more on that later). But, you shouldn't expect him to run 22 times very often. A healthy Gerhart would give the Jags an interesting pair of backs, and they'll probably use both. Let's see if Gerhart returns to practice this week.
New England Patriots
Week 1 A.S. (After Stevan) saw Shane Vereen run 11 times for 43 yards, and catch five passes for 71 yards and two touchdowns against the pesky Jets. Jonas Gray was on the field for three snaps and ran three times for 12 yards, while popular Week 7 free agent Brandon Bolden was out there for ONE snap and didn't get the ball.
Looking ahead, remember that the Pats' backfield usage is usually unpredictable, so more work for Bolden, Gray or James White is always possible. However, I wouldn't pick up any of them, and I'd be fine starting Vereen as an RB2. Vereen won't be a high-volume runner – he'll be in the single-digit carry range sometimes – but he'll catch plenty of passes.
New Orleans Saints
At press time – do they still say "press time?" – reports suggested that Pierre Thomas might miss 2-3 weeks with a shoulder injury. If that happens, the guess here is that not too much changes in the Saints' backfield. Travaris Cadet would likely step in for Thomas as the receiving back, and Mark Ingram (10 carries, 16 yards in Week 7) will continue to lead Khiry Robinson in the quest for traditional-back work. Ingram is flex-worthy this week against the Packers, and Thomas can start for you if he's active. If Thomas is out, any investment in Cadet would be a reach.
St. Louis Rams
After coming on the field for just one snap in Week 7, Zac Stacy has entered the Federal Witness Protection Program. It is believed that he's now living in Fairbanks, Alaska, under the name "Kumaglak Jones." You can drop him any time.
Mason ran 18 times for 85 yards and a touchdown against the Seahawks, while Benny Cunningham carried twice for three yards while catching five passes for 46 yards and a touchdown. Mason is the man here now, startable as a low-end RB2 at Kansas City this week. He's owned in 7.1 percent of FOXSports.com leagues, and should be your primary free-agent target this week.
Cunningham will play on most passing downs because he can catch and (more importantly) block, and he'll be an iffy PPR consideration. Seven touches doesn't exactly inspire confidence.
BONUS TEAM
Buffalo Bills
Read today's blog entry for an update in the aftermath of the Fred Jackson and C.J. Spiller injuries. Spiller has been placed on the "injured reserve/designated to return list," so he can't play until at least Week 16. Sayonara, C.J.
One more note on this situation, beyond the near term: If Fred Jackson returns by Week 11 or 12, which remaining back will be more of a complement to him? It's the powerful Dixon and not the versatile Brown, right?
---