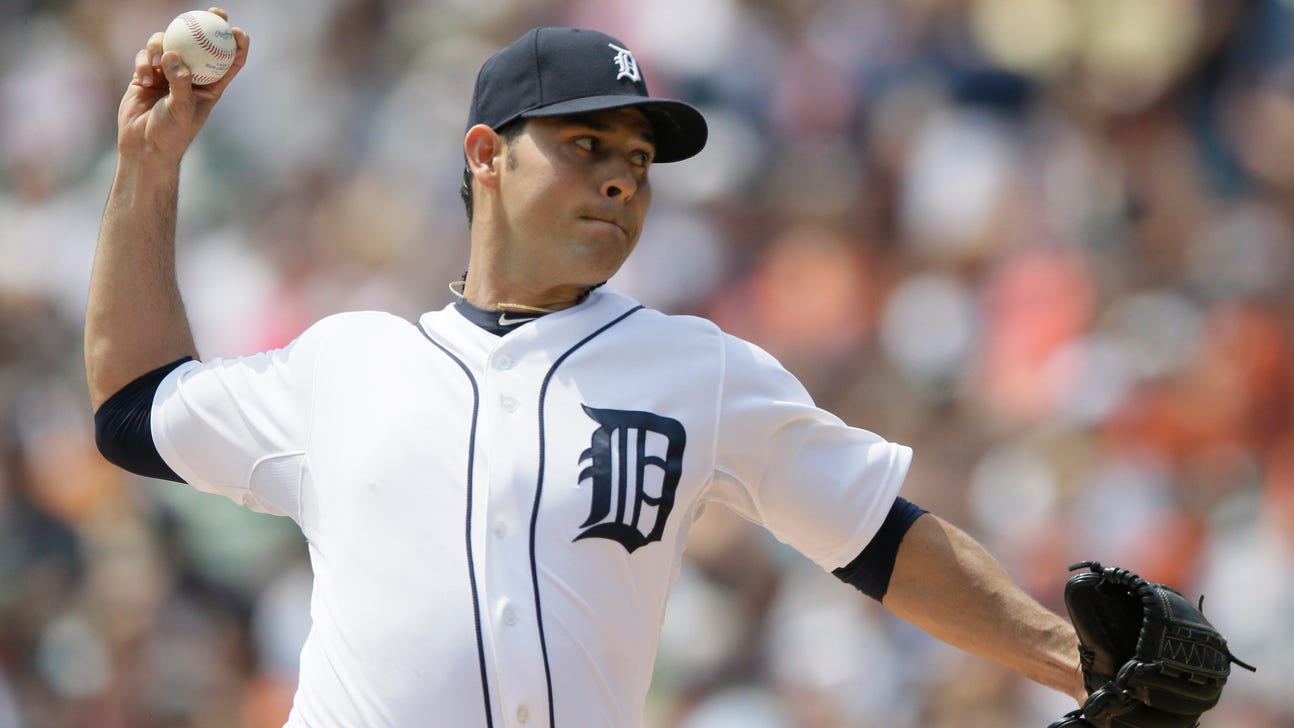 Price rubbing off on Tigers' starters?
Updated
Mar. 5, 2020 1:15 a.m. ET

DETROIT -- David Price has only been with the Tigers for three days, and he hasn't pitched yet, but it appears that he's already made an impact on the starting rotation.
Against Colorado, Detroit's starters played a game of "Can You Top This?", sweeping the Rockies in the process. On Friday night, Justin Verlander allowed two runs on eight hits in eight innings, striking out five and walking two.
Saturday, Rick Porcello moved the bar a little higher, striking out 10 and only giving up five hits in his eight innings of two-run ball.
In Sunday's finale, it was Anibal Sanchez who took the next step, throwing seven shutout innings and striking out 12 while only allowing a pair of singles. That gave the starters a series total of 27 strikeouts in 23 innings, while posting a 3-0 record and a 1.57 ERA.
"We're all out there trying to do our job, but we know we have a really strong rotation, and adding David has just given us even more energy," Sanchez said. "This group is going to have a lot of fun."
There's always been a sense of competition among the Tigers starters, led by Verlander and Max Scherzer, but the addition of Price has given Detroit a rotation that should be as good as any in recent history. After all, they now have the last three AL Cy Young winners in Verlander, Price and Scherzer, the defending AL ERA leader in Sanchez, and a 25-year-old having a breakout season in Porcello.
Ausmus isn't sure if Price has been with the Tigers long enough to join in the competition, but he's hoping it happens soon.
"He just got here, and he hasn't even gotten to the mound yet," Ausmus said. "So I don't know if that's happening yet, but I certainly won't mind if that's the direction things go."
Price agreed entirely with his new manager.
"I hope we have exactly that kind of thing between the startng pitchers, because that's what pushes you to be even better," he said. "We've got a great staff, and our mindset should be that whatever one of us does, the next guy needs to be even better. Look at the last two nights -- Rick threw the ball great yesterday, and Sanchez was even more dominant today.
"That's what creates a great rotation."
Along with that rotation, the Tigers might have taken a big step toward finding the dominant bullpen they've been trying to build since last year's ALCS. Joakim Soria pitched the ninth inning, and although he allowed a leadoff single, he easily retired the next three batters to end the game.
"All I care about is that he got three outs and didn't give up a run," Ausmus said. "I'm not worried about the single, because that's the Joakim Soria we've been expecting. He's a great pitcher, and he showed that today."
Soria acknowledged that, now that he's settled in as a Tiger, he's pitching the way he expects.
"I've got a place to live, and I've got things moved, so I'm not worrying about all those things any more," he said. "You don't ever want to think that outside stuff will distract you, but you are only human. I felt a lot more comfortable out there today. It felt good."
---