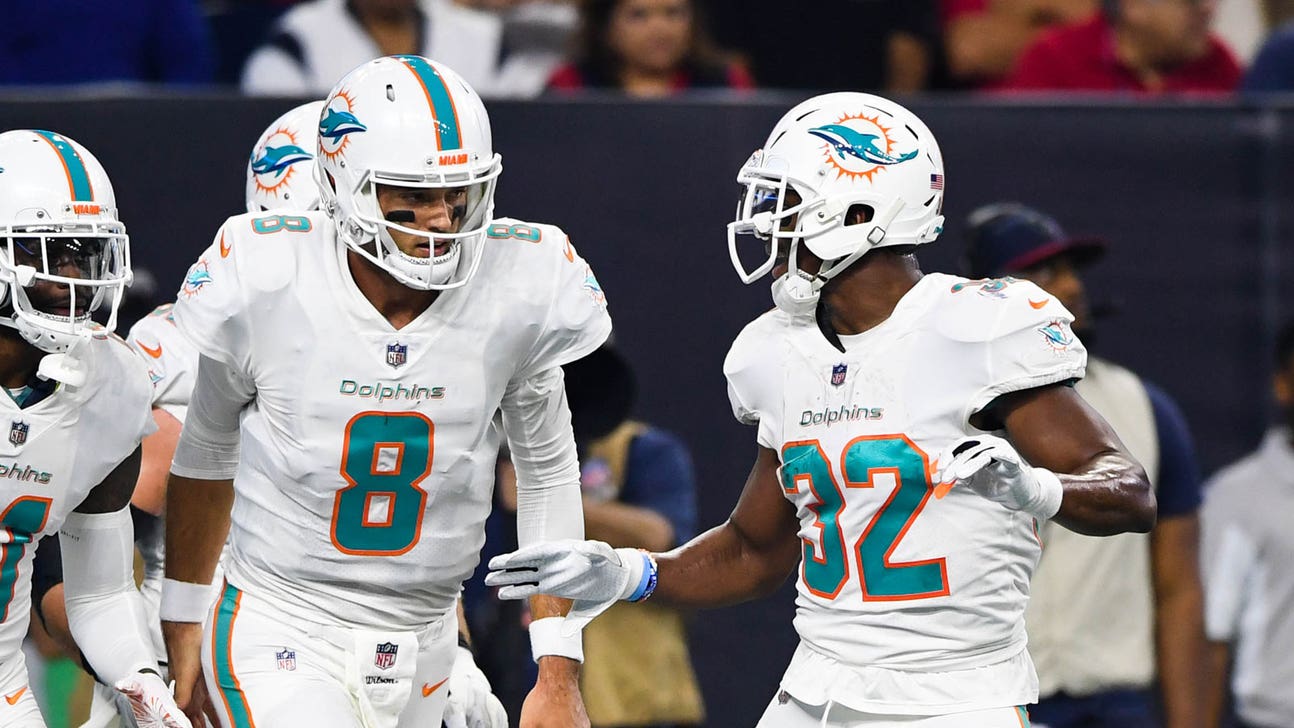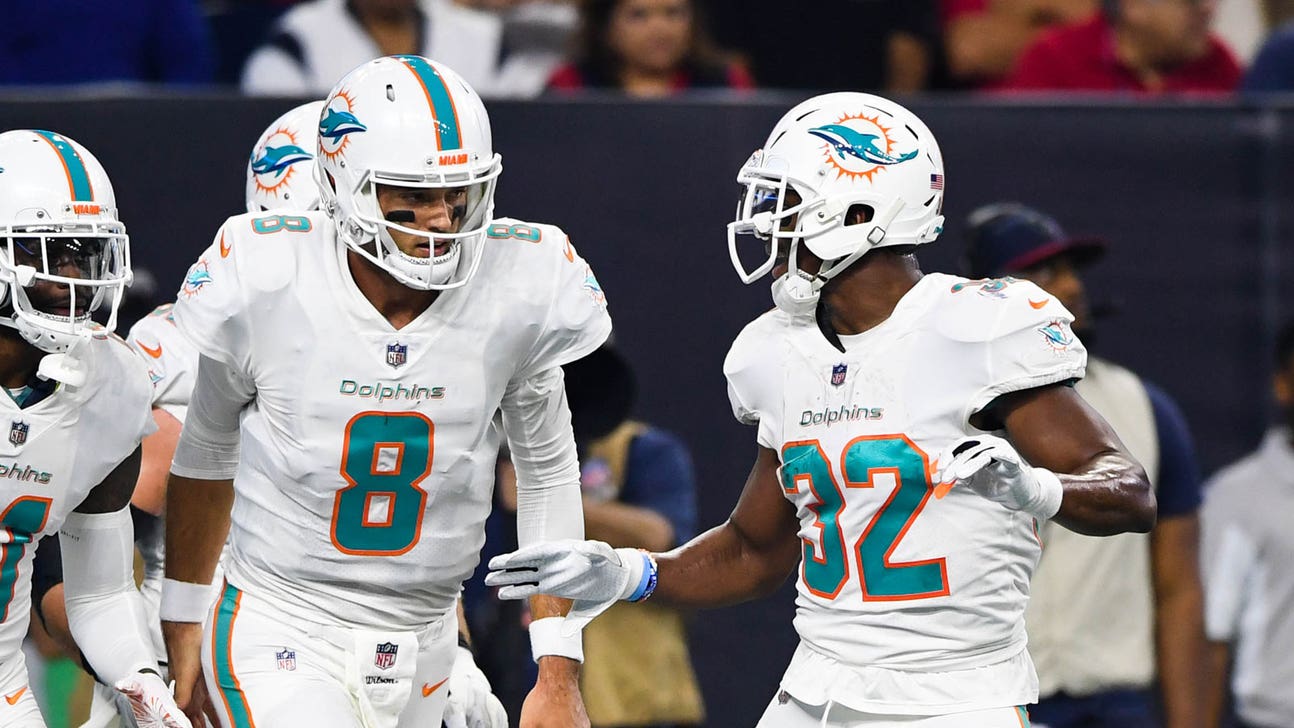 Preview: Dolphins focus on showcasing improved run defense, season sweep vs. Jets
Published
Nov. 4, 2018 4:08 p.m. ET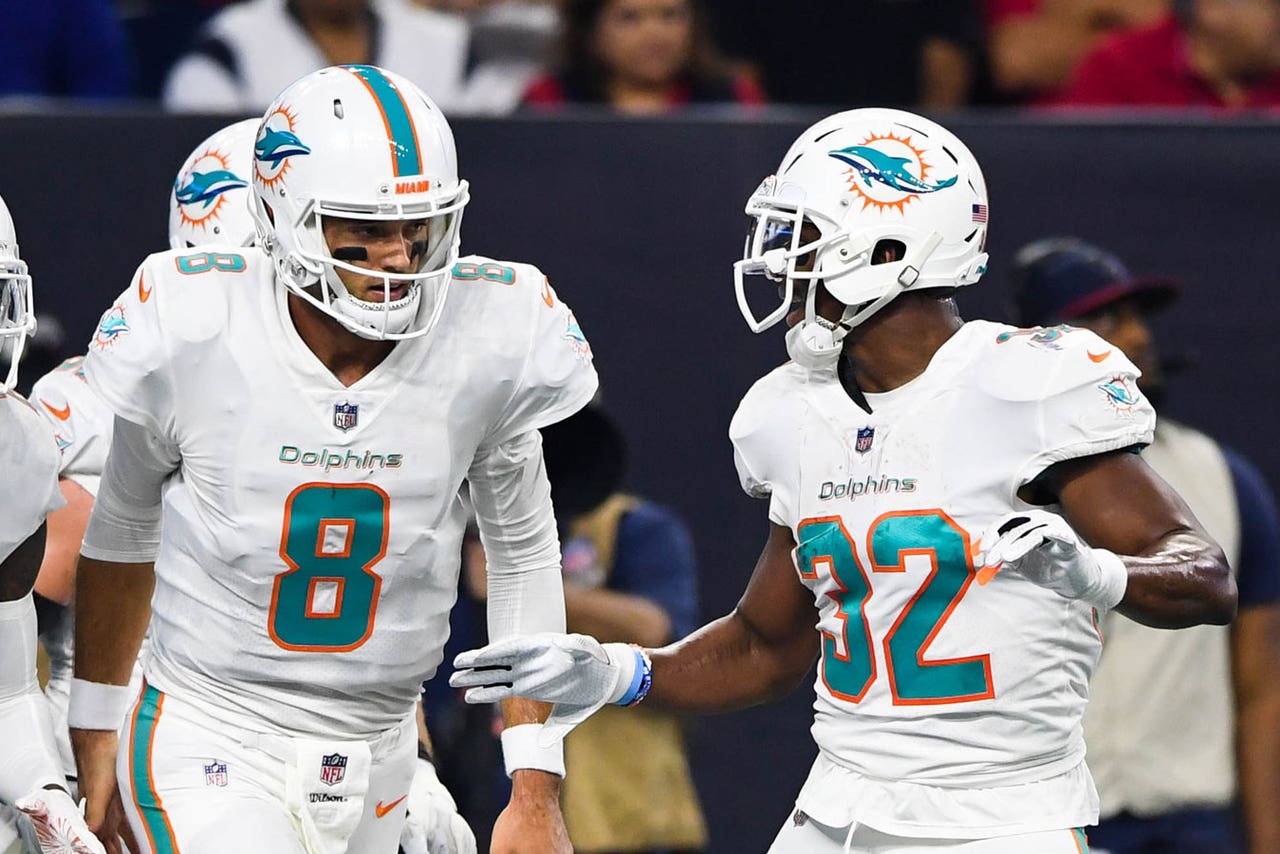 MIAMI (AP) — When the New York Jets run the ball Sunday, it will be a test of their blocking against the Miami Dolphins' tackling to see who's worse.

Both have been bad lately.

Miami (4-4) has given up 600 yards rushing in the past three games. A defensive decline, not an injury to quarterback Ryan Tannehill , is the biggest reason the Dolphins have lost four of their past five games.

"We've got to be better," safety Reshad Jones said. "But there's no time to hit the panic button right now. We've got a lot of football left."

The Jets (3-5) have averaged 2.8 yards per carry in the past three games while totaling 235 yards. After running back Bilal Powell suffered a season-ending neck injury in Week 7, the ground game generated just 57 yards in last week's loss at the Chicago Bears.



"I didn't think it was good at all," coach Todd Bowles said. "They beat us up front, and they beat us to the punch."

So it looks like an even matchup: the resistible force against the moveable object.

Here are things to know about the 106th meeting between two AFC East rivals sporting two-game losing streaks:

TURF WAR

The Dolphins are tied for 29th in the NFL in run defense. In the past three weeks, they've allowed 164, 248 and 188 yards on the ground, with big plays the biggest problem.

"There is no secret. There is no magic pill," five-time Pro Bowl defensive end Cameron Wake said. "Each player has a gap or a man or a zone. You can do it right for 42 plays, and then on play 43 you're not there, and in this league they'll find that hole. They'll find that guy who's not doing their thing that they're supposed to be doing. And 80 yards later ..."

The Jets' recent rushing woes come after they gashed Denver in Week 5 for 323 yards, second-most in franchise history. Isaiah Crowell had a team-record 219 in that game, but in the past three weeks he has totaled just 94 yards in 37 carries.

The sputtering ground attack only increases the burden on rookie quarterback Sam Darnold .

"We can't be up and down," Bowles said. "We've got to be consistent at it. If we want to throw the ball consistently, we've got to be able to run it consistently."

SUBSTITUTE

Tannehill will miss his fourth game in a row because of an injury to his throwing shoulder. Replacement Brock Osweiler has a slightly better passer rating than Tannehill, with six touchdown throws and three interceptions in three games.

Osweiler passed for 241 yards in last week's 42-23 loss at Houston and said he's trying to play so well he doesn't go back to the bench.

"I had a laundry list of things after the Houston game that I want to clean up," he said. "It was really about one page of notes. We have a great coaching staff, and they took that page of notes and turned that into drills — things I didn't do right in the game — in hopes that we can correct those mistakes and make sure that they never happen again."

CATCH, IF YOU CAN

The Jets could be shorthanded again at receiver as Robby Anderson and Quincy Enunwa, Darnold's top targets, are dealing with ankle injuries.

Anderson missed the game at Chicago, and Enunwa has been sidelined the past two games. Without both, New York struggled to get the passing game going against the Bears. Rookie Deontay Burnett, a former teammate of Darnold's at USC, led the Jets with four catches for 61 yards.

"You hate to see Robby go down and Q go down, but that means someone's got to step up," Darnold said. "It was cool for him to be able to step up the way that he did."

FINDING THE END ZONE

Rookie tight end Chris Herndon is making catching touchdown passes a weekly thing.

The fourth-round draft pick out of the University of Miami has scored in each of the past three games, joining receiver Keyshawn Johnson (1996) and tight end Thurlow Cooper (1960) as the only rookies in franchise history to accomplish the feat.

Herndon is also tied with Philadelphia's Dallas Goedert for the most touchdowns among rookie NFL tight ends with three.

DEJA VU

The Jets are in a familiar spot at the halfway point, sitting at 3-5 after eight games for the third consecutive year.

They're hoping to finish better than they have the last two years, when they ended up 5-11.


---