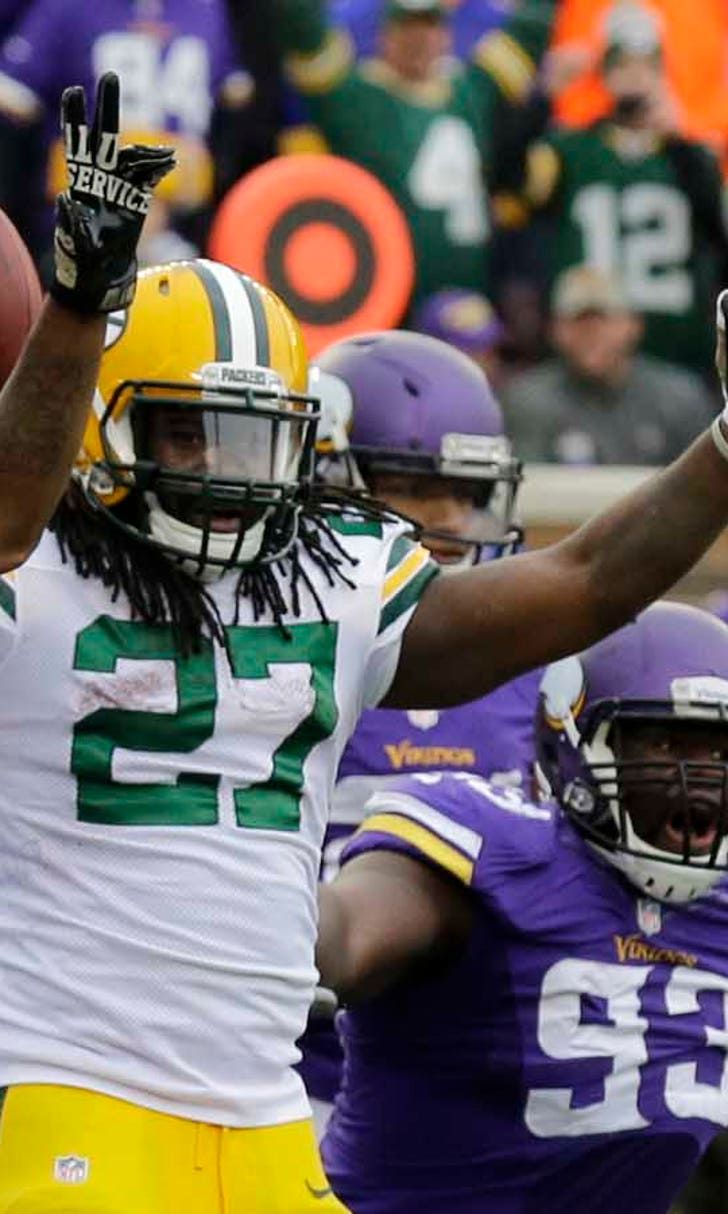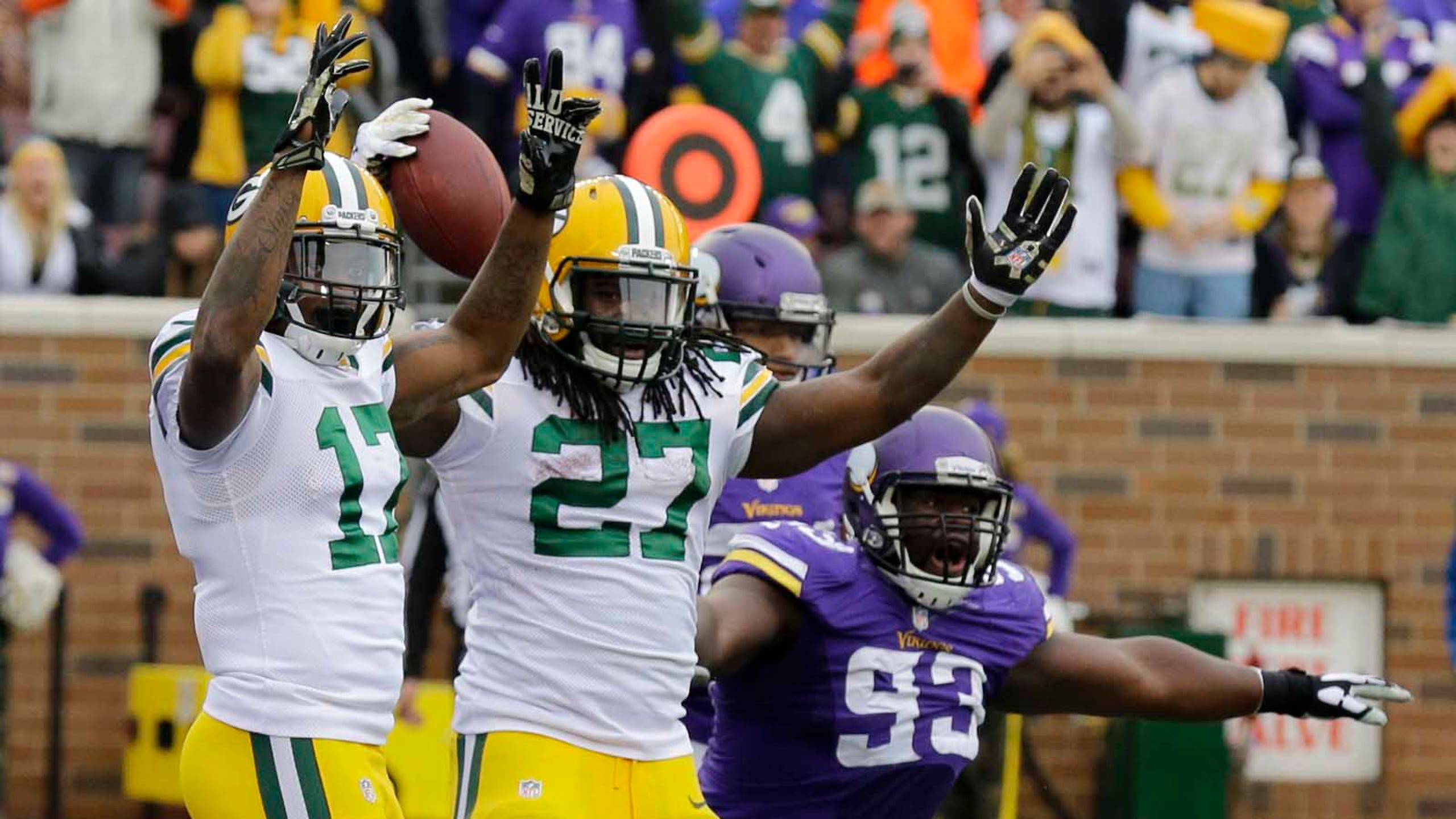 Packers report card: Win belongs to Lacy
BY foxsports • November 24, 2014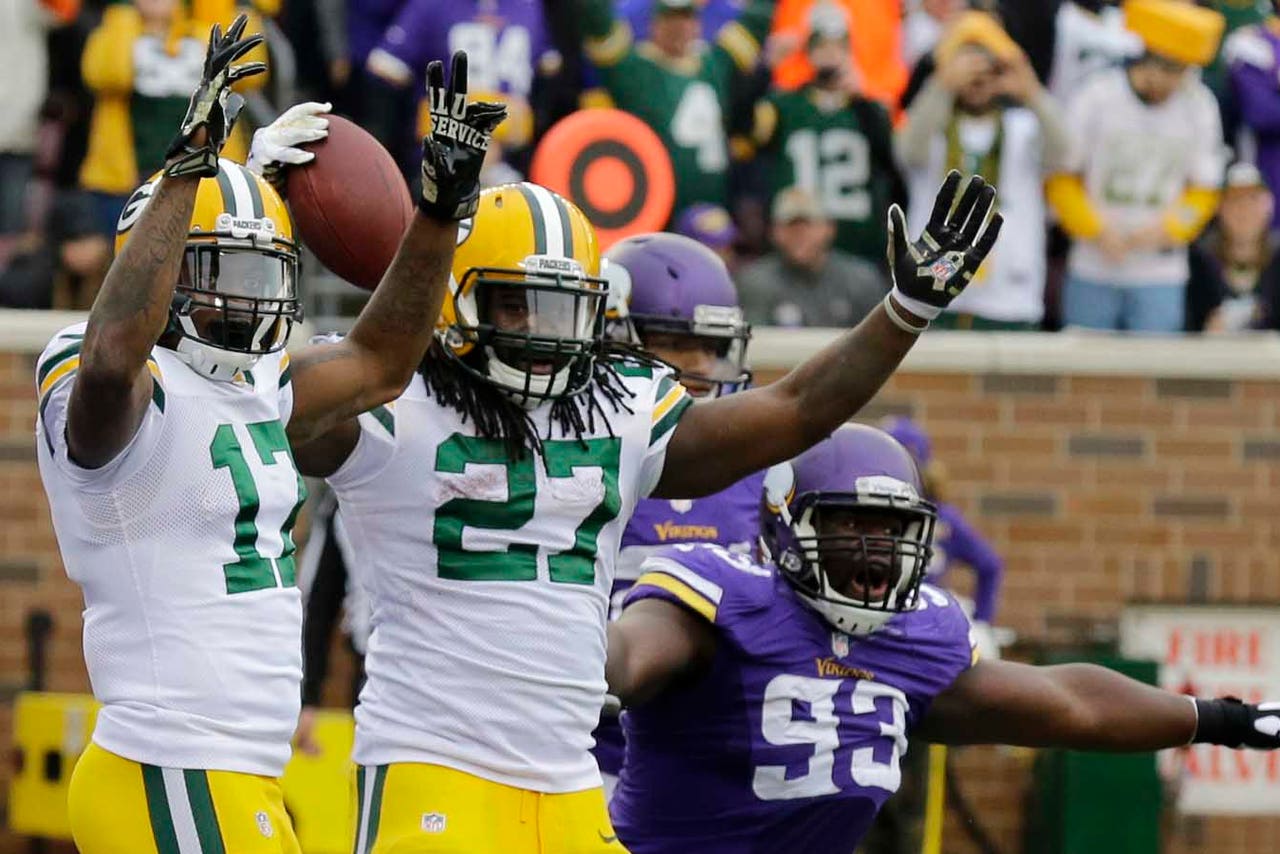 Handing out grades following the Green Bay Packers' 24-21 win over the Minnesota Vikings in Week 12 of the 2014 season:
Passing Offense: B
It wasn't a great day by Aaron Rodgers' MVP-caliber standards. Not every week can be off-the-charts performances like Rodgers has had in recent weeks. Still, even though a game with two touchdown passes, no interceptions and a 109.7 passer rating isn't as good as usual for Rodgers, it's still better than most NFL teams get from their quarterbacks on a weekly basis.
Minnesota did everything it could to slow down Jordy Nelson and Randall Cobb. With those two limited to 126 combined receiving yards and no touchdowns, the Vikings forced Rodgers to look elsewhere. And, while plays in the passing game were made by tight ends Andrew Quarless and Richard Rodgers, as well as running back Eddie Lacy, it led to Aaron Rodgers throwing for just 209 yards. It was his fewest passing yards since Week 5 (which was the last time these two teams met), and that was a game in which Rodgers didn't even play the fourth quarter due to having a 42-7 lead.
A 24-yard pass to Lacy was wiped out by an illegal block from Davante Adams. It was a rough day for Adams in other ways, too. He wasn't on the same page with Rodgers on a pass that was thrown as a back-shoulder ball, with Adams instead continuing to run up the sideline. Adams had one catch for 10 yards on four targets.
Vikings safety Harrison Smith nearly gave Rodgers his fourth interception of the season, and it would have been the first one that didn't go off the hands of a receiver. But Smith didn't come up with the ball, and Rodgers continued his stretch of no interceptions since the bye.
Rodgers was kept clean most of the day by the offensive line. Minnesota had only one sack, and that came on third-and-27 when Rodgers could have gotten rid of the ball. Given the amount of time that elapsed between the snap and the sack (6.5 seconds), it should be credited to Rodgers for allowing it.
Two of the better plays for the Packers through the air both resulted in touchdowns. After receiving a shovel pass, Lacy spun and bounced off two defenders before barely sneaking across the goal line. The other was a memorable play in which Aaron Rodgers connected with a wide-open Richard Rodgers in the back-corner of the end zone, but only after he scrambled the opposite direction and threw across his body.
Rushing Offense: A
Apparently Lacy doesn't need to feel well in order to carry the ball a season-high 25 times for 125 yards. This was Lacy's game all the way. After not having more than 17 rushing attempts in any of the first 10 games, Lacy was the workhorse the Packers needed in order to win this game.
Lacy was effective the entire time. More than half of his yards came after first contact with a defender, showing once again what Lacy means when he says that opposing players make "a business decision" when choosing what to attempt in trying to bring down the bulldozing runner.
Among Lacy's best moments came after Vikings head coach Mike Zimmer decided not to onside kick when the score was 24-21 with 3:23 remaining. Zimmer figured, with Green Bay almost certainly running the ball, that his defense could stop Lacy. Zimmer was wrong. Lacy ran out the clock with rushes of 3, 5, 4, 5 and 10 yards. And he did all this while playing sick, something that wasn't known until after the game.
There were a couple negatives for the Packers in the running game. James Starks began in the backfield for Green Bay's third drive, but he didn't even make it out of one play before fumbling and nearly turning the ball over. Nelson was flagged for holding on a 24-yard Lacy run, but the call was borderline and is the type of block not often penalized. David Bakhtiari was also flagged for holding on a minus-5-yard run.
Rushing Defense: C-plus
The inexperienced trio of rookie Jerick McKinnon, Joe Banyard (who got his first carry of the season in this game) and quarterback Teddy Bridgewater did quite a bit of damage on the ground. Unlike in some recent games, when rushing yards allowed can be a misleading statistic due to a significant Packers lead, this was close the whole way. And, on several occasions, Green Bay looked like a team whose run defense was properly ranked near the bottom of the league in yards allowed.
Minnesota finished with 112 rushing yards on 25 carries (4.5 average). That 4.5 yards per rush average is exactly what the Packers had given up this season entering play Sunday, which ranks 28th in the NFL.
The Packers didn't have any tackles for loss against the run. However, Green Bay also didn't allow a run of longer than 11 yards and didn't give up a rushing touchdown.
Passing Defense: B-minus
Bridgewater missed several open targets. There were receivers open at times, but Bridgewater misfired at least three passes that an NFL quarterback should be accurate enough to make.
On the plus side was an interception by Micah Hyde, a sack by Hyde and a sack by Mike Daniels. Hyde's interception was critical early in the game, as it occurred when the score was 7-7. Instead of the Vikings driving, the Packers offense was in the end zone four play after that to retake the lead. It was a pass that Bridgewater shouldn't have thrown, but Hyde took advantage of it. Hyde's sack late in the third quarter forced a third-and-11 that Minnesota couldn't convert. Daniels' sack came on the opening drive of the second half and turned a third-and-4 into a punt.
There were mistakes, though. Tramon Williams left Charles Johnson wide open for a 22-yard touchdown pass. Williams looked around as if he was expecting help, but whether there should have been another defender nearby or not, there wasn't and it resulted in an easy score to tie the game at 7. Five plays before that, Hyde was called for defensive holding on fourth-and-5 which allowed the drive to continue.
Mike Neal had two penalties, one of which was costly and another that could have been. Late in the fourth quarter, a neutral-zone infraction on third-and-4 gave the Vikings a free first down. Then, Neal was called for roughing the passer on Bridgewater's touchdown pass to Greg Jennings that cut Green Bay's lead to 24-21. That gave Minnesota an opportunity to kick off from the 50-yard line, but it didn't end up making a difference as the play resulted in a touchback.
Bridgewater finished with 210 passing yards, two touchdowns, one interception and a 79.8 passer rating. With the way Bridgewater was errantly throwing passes everywhere, though, the Packers had a chance to make those numbers look a lot worse for him.
Special Teams: C-plus
The Vikings' average starting field position was the 32-yard line. Because of all touchbacks, Green Bay's average was the 20. Cordarrelle Patterson's 42-yard kick return gave Minnesota very good field position to begin a late-third-quarter drive.
Jarrett Bush's absence was felt on punt coverage. His replacement, rookie cornerback Demetri Goodson, was called for kick-catch interference, a 15-yard penalty.
One week after returning one for a touchdown, Hyde had a 17-yard punt return. Mason Crosby connected on his only field-goal attempt, a 48-yarder.
Overall: B
It wasn't a dominating performance from the Packers like they'd had recently at Lambeau Field, but it was a road win over a division rival. Along with the Detroit Lions' loss at New England, it put Green Bay solely in first place of the NFC North with a record of 8-3.
Blowout victories are fun for players, coaches and fans, but it's a win like this the Packers can use to build on as they look to make a deep playoff run. Rodgers had to play the entire game (a rarity for him this season) and the offense was able to run out the clock with five consecutive positive runs from Lacy. And that's who this win mostly belongs to: Lacy. He was the difference-maker in this game, showing that while head coach Mike McCarthy didn't use him a lot early in the season, it's these late-season games where a relatively fresh Lacy becomes a weapon.
Green Bay committed eight penalties for 75 yards, several of them very costly. It was sloppy at times. But, while the Vikings aren't a playoff-bound team and this was nowhere near the beat-down the Packers put on them in Week 5, it was one of those "character-building" wins that McCarthy can point to now as Green Bay prepares for a potential Super Bowl preview against the Patriots in Week 13.
Follow Paul Imig on Twitter
---