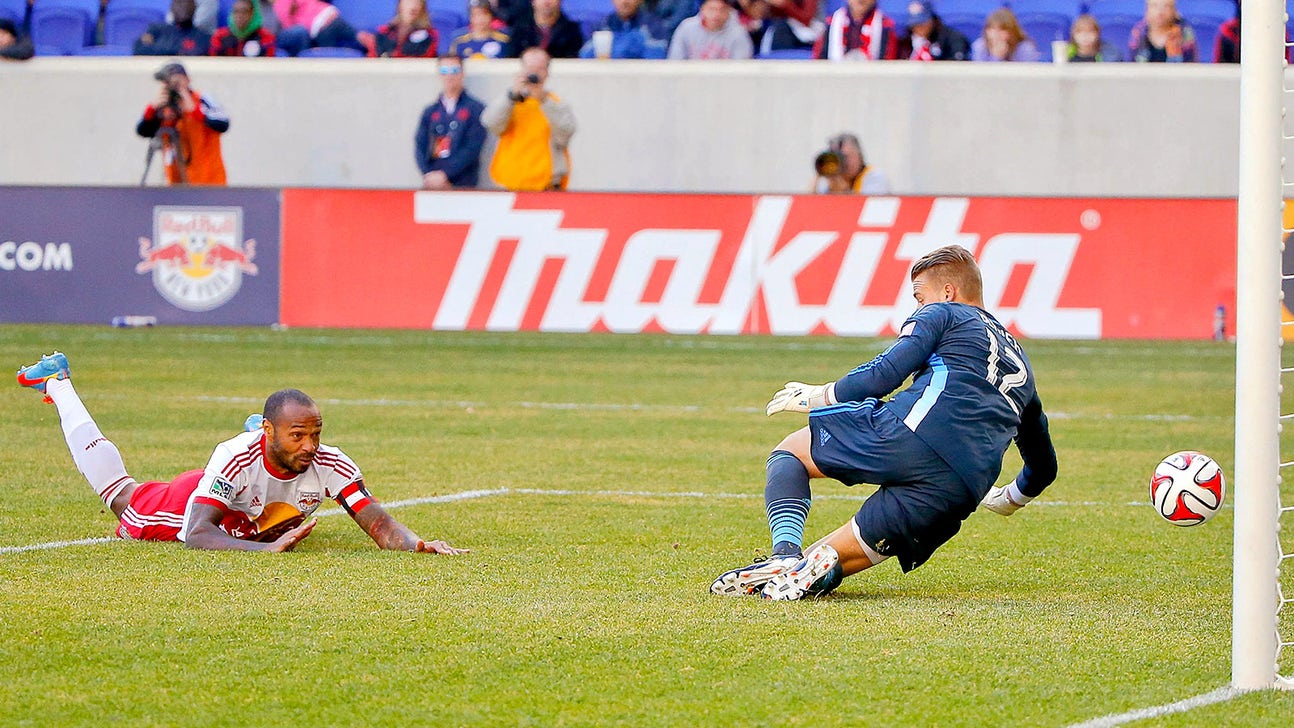 New York Red Bulls celebrate Supporters Shield with frustrating nod to the past
Published
Mar. 16, 2014 9:00 a.m. ET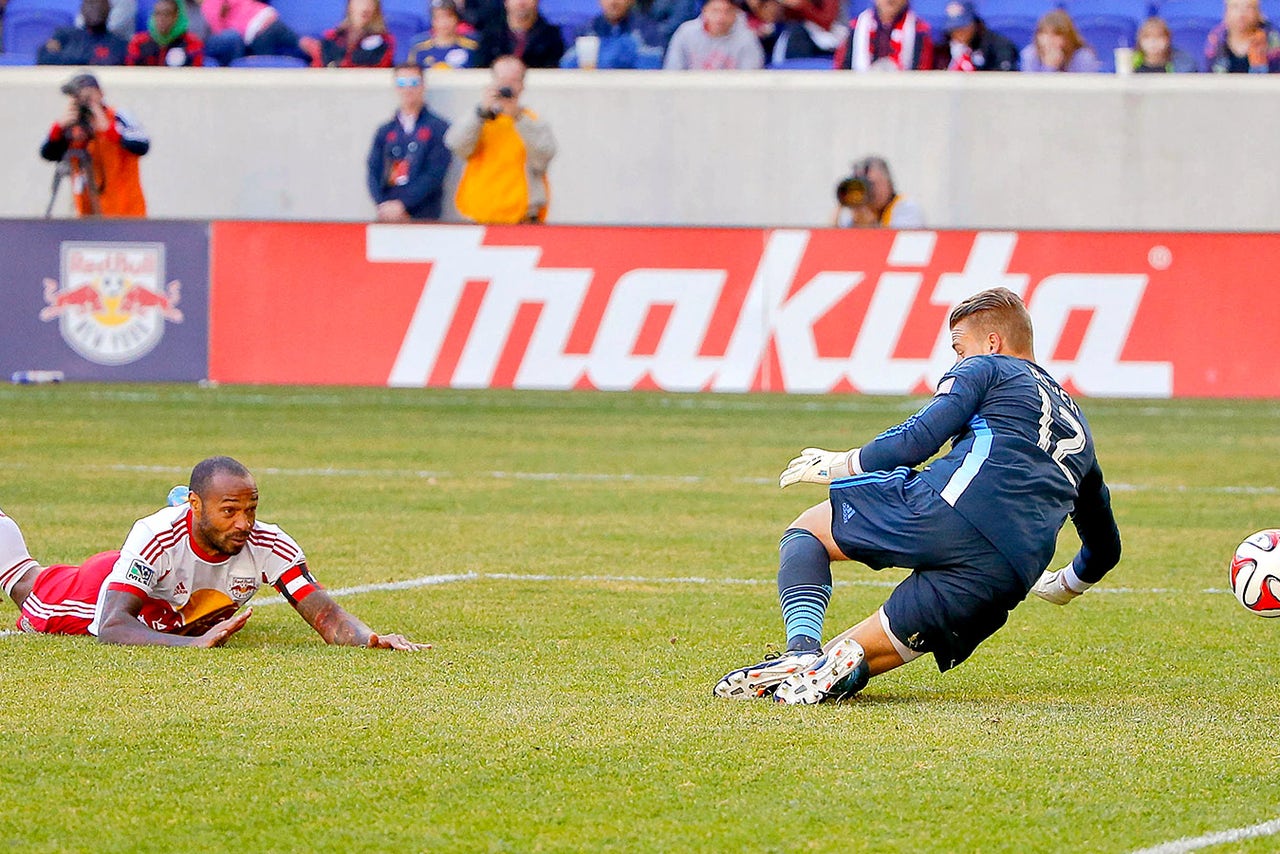 HARRISON, N.J.
After an endless and historically wretched winter, there was sun and warmth for the New York Red Bulls' very first home opener as a non-trophyless Major League Soccer franchise Saturday.
And if Mother Nature's metaphor seemed a tad heavy-handed, the battered faithful of a club long on ambition and resources but so very short on success nevertheless savored the moment. "Old dreams," read a banner hung by the supporters groups. "New reality," said the one next to it.
Before kickoff, a climber wriggled her way up the rafters towards the edge of the stadium's roof. At length, she reached a ball suspended beside the scoreboard and swatted it. The action triggered a mechanism that unfurled the Red Bulls' first banner of any sort, for winning last year's Supporters' Shield, from the scoreboard.
After it tumbled down, the banner flapped happily in the breeze while the supporters below it hoisted up a stylish tifo of head coach Mike Petke, the hardnosed hometown hero to whom the job had fallen last year. Then many rounds of fireworks were set off, which is a fairly common occurrence around these parts, as the Shield was paraded about the stadium.
While the smoke lingered, the Red Bulls were all over the young Colorado Rapids and their recently installed coach, former USA hard man Pablo Mastroeni. In just five minutes, Thierry Henry, the wily veteran superstar, created three considerable chances for his teammates. He twice played Bradley Wright-Phillips into promising spots through his guile. And he once deposited a free kick onto the head of the fairly open Armando. But all those opportunities were squandered.
Once the smog had cleared and the banner had inexplicably been removed, Colorado took control. The Red Bulls went 40 minutes without taking a shot. And when they finally did, it was a half-field heave by Henry, which sailed just wide of the debuting John Berner's goal. The home team was outshot 12-4 in the first half and 5-0 in shots on goal.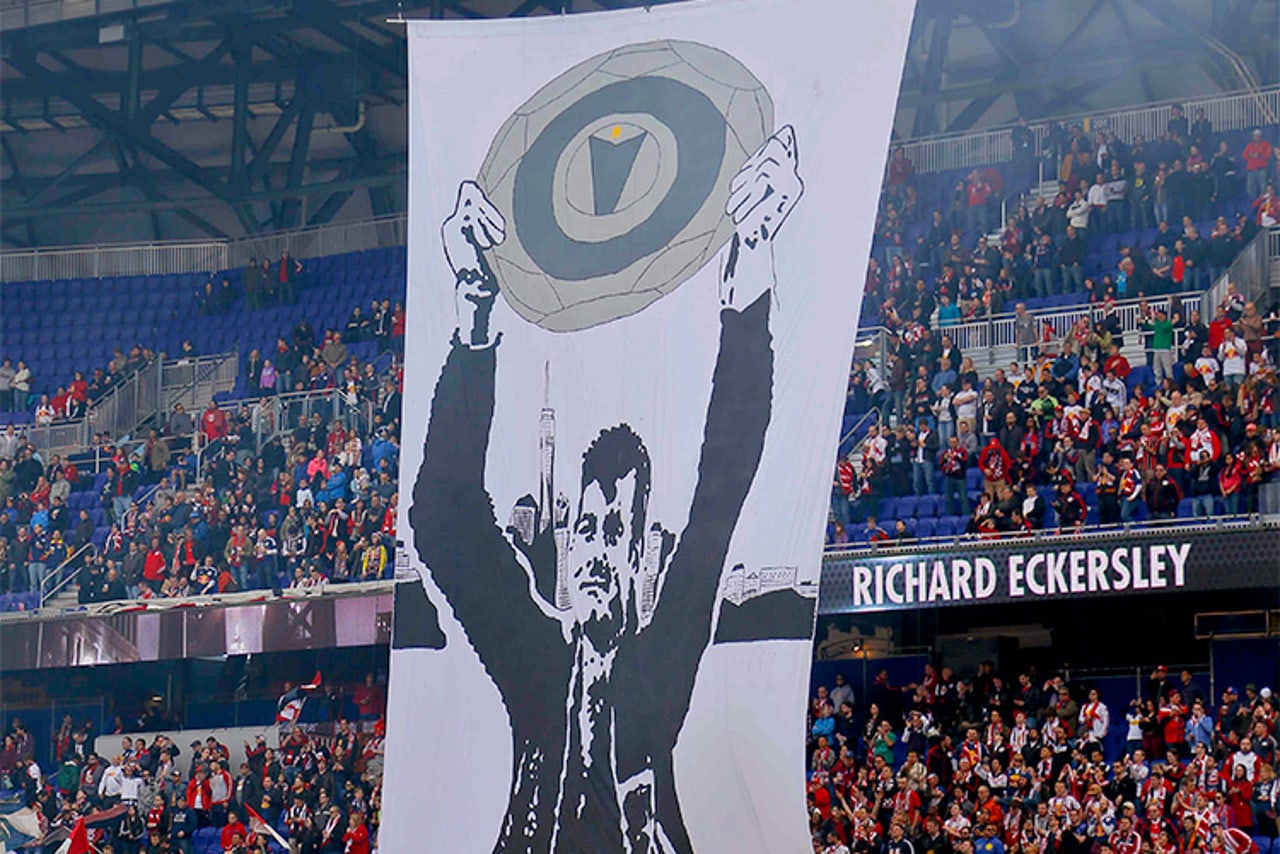 New York celebrated its Supporters' Shield triumph by unveiling a banner. Red Bulls supporters exceeded the feat with a giant tifo of coach Mike Petke lifting the Shield last year.
After a 4-1 loss in Vancouver to the Whitecaps in their season opener, the Red Bull defense did look a good deal more composed. And early in the second half, the home side would finally take a lead. Lloyd Sam floated a cross that looped over everybody but Henry, who stood unmarked at the second post, dove and nodded his header through Berner's legs in the 57th minute. Amusingly, he then commandeered a field-side camera and pointed it at his onrushing teammates as he looked through the viewfinder.
But then something rather typical of this team happened. They were struck by a bad piece of luck, and then they couldn't overturn it with a late push. Marvin Chavez backed into Jamison Olave in the Red Bulls' box and, upon feeling the contact, crashed to ground face-first. He sold his flop to the referee, a scab for the striking regulars, and earned a penalty. Vicente Sanchez converted the shot in the 72nd minute. Thereafter, a late flurry of Red Bull chances yielded no karmic winner.
For a team with famously poor fortune, it felt all too familiar. It was "so Metro," as they would say around here before the Curse of Caricola was broken by finally winning a trophy last year. That's a reference to the maker of the own-goal that lost the team its first-ever game, long before it was sold and rebranded from MetroStars to its current moniker.
It's far too soon to wonder if nothing has really changed, of course. We're just two games into the season. And last year, it took the Red Bulls five games to win one, and they took just two of their first eight. They still had the best regular season record of anybody. As Petke pointed out last year, when the Red Bulls flamed out in the first round of the playoffs, it's going to take more than one year to exorcise all of the club's demons.
"There's no panic," said Henry.
That seemed to be the day's creed for Dax McCarty, who had ducked the media on his way out of the stadium, tweeted: "Disappointing when results are decided like that. Hopefully they even out throughout the season. Still early, same start last year. No panic."
For so long as the Red Bulls' season-opening swoon lasts, if you can even call it that yet, they will use the blueprint from 2013 as a crutch.
"We were in a similar position last year, right?" said goalkeeper Luis Robles, who bailed out his side several times in the first half by retaining the sharpness his peers had largely abandoned. "And it worked out alright. So, it's a 34-game season and I would much rather we sort out some of our insufficiencies right now, and I think that was the theme last year."
Robles and his peers might well be right, and the season could once again arc in their favor. But for a club with such an eerie past, their recent results must be unsettling, since they are supposed to have constructed a new identity for themselves.
---