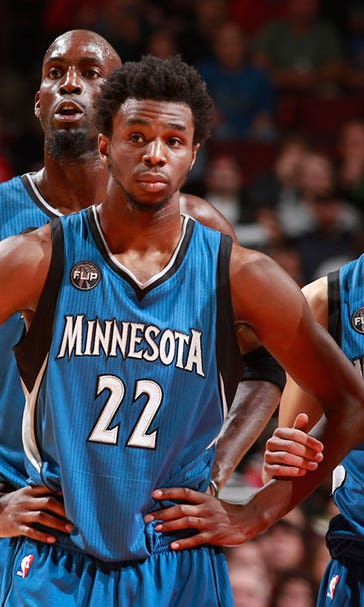 NBA Simulation: Karl-Anthony & Timberwolves vs. unanimous ROY squads
May 16, 2016

By locking up all 130 first-place votes, Karl-Anthony Towns joined a four-man fraternity of the Rockets' Ralph Sampson, Spurs' David Robinson, Clippers' Blake Griffin, Blazers' Damian Lillard as the only freshman to win the NBA Rookie of the Year Award unanimously.
What-if Towns' Timberwolves faced those other four rooks' squads? How would the young 'Wolves fare? Luckily, the WhatIfSports NBA simulation engine can place those two teams - from different seasons and, in the case of the Rockets and Spurs, different eras - head-to-head (it's also FREE!).
First up, Towns' Wolves versus the 1983-84 Houston Rockets. The two squads finished with identical 29-53 regular season records. Towns led all rookies in scoring (18.3 PPG) and rebounding (10.5 RPG) and ranked second in blocks (1.68 BPG). Sampson averaged 21 PPG, 11 RPG, and 2.4 swats per game during his rookie campaign.
We simulated the matchup 1,001 times:
As most fans know, Robinson was drafted in 1987, but had to finish his Naval gig before making his rookie debut a few years later. The Admiral averaged 24.3 PPG, 12.0 RPG and 3.9 BPG his first season. The Spurs won their division with a 56-26 and advanced to the second round of the playoffs - taking the Trail Blazers to seven games before bowing out.
Blake Griffin averaged 22.5 PPG, 12.1 RPG, 3.8 APG, while shooting better than 50 percent from the floor for the season. The Clippers finished 32-50 - fourth place in the Pacific Division.
Looking back, Lillard won his award over a class of rising stars around the league including Anthony Davis, Bradley Beal, Andre Drummond, and Draymond Green. He averaged 19 PPG and 6.5 APG for the Blazers. The team finished 33-49 in the 2012-13 regular season.
Try building a team of players throughout NBA history and test your squad against other teams in an 82-game schedule with SimLeague Basketball. You can play SimLeague Basketball for FREE using the promo code NBA2016. (First-time users only; valid throughout the 2016 NBA Playoffs.)
---
---