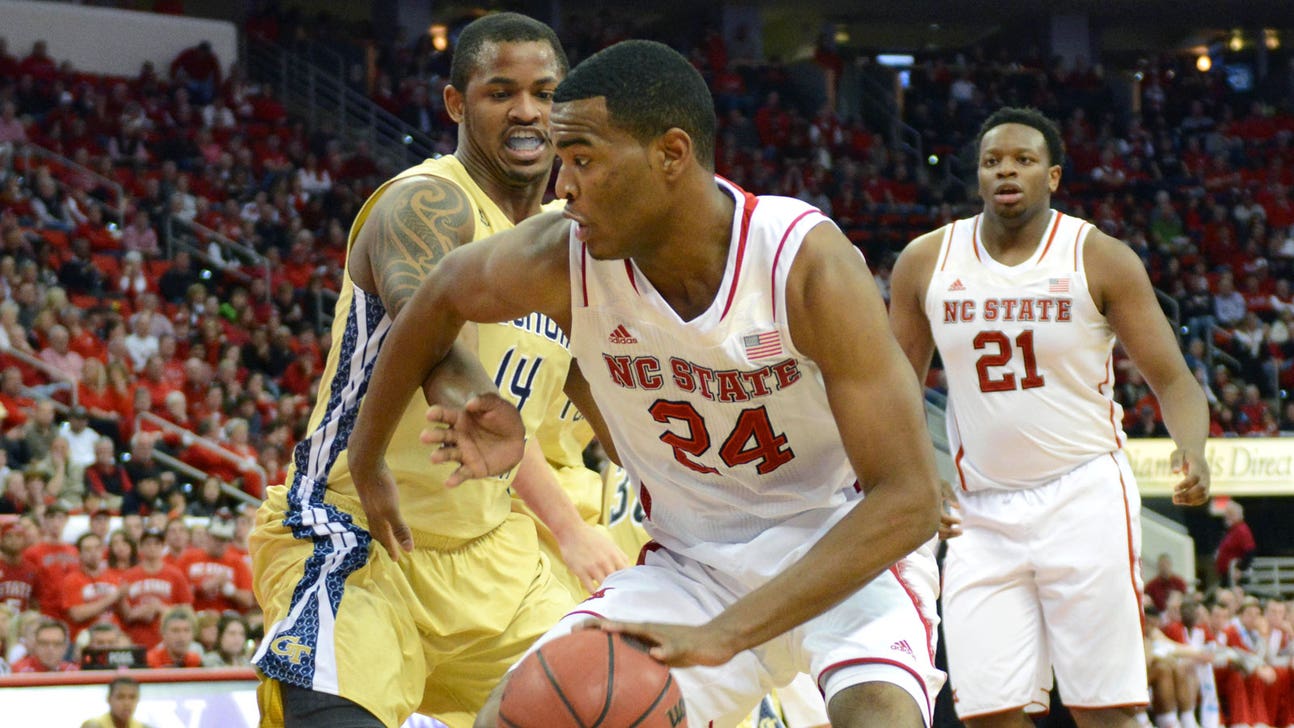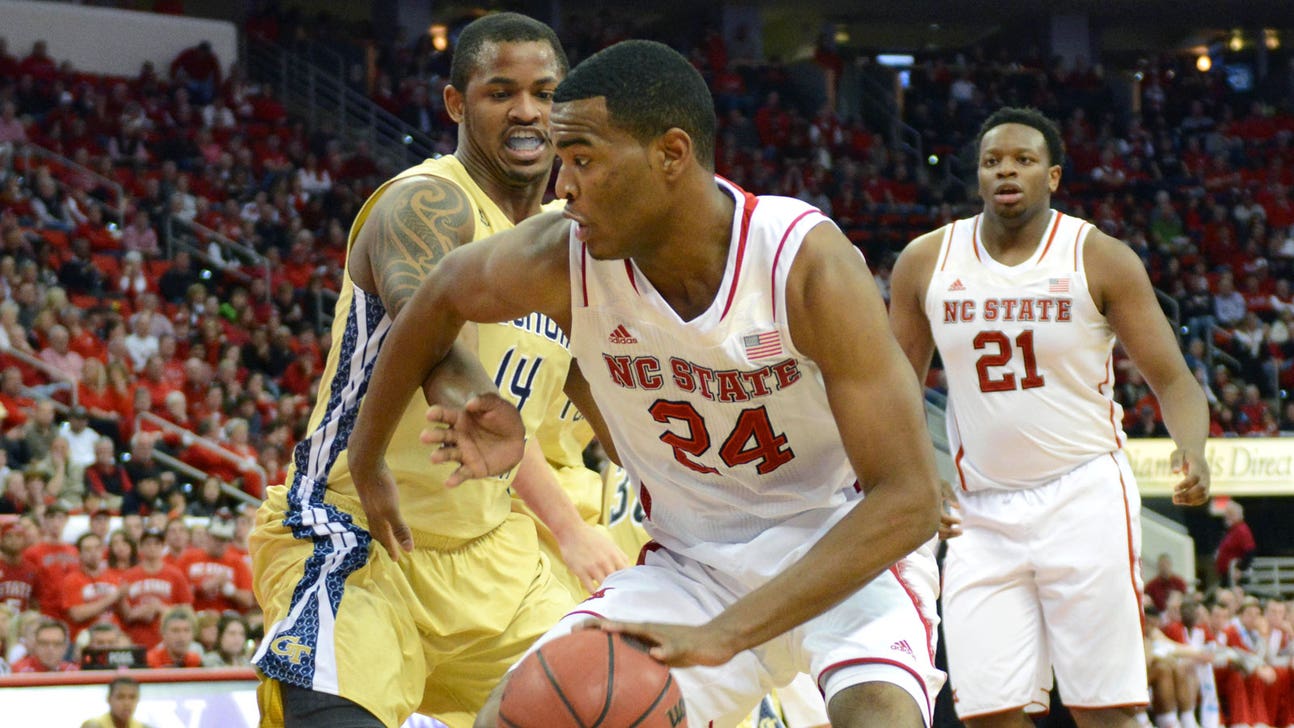 N.C. State rallies again, knocks off Ga. Tech in OT thriller
Published
Jan. 26, 2014 9:58 p.m. ET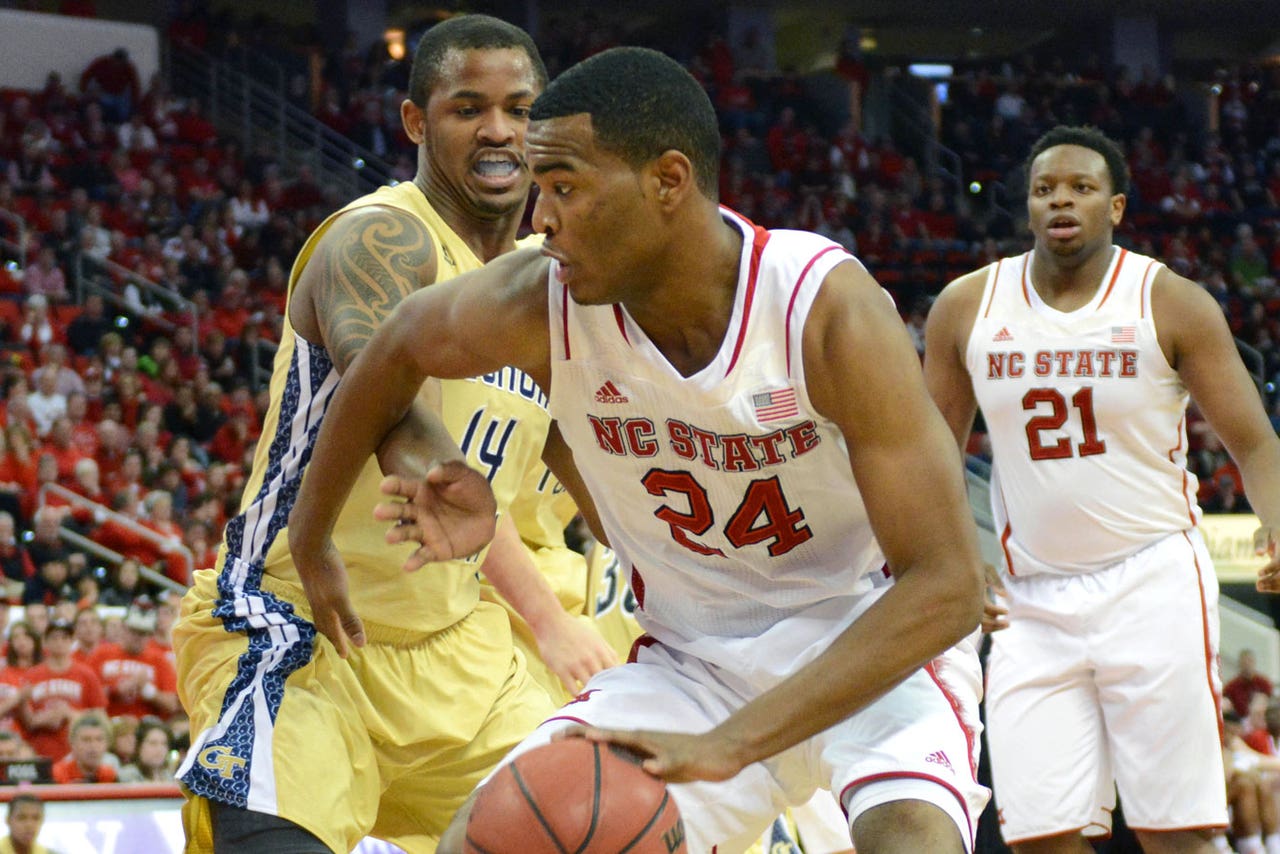 RALEIGH, N.C. -- It took nearly every ounce of mental and physical fortitude to pull off the feat, but N.C. State -- which rallied for an 80-78 overtime win against Georgia Tech on Sunday -- has managed to keep its head above water.
After three straight losses in ACC play, including a blowout setback to Duke, N.C. State has since rebounded with a pair of essential home victories this week -- knocking off Maryland (Monday) and then surviving a hectic encounter with Georgia Tech.
When asked somewhat jokingly what the secret was to his team's knack for coming back, N.C. State head coach Mark Gottfried laughed, adding he'd rather get ahead and stay ahead.
"One thing I'll tell you with our group, boy, they've got a lot of resolve. ... They have great energy. We have great spirit within our team. We called a timeout and we're down by 6-8 and we've got energy in the huddle. Guys are encouraging each other. There's just not a lot of pouting," Gottfried said.
"It's a fun group in that regard, and I think it gives them a chance, it gives you a chance because you're staying positive all the time. I think that's been something good for these guys and it's helped us come back from some games where we haven't been playing well."
The Wolfpack (13-7, 3-4 ACC) have now erased double-digit second-half deficits in two straight games, on their way to back-to-back ACC wins.
And both were team efforts.
In the Maryland win without T.J. Warren, it was Ralston Turner stepping up for 23 points and Desmond Lee's defense on Dez Wells that won the day, among other things.
But against Georgia Tech (11-9, 2-5), it seemed like everyone -- from the head coach on down -- contributed to the victory.
For Gottfried, it was a little bit of scouting combined with a "hunch" that led to the game-winning move, in effect, switching from a man-to-man defense to a zone in the second half, befuddling Georgia Tech's offense.
"I watched the Miami game against Georgia Tech. Miami zoned them the whole game," Gottfried said. "I felt like if we can't guard them well in our man-to-man, we're going to go to it and see what happens. So today, we went to it and I felt comfortable with it.
"There's an old saying says you have a hunch, you bet a bunch."
And why not? N.C. State simultaneously had nothing and everything to lose.
The whole "one game at a time" thing is thrown around quite a bit in all sports. And the N.C. State postgame locker room was no different. This game was no bigger than the others. Except that it was bigger than all the others. Because it was this game.
There was a palpable sense of how important Sunday's game was to the 'Pack. Whether that was a big-picture importance -- a loss would almost certainly send N.C. State's NCAA Tournament hopes spiraling downward -- or just an immediate importance, it was there.
"We just knew that we really needed this game," said N.C. State sophomore point guard Tyler Lewis, who finished with 10 points in 16 minutes. "At the 16-minute timeout, we just came together and realized that we needed more energy because we were down 11. We just needed time to pick it up, and we work on (the zone) every day in practice. We knew we can do it."
Lewis hit two three-pointers in consecutive possessions after that timeout and kick-started a 15-5 run that got N.C. State within a point.
Lewis hasn't played much the last few weeks in favor of talented freshman point guard Cat Barber. But Barber has been a bit shaky in ACC play, and the steadying hand of Lewis was needed.
"I still had confidence coming in but definitely when I hit the first two shots, it gave me a little bit more confidence," Lewis said.
Warren, who is very close with Lewis, wasn's as modest. "I'm very proud of Tyler," said Warren (20 points) with a grin. "I've been telling him to stay confident, just make your open shots, and he did that today."
Gottfried, who has had a bit of good fortune riding his hunches lately, said he'll go based on "feel" when deciding which point guard will play.
"I've got great confidence in Cat. I've got great confidence in Tyler," Gottfried said. "I thought Tyler did a great job as well of getting us in our offense and getting the ball to the right places. Different nights, it will be a different player. I like the fact that we have two very quality, young point guards. Sometimes, it's just a feel, who's playing better, or defensively better."
Coming up, the Wolfpack will host Florida State before traveling to North Carolina and Miami. Five of the next seven games are on the road.
This is still a young team that can look completely different night in and night out, but regardless of what happens next, they needed this one badly.
And they got it.
---