Mercury must be on point in decisive Game 3
September 1, 2014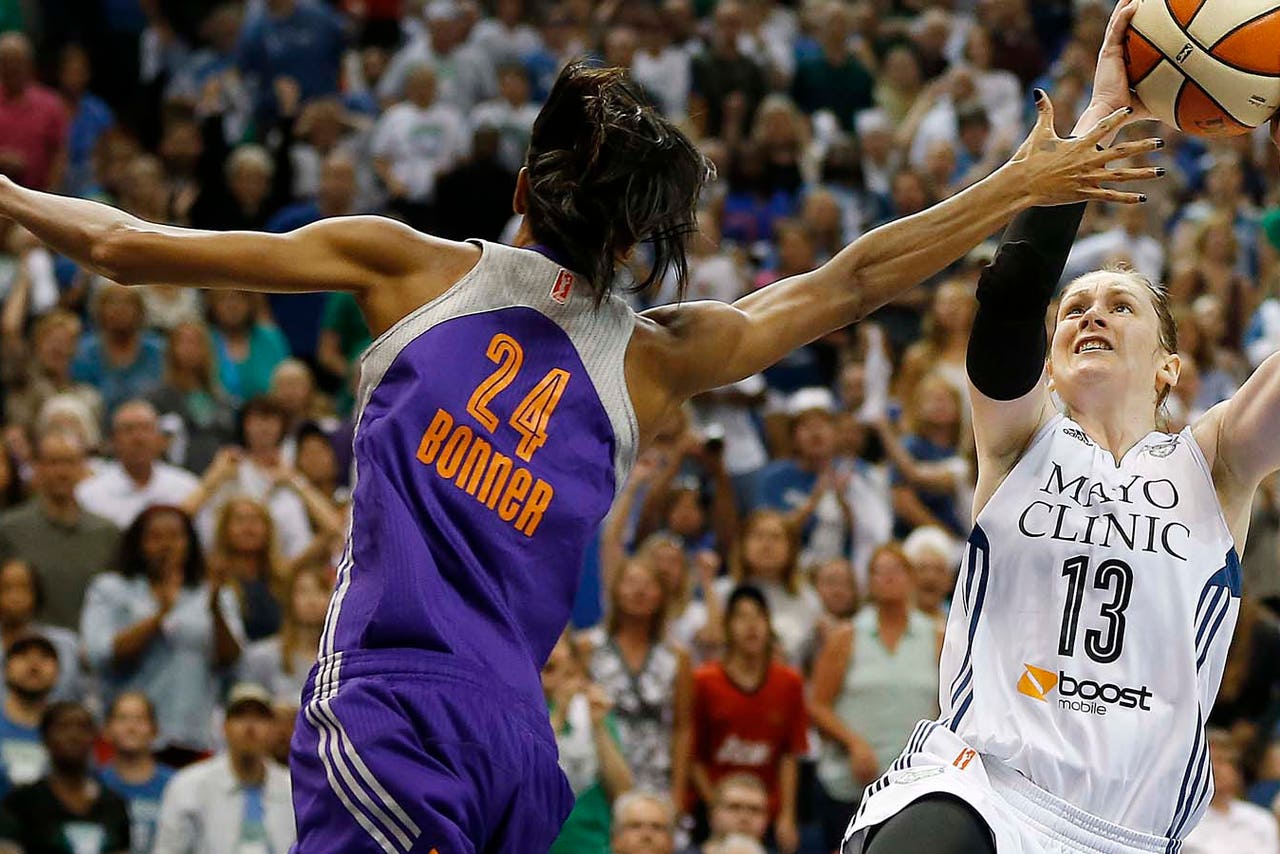 PHOENIX -- Only 30 minutes separated the Mercury from the next step toward that conspicuously advertised awaited glory.
They had barged into Target Center and administered a 22-9, first-quarter beat down on the defending champion Minnesota Lynx. The ball was moving with precision and purpose on offense. Rotation and communication were continuing as major factors on defense.
And Lynx superstar Maya Moore seemed destined for an extended funk.
But moments later, the mighty Mercury -- having won 32 of 37 games this season -- allowed one Minnesota hot shot to turn around what could have been the closeout game of the WNBA's Western Conference finals.
We're not referring to Moore. OK, so the league's MVP and leading scorer started to percolate during the second quarter of Sunday's 82-77 Lynx victory. But the clutch performer during this transitive 10-minute interlude, however, was pesky point guard Lindsay Whalen.
Right, she's the same Lynx all-star responsible for shooting Minnesota back into Friday's Game 1 rout at US Airways Center in Phoenix. Without her second-quarter uprising in Game 2, we probably wouldn't be looking ahead to a decisive Game 3 on Tuesday night in Phoenix.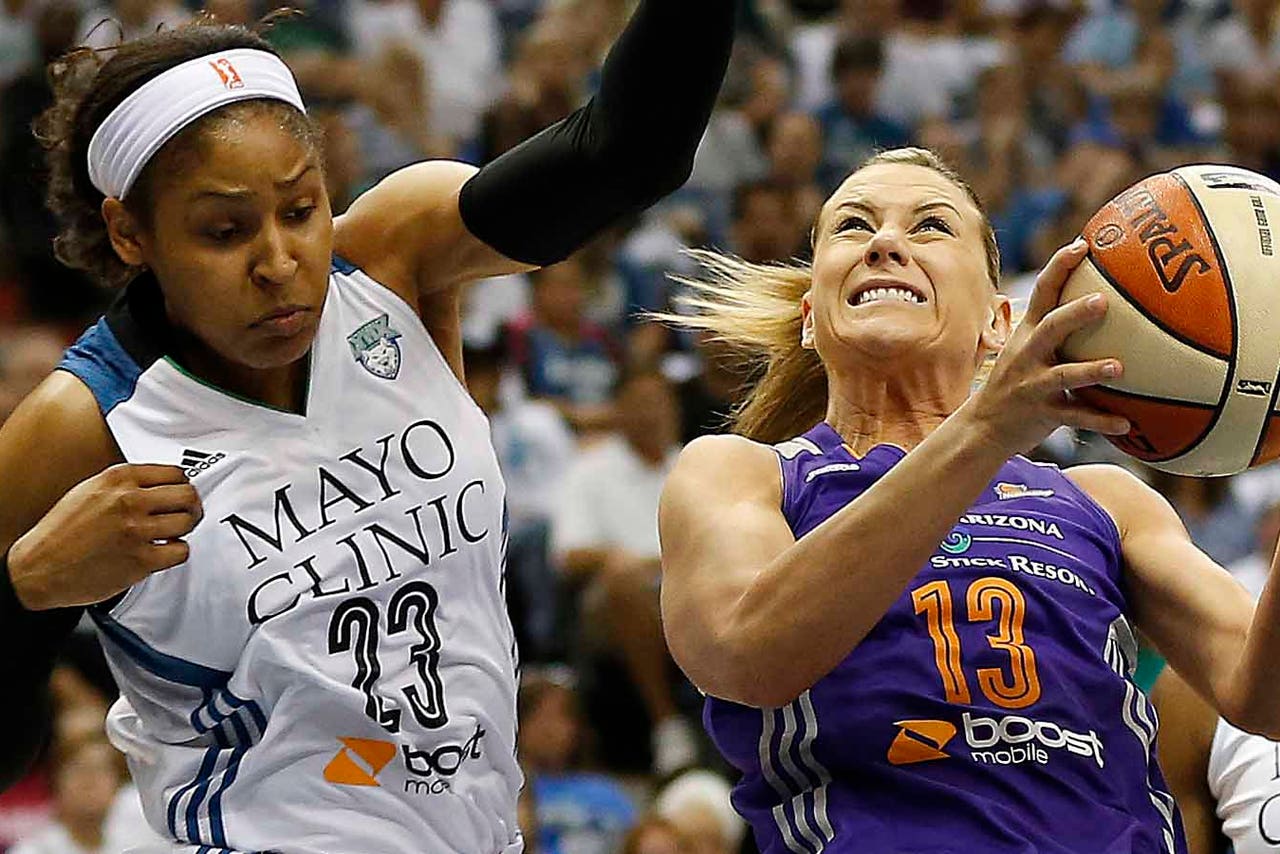 WNBA WESTERN CONFERENCE FINALS
What: Game 3
When: 7 p.m. Tuesday
Where: US Airways Center
When the smoke from a late Lynx rally cleared Sunday, most of the post-game inquiries were made on behalf of a 32-point, Moore performance that did include several clutch maneuvers down the stretch.
"Yeah, she made a lot of shots," Mercury guard Diana Taurasi said of Moore. "When she does that, it's pretty much impossible to guard her. You pretty much put everyone on her, but you can't do that because they've got Seimone (Augustus), they've got Lindsay."
Yeah, Augustus, the scoring machine from LSU, hit the Mercury for 23 points (on 7-of-16 shooting) on Sunday. Then there was Moore with her rally that included five makes on nine 3-point attempts.
But defending Whalen has become problematic.
And the problems begin -- as do most defensive issues in professional basketball these days -- with negotiating ball-screen situations.
Having Sandy Brondello -- the league's Coach of the Year in her first season here -- managing the Xs and Os for Phoenix, it certainly tracks that going under ball screens against Whalen seems like a swell way to go. Lindsay squeezed off a mere 10 3-point attempts during the entire regular season and had one measly make. Yeah, one.
Unfortunately, the technique used by the Mercury in going under the screen has allowed the temporarily-unattended Whalen to turn the corner and either settle in for a cozy, mid-range jumper or reach the paint. In the latter instance, she's able to constrict the league's best defense and find one of her deadly -- and more open than usual -- teammates.
Getting to her sweet, reasonable-range spots during the second quarter, Whalen knocked in 12 of her 17 points, enabling the Lynx to reach intermission down a much more manageable eight points.
The technique problem begins with the Mercury defender assigned to guard the Lynx screener. On most possessions, the Phoenix defender lurks considerably behind the screener, leaving the ball defender to deal with both the ball handler and screener.
This usually is Taurasi or Erin Phillips; both frequently get caught up in the wash -- either being picked off by the rolling action of the Lynx screener or actually barging into their own teammate who was supposed to be clearing a path.
Tagging Whalen could be simpler if the Mercury player guarding the screener would stay closely attached to the screener; this would eliminate the Lynx player from rolling into (and erasing) the on-ball defender and allow the Phoenix guard to reconnect with Whalen much sooner.
Sunday's late-game adjustment called for a simple switch. The Mercury bigs have pretty nice lateral movement, but a steady diet of switching can be mismatch-seizing catnip to a good team in a subsequent game.
And working against taller defenders after switches, Whalen was able to create enough separation to hand out four of her seven assists over the last 10 minutes.
To be sure, there were other Mercury issues.
For example, they allowed the Lynx to corral 11 offensive rebounds, which helped a team that shot a chilly 40 percent stay reasonably close. Phoenix also finished the game playing on its heels as the Lynx -- fueled by the home crowd -- rallied, with Mercury players looking to make plays on their own rather than rely on trademark movement of the ball and teammates.
"I thought we played well for most of the game," Brondello said. "We just didn't execute down the stretch. We were on our back foot a lot down the stretch.
"There are things we can change. But they (Lynx) responded well. Maya got her shooting touch back and they made big shots when they needed to."
Brondello pointed out that having Game 3 in Phoenix, in front of a hugely-supportive home crowd certainly is a considerable advantage.
"We knew this would be a tough series," she said, "the two best teams in the WNBA going at each other."
---