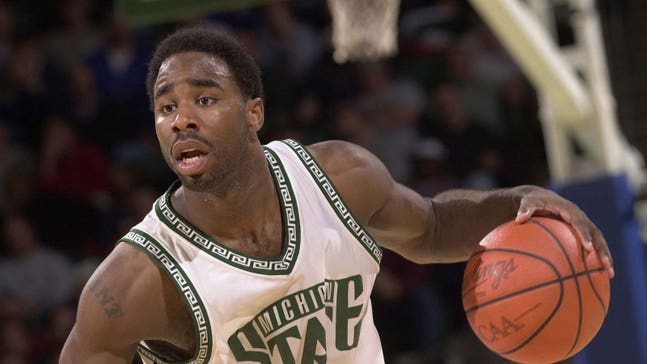 Mateen Cleaves arraigned on sexual assault charges
Updated
Mar. 4, 2020 12:31 p.m. ET

FLINT, Mich. (AP) -- Former Michigan State basketball star Mateen Cleaves was arraigned Wednesday on sexual assault charges over the protest of a prosecutor who felt blindsided and believed the brief hearing would be held Thursday.
Cleaves, 38, is charged with assaulting a woman at a motel last summer following a charity golf event. Judge M. Cathy Dowd told him to turn in his passport and released him.
"I don't know how they do things in Genesee County, but we try our best to be as transparent as possible when my office is involved," Wayne County prosecutor Kym Worthy said. "There was an agreement with all of the parties that the defendant would turn himself in and be arraigned in open court (Thursday) -- not for him to have a back door arraignment."
The case is being handled by Worthy's office because of a conflict raised by the Genesee County prosecutor. Messages seeking comment from the judge weren't immediately returned.
Reporters scrambled to get to the courtroom, and the judge barred them from using cameras.
Cleaves, who is popular in his hometown of Flint, is charged with criminal sexual conduct, assault with intent to commit criminal sexual penetration and unlawful imprisonment. He was mostly silent in court and deferred to his attorney, Frank Manley, who called the charges "outrageous" a day earlier.
"Mr. Cleaves' name has been brought and dragged through the mud," Manley said outside court Wednesday.
In a post on Twitter, Cleaves wrote: "My family and I are devastated by these false charges. I am innocent and the allegations are without merit."
Cleaves led Michigan State to the NCAA basketball championship in 2000 and remains close to the program. Mateen is the middle name of coach Tom Izzo's son.
Cleaves appeared in 167 games for four NBA teams.
---
---