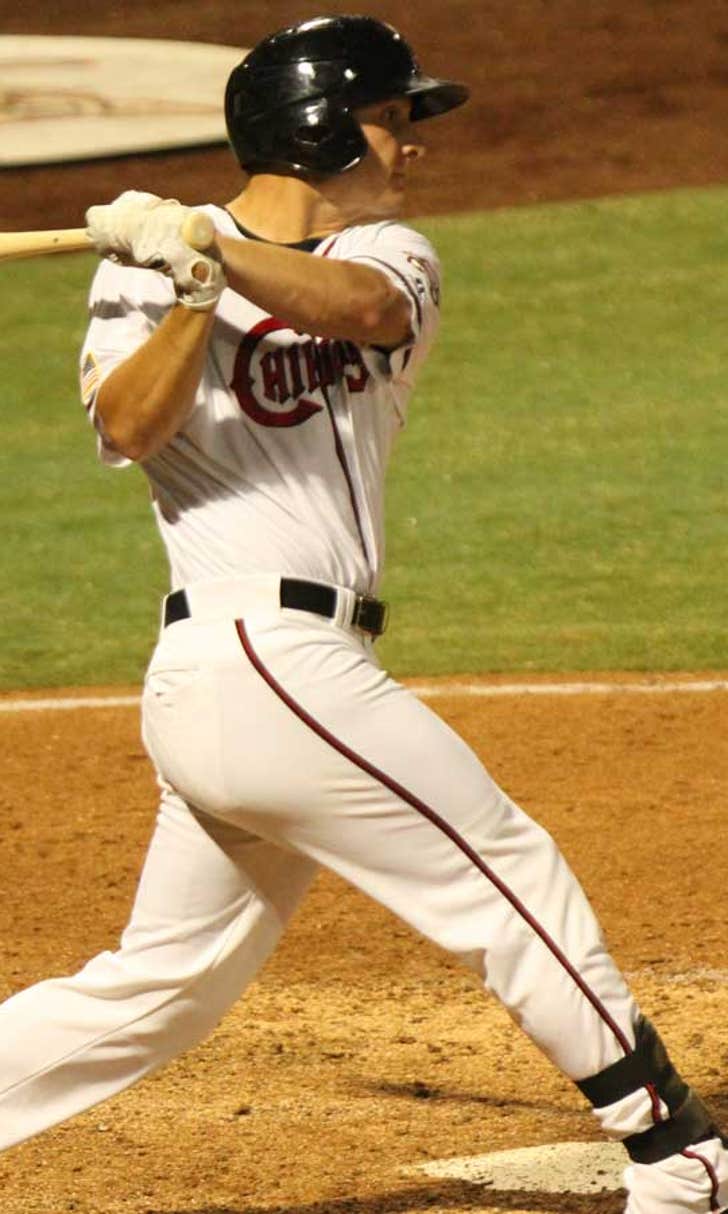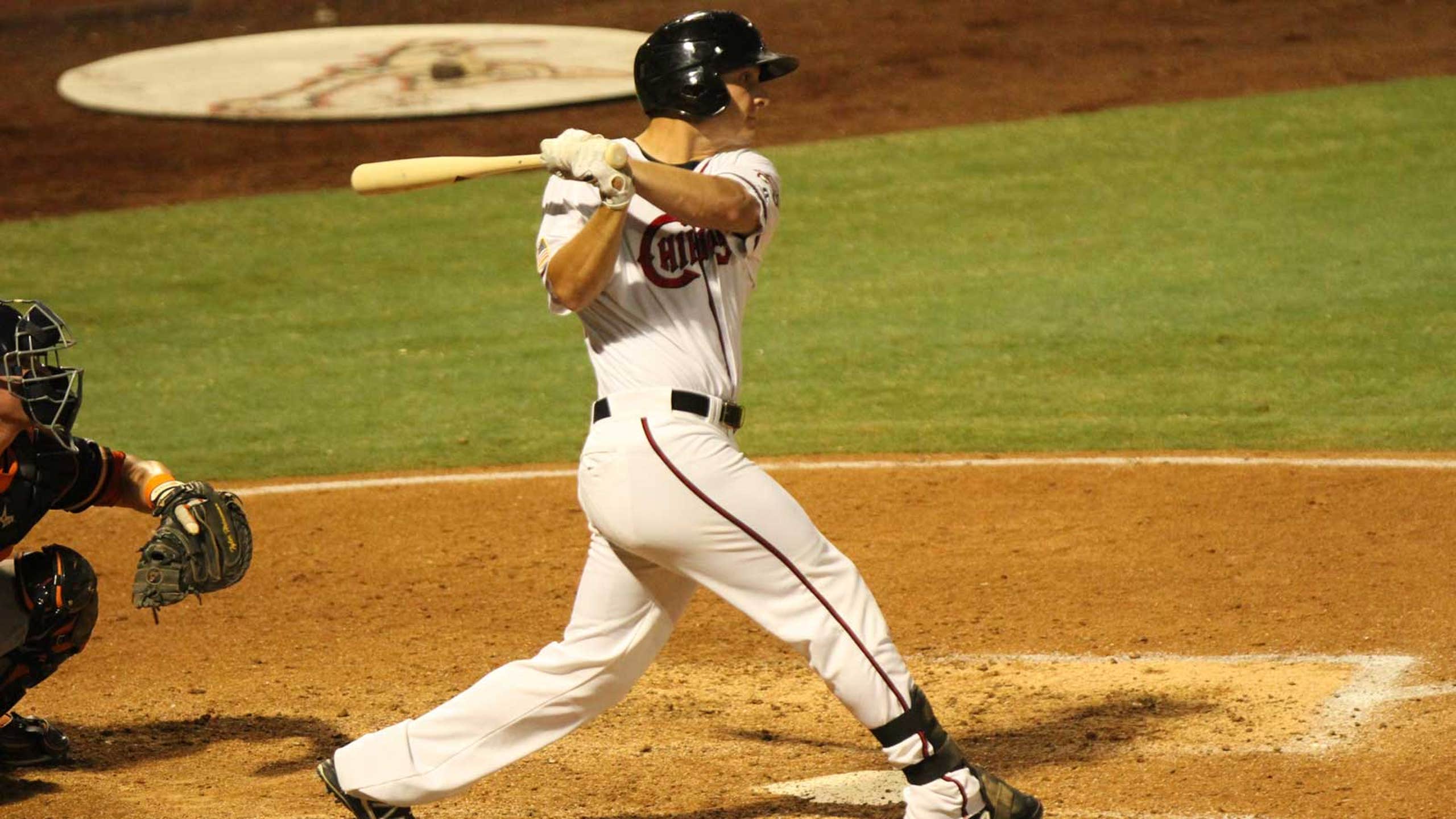 MadFriars' Feature: Alex Dickerson cleaning up in El Paso
BY foxsports • July 31, 2015
EL PASO -- Hang around a ballpark long enough and you are bound to hear phrases that convey certain meanings and concepts.
"Alex Dickerson is what we call a professional hitter," said a scout before a recent game describing the El Paso Chihuahuas' star outfielder. "He only swings at what he wants to and he has a plan for each and every at-bat."
"A professional hitter is someone that you have to beat, and that is Alex. He's not going to give the pitcher anything."
So far this season, the six-foot-three, 235 pound Poway High School graduate has been one of the organization's most consistent players with a .308/.379/.506 slash line without any major monthly fluctuations. And for a big man he can also run a little with eight triples, which puts him among the league leaders.
"I've been real impressed with him since I've been here," said El Paso manager Jamie Quirk, who took over when Pat Murphy replaced Buddy Black as the manager in San Diego.
"He is such a focused kid, very quiet, goes about his business. But he can hit in the middle of the order. He's so big and country strong that he will hit more home runs than he is now down the road."
After finishing his prep career at Poway, Dickerson spent three years at Indiana University where he won the Big Ten Triple Crown in his junior year, hitting .419 with 24 home runs and 75 RBI.
He finished his time with the Hoosiers tied for the all-time lead in home runs with 47 and a career batting average of .386; but still there were some questions about where he would play in the field since he spent significant amounts of time as a designated hitter in college.
The Pirates, who drafted him in the third round of the 2011 draft, saw him as first baseman, where he played and hit at three different levels of their minor league system before coming over to San Diego in a trade for outfielder Jaff Decker and right-handed pitcher Miles Mikolas.
The Padres have primarily seen Dickerson as a corner outfielder who can play first, a change that he has welcomed.
"I'm really comfortable in the outfield, both in right and left, because that is where I have played my whole life, but first isn't bad either."
The additional defensive repetitions that come with playing vastly more games as a professional as opposed to college have made him into a decent corner outfielder.
For nearly every player, being traded back to their hometown team is a dream. But it turned sour when Dickerson suffered a sprained left ankle after stepping on a sprinkler head in spring training last year. The X-rays revealed an abnormality in his heel bone which led to surgery that kept him off of the field until late July.
Despite missing most of the season, he still put up a strong.321/.367/.496 line in 146 plate appearances at Double-A San Antonio. Although he has a career on-base plus slugging percentage of .846, he is putting up his best offensive numbers this year.
"A lot of it is just getting older and learning how to get better, which is about trusting your routine,"" said Dickerson on his growth as a player.
"Taking 500 swings after going 0-4 the night after the game is not going to make me better. You have to trust how you go about your daily preparation; it's what is going to prevent the slumps from lasting."
As players progress through the minor leagues, the more difficult part of the game becomes the mental side as opposed to the physical.  One baseball analyst once noted that everyone at Double-A and above has the physical ability to play in the major leagues. The difference between who makes it and who doesn't lies in consistency and the ability to make the mental adjustments.
Playing in Triple-A, a level that is different because of the amount of older players with major league experience, you have to know what you are doing.
"You might not see the guy who is throwing that huge fastball, but you also have pitchers that have better command and are around the zone more," Dickerson said on the differences between Double-A and Triple-A.
"I am decent at predicting and feeling what is coming next, so it helps my strengths. In a way, I am better at playing the game against the catcher than the pitcher because I am able to hit in different counts and sit on things.
"In Triple-A they are able to execute their pitches and put them where they want, so it helps me out more than someone with some huge fastball who might not know where it's going."
"What killed me before was that I had an idea of where the catcher was setting up and the type of pitch he wanted to throw but the pitcher missed the location and you hack at it where it's supposed to go and not where it went."
The left-hander would be a natural fit in a Padres lineup that has leaned a little too heavy to the right this year, but Alex is going to take his time.
"You just have to wait for your time," said Dickerson who lives in Poway in the off-season about getting to play for his childhood team. "It doesn't help looking around the team or league; it's just going to screw you up."
You can follow all of the action in the Padres' minor league system at www.madfriars.com and @madfriars on Twitter.
---
---