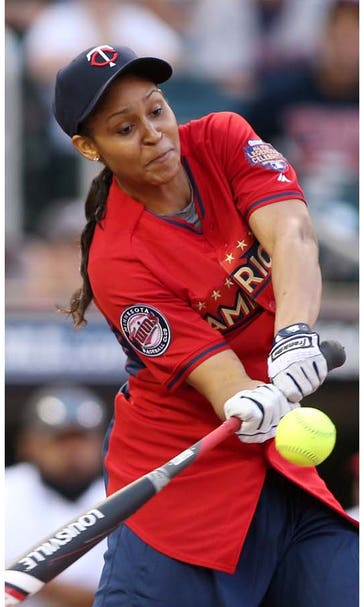 Local athletes Peterson, Moore and Parise represent at Celebrity Softball Game
BY foxsports • July 13, 2014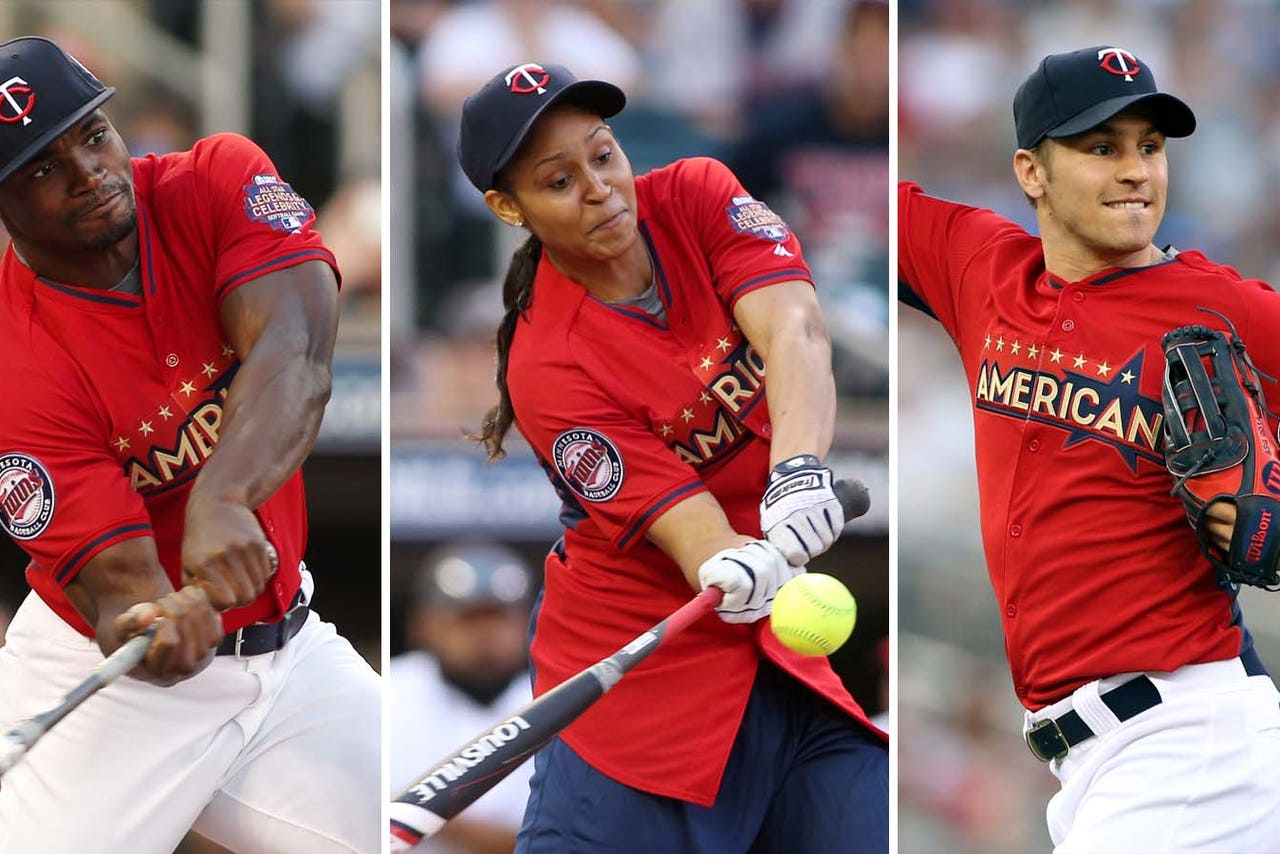 MINNEAPOLIS -- The last time Zach Parise took a chop at a softball, someone dressed up in a stuffed bear costume bested him in a home run derby. Fellow Twin Cities sports luminary Adrian Peterson played a total of two organized baseball games during his Texas upbringing. Before Sunday night's All-Star Legends and Celebrity Softball Game, Maya Moore hadn't stepped on a diamond since her middle school days in Jefferson City, Mo.
The pressures of their day jobs are a little more strenuous. "My expectation," Parise told reporters during batting practice at MLB All-Star Game FanFest inside the Minneapolis Convention Center, "is to make some contact, not make any errors."
An American League roster featuring those three fell by 10 to the National League. But unlike the trio's everyday endeavors, Sunday's festivities were about mingling as much as they were making plays.
Each had their moments, adroit and dubious. Wild forward Parise -- who once lost a home-run contest to Twins mascot TC Bear at Target Field -- turned in a couple of smooth hits, showing off the swing he developed playing youth baseball in Bloomington, Minn. Moore was sturdy at first base, even making a couple nice scoop plays -- just hours after posting a double-double in the Lynx's victory over Seattle across the street from Target Field at the Target Center.
And after pleading with Jennie Finch to see her best stuff, Peterson was blown away by a high, rising fastball that drew laughs from a sellout crowd at the Twins' home ballpark.
But that didn't stop Peterson from considering pulling a Tracy McGrady and trying the diamond on for size once his NFL career concludes.
"You only live once," the all-pro running back cracked. "Maybe I might try to try out for a team and see if I can make a team. I don't know.  . . . I'll take this game to see if I can make it."
After eight years as one of the NFL's biggest names, Peterson is used to the spotlight. Just earlier this summer, he attended the White House Correspondents' Association dinner in Washington, D.C.
"You brush shoulders with a lot of people," Peterson said.
Sunday, that included actors Rob Riggle and January Jones, star NFL receiver Larry Fitzgerald and award-winning rapper Nelly, who hit two home runs and won his second Celebrity Softball Game MVP award.
Peterson, Parise and Moore weren't the only local sports celebrities to participate. Former Twins Jack Morris and Jim Thome joined a legends cast that included Rollie Fingers, Dwight Gooden, Fred Lynn, Mike Piazza, Rickey Henderson, Ozzie Smith and John Smoltz.
"To participate in this, you see the lineup, it's pretty cool," said Parise, whose childhood bedroom included a poster of Henderson on the wall. "When I was going in the locker room and just seeing the other guys -- you're so used to being around hockey players, and seeing these other legends from the different sports.
"I'm still a fan of all these guys, so it's really cool."
One of those guys was just as much if not more complementary.
Thome spent two of his 22 years with the Twins. But the five-time All-Star slugger still gushes about how the locals treated him and his family then.
"It wasn't all about baseball; it was the city," said Thome, who took part in a celebrity home run derby after Sunday's six-inning affair. "It was the people. You'd go to breakfast or dinner, and the way people treated you here and how heartwarming everybody is here really stood out for us."
Follow Phil Ervin on Twitter
For more 2014 MLB All-Star Game coverage head to www.FOXSportsNorth.com/AllStarGame
---