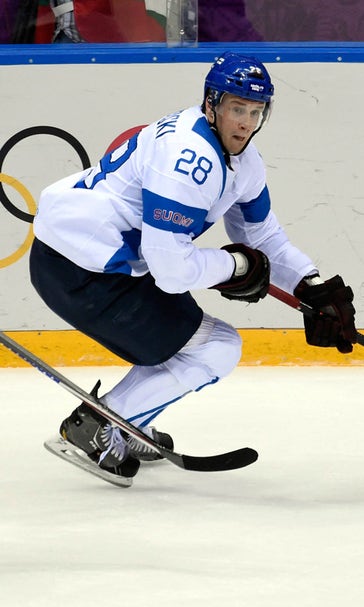 Korpikoski emblematic of Finns' Olympic excellence
BY foxsports • February 25, 2014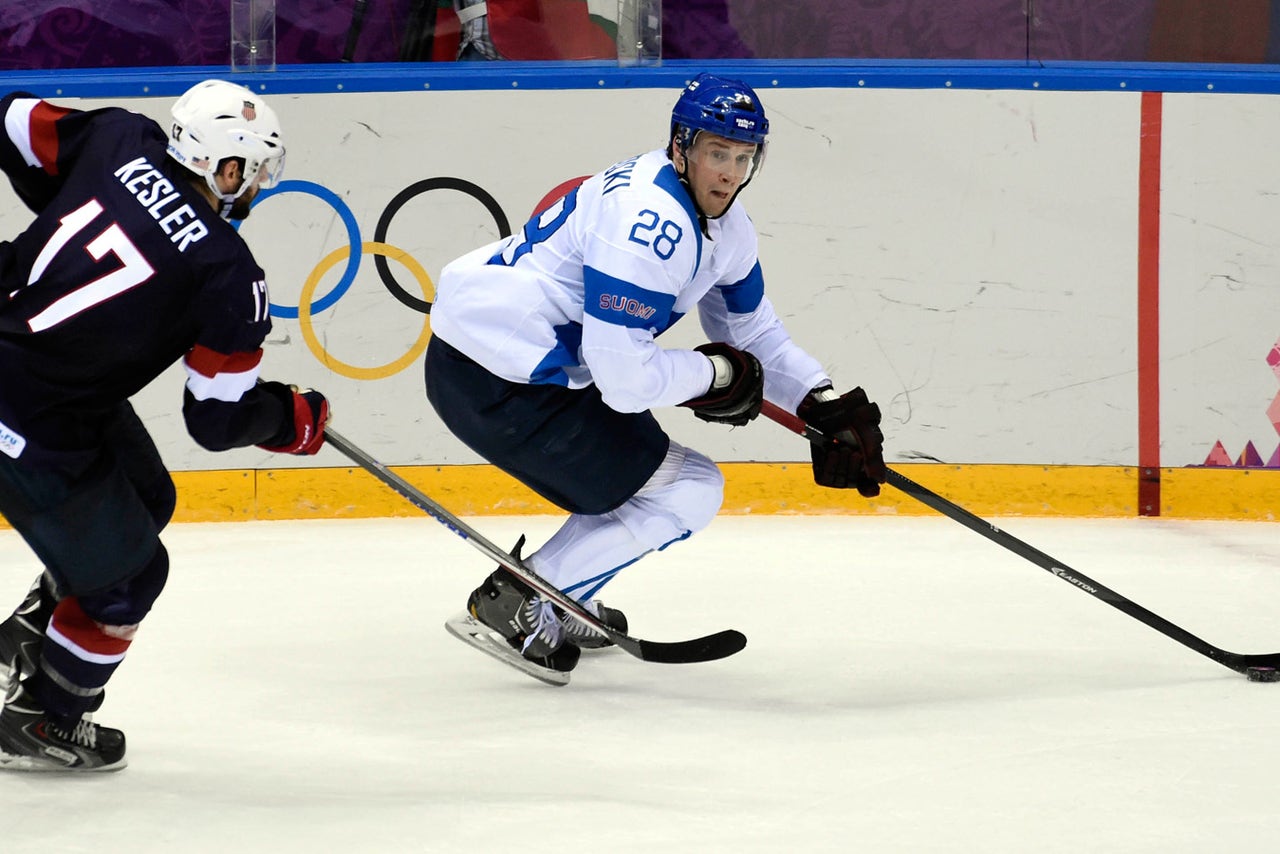 SCOTTSDALE, Ariz. -- If you had laid odds before the Olympics on which of the five Coyotes would make the greatest impact in Sochi, Russia, the only player who would have sported worse odds than Lauri Korpikoski was goalie Mike Smith, who didn't play a minute for Team Canada.
But that's not how things worked out.  
Czech center Martin Hanzal missed some time and played sparingly at others, while Czech teammate Zbynek Michalek couldn't prevent his club from a disappointing quarterfinal loss, and Swedish defenseman Oliver Ekman-Larsson found himself relegated to the curious position of seventh defenseman for the silver-medal winners.
Then there was Korpikoski, who had two goals and two assists in six games and was seemingly on the ice whenever something good happened for the Finns. 
Decimated by injuries and not picked by many to finish higher than fifth, Finland was the best story of the Olympic hockey tournament after it routed Team USA 5-0 to capture the bronze medal. While the U.S. faced enormous criticism for that performance, it was hard not to appreciate the joy and energy Finland brought to the ice every time out, but especially in that finale with only third place on the line. 
"It's not every day you play for an Olympic medal," Korpikoski explained in a statement that could serve as a lesson for the Americans. "Getting the win for (Teemu) Selanne, (Kimmo) Timonen and Sami Salo, all those guys who have been around 20 years, always going to the World Championships and Olympics and helping their county -- it was good to get the win for them to finish their career with the national team."
Korpikoski was a two-way force in Sochi, but he shrugged off the notion that his performance would fuel his confidence when the Coyotes return to the ice on Thursday in Winnipeg.
"It's just a different game," he said, noting the difference in ice size. "Come Thursday, it's going to be high tempo, up and down forechecking, so you just feel good about the trip."
Well, most of the trip anyway. On Korpikoski's return home, his plane stopped for an hour to refuel in Germany. Only then did the flight crew realize it had added too much fuel, so the plane spent the next hour and a half driving up and down the tarmac to shed some of the excess weight.
"I tried to sleep, but it was going back and forth, so you just started to feel sick," Korpikoski said, laughing.
The plane finally left, but then Korpikoski endured a six-hour layover in Newark, N.J., before finally heading back to Phoenix -- a stop that ended up making his return trip last more than a day. 
While the Finns stunned the world with their fourth straight Olympic medal, Team Sweden coach Par Marts stunned the hockey world when he made Ekman-Larsson his seventh defenseman and used him sparingly after Alex Edler returned from a two-game suspension that had carried over from the World Championships. 
Sweden's second and third pairings were logical because they matched NHL teammates Johnny Oduya and Niklas Hjalmarsson (Chicago) and Niklas Kronwall and Jonathan Ericsson (Detroit), but Ekman-Larsson had looked terrific on the club's top pairing with Ottawa's Eric Karlsson before Edler's return, and he is widely regarded as a better defenseman than Edler.
When asked if he ever got an explanation for the demotion, Ekman-Larsson was concise.
"Not really," he said. "When I played, I played pretty good, I think. It's up to the coach to put me in there. If he doesn't want me to be on the ice, I just sit there and be positive."
Ekman-Larsson and Marts have a history. Marts was his coach at the 2010 IIHF World Junior Championships, but Ekman-Larsson declined to speculate on why Marts made his decision, preferring to focus on the remaining portion of the Coyotes' schedule.  
"I was pretty excited to be back on the ice with the team," he said.
Coyotes goalie Mike Smith knew he probably wouldn't play for Team Canada unless goalies Carey Price and Roberto Luongo suffered injuries. He was chosen in part because the team's staff knew he'd be a positive influence in the locker room despite his role.
"Just to be a part of, not just the hockey team, but the bigger picture part of Team Canada as a whole -- it was everything and more than I expected and just an experience that I'll never forget," Smith said. "I knew going over that there would be a good possibility I wouldn't get in a game. I was just doing everything I could to be a part of the team and kind of keep the dressing room light."
Other than the one game for which he dressed, Smith spent games pacing nervously in a suite provided by the NHLPA while "sweating through my suit," but he never doubted the resolve of the players despite the enormous pressure they were under to bring home gold to hockey's birthplace.
"It was very calm," he said of the locker room. "When you walk in that room and you look around at the faces in that room, it was pretty easy not to let those things bother you."
Hanzal and Michalek were out of the Olympics after a quarterfinal loss to Team USA, but the bigger story for the Czechs going in was the makeup of the roster chosen solely by coach Alois Hadamczik. Among the notable omissions was Coyotes forward Radim Vrbata.
Following the Olympics, Hadamczik resigned, calling it a "coup caused by seditious media" who had criticized his roster. But there were ample signs that the job was too big for Hadamczik in Sochi. He was criticized during the tournament for not matching lines with opponents. He was criticized for the uneven ice time he awarded, including heavy minutes for 42-year-old Jaromir Jagr.
And of course, he was criticized for a roster that looked a line or two short of competing because of inferior players from the Czech Extraliga instead of established NHL players such as Vrbata and Jiri Hudler, the third- and fourth-leading Czech scorers in the NHL this season --€" along with Florida forward Tomas Fleischmann.
"I don't think it could have gone go any other way," said Vrabta when asked about Hadamczik's resignation. "It's not just the Olympics, it was the World Championships and the atmosphere around the team. There was no other option.
"He was in a position to have the right to choose whoever he wanted for the team. I have nothing against that, but if you are in that position and it doesn't go well, you must face the consequences."
For Michalek, it was a disappointing finish after he worked so hard to get his hip healthy enough to compete in Sochi.
"I think our team had some potential, and we didn't play up to that potential so that's the most disappointing thing," he said. "We can argue about how the team was made up and the coaching and the system but the reality is that we didn'€™t even play close to well enough to medal. We were there as a team, and we didn't succeed." 
"After a failure like this, someone has to take the blame. I guess all the pressure got to (Hadamczik) and the media was all over him, so I guess he blamed the media, but we failed as a team. I wouldn't point the finger at just the coach or the players.
"Czech hockey has a bigger problem than just one tournament. Developing young players isn't happening like it used to before, and the Czech league isn'€™t as good as it used to be. I don'€™t know if another coach could have done any better. We need to change the program a little bit and start to develop some young players."
With the NHL on the fence over whether it will send its players to the 2018 Games in South Korea, the disappointment of the Czechs' finish was all the more poignant for Michalek.
"It was hard to watch the bronze-medal game and the final because I thought our team could have been there," he said. "It didn'€™t end up being good for anybody. For me, that's disappointing because I don'€™t know if I'll ever get a chance at another Olympic medal."
Follow Craig Morgan on Twitter
---