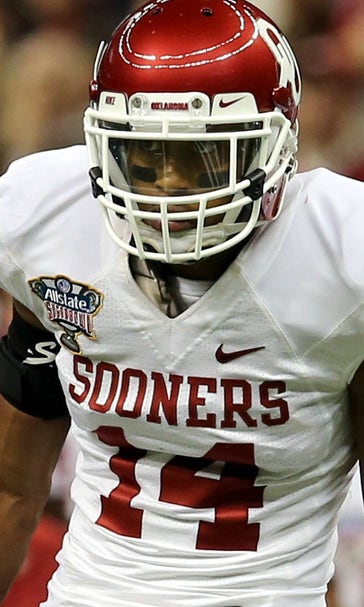 Jaguars address defense on NFL draft's final day
BY foxsports • May 10, 2014
JACKSONVILLE, Fla. (AP) -- Having one of the worst records in the league last season, the Jacksonville Jaguars were chosen to coach the Senior Bowl.
It gave coach Gus Bradley and his assistants an up-close look at dozens of players.
And it paid dividends in the final day of the NFL draft.
The Jaguars used three consecutive picks Saturday on players they spent a week with in Mobile, Alabama, in January. They chose Oklahoma cornerback Aaron Colvin in the fourth round (No. 114 overall), and then added Florida State linebacker Telvin Smith (No. 144) and Arkansas defensive end Chris Smith (No. 159) in the fifth.
Jacksonville also chose Virginia center Luke Bowanko in the sixth round and UCF running back Storm Johnson in the seventh. Bowanko and Johnson didn't attend the Senior Bowl, but the three earlier selections did. And they made an impression on the Jaguars.
"We took a little bit of chance. We opened ourselves up at the Senior Bowl," coach Gus Bradley said. "We let them into our world. We talked to them about our philosophy, our approach. You can't get everybody. But that's OK. At least the ones we did get, it will speed up the process once they get here. That was exactly my conversation with them."
All three players have flaws, which is why they were available in the final rounds of the three-day draft.
Colvin is recovering from a torn ligament in his right knee, an injury sustained in the Senior Bowl. Telvin Smith failed a drug test at the NFL combine. And the 6-foot-1, 266-pound Chris Smith is considered too short to be an every-down end and too slow to play outside linebacker.
Colvin might be the most intriguing story of the three.
A month after he tore his anterior cruciate ligament, Bradley pulled him the aside at the NFL combine and said, "We still love you. I'm going to come get you. You can bank on that."
Colvin forgot about the conversation -- until the Jaguars called him Saturday.
"It's pretty crazy," Colvin said. "Words can't even describe it."
Colvin had been projected as a first- or second-round pick before injuring his knee during Senior Bowl practice. He had surgery in Pensacola to repair the ligament and some meniscus damage. He remained there to rehab under the supervision of renowned surgeon Dr. James Andrews and started running and backpedaling two weeks ago.
Colvin will start the season on the physically unable to perform list and will miss at least the first six games. Depending on where he's at physically, he could sit out the entire season.
"If the situation is he's ready to go and he can go, and there's an injury there and we need a corner, then that is a good problem to have," general manager Dave Caldwell said. "We just have to take it slow with him, but we feel that there is a good chance he can possibly contribute toward the second half of the season."
Colvin started 36 of 50 games in four seasons at Oklahoma, finishing with 234 tackles, 23 pass breakups, five interceptions and 3 sacks. He played safety as a sophomore in 2011, moved back outside his final two years and was a semifinalist for the prestigious Jim Thorpe Award, given annually to the nation's best defensive back, as a senior despite playing with a shoulder injury.
"You're going to get a lockdown corner," Colvin said. "I can play nickel. I can play corner. I can play safety. But I feel like when you have me on the outside as a corner, I'm going to lock down whoever you give me. That's just my mindset. I'm a true competitor and I'm going to bring that fire to the secondary."
Telvin Smith hopes to bring the same energy to the linebacker position.
He also plans on proving the drug test was a one-time error.
"It was a dumb mistake that I made," he said. "Coming off of hiatuses, sometimes you get outside of your box and you make dumb mistakes. That was something I talked with the coaches about. It was a decision I made and I have dealt with the consequences of it. That is behind us, we are ready to move forward. I told the coaches that that is behind us and we are going to move forward and go get us a Super Bowl. It's destiny."
---