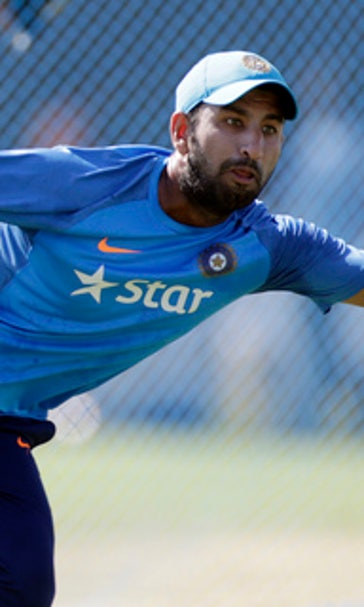 India and Australia renew rivalry on bone-dry wicket
February 22, 2017

PUNE, India (AP) India will take on Australia in the first match of the four test series starting on Thursday, the renewal of a rivalry that has seen some heated exchanges in the past.
Australia won the last encounter at home in 2014-15, while India won at home in 2012-13 by a spanking 4-0 margin. The Indians also suffered a similar embarrassing defeat on the 2011-12 tour, when Australia routed the MS Dhoni-led side.
Back in 2001, then Australia skipper Steve Waugh had deemed this tour as a `final frontier', and his world-beating side went on to lose 2-1 in one of the great test series. Australia finally win under Ricky Ponting, in 2004-05 by a similar margin.
Current skipper Steve Smith talked of replicating history on his team's arrival in India, but the enormity of the task ahead isn't lost on him. India is comfortably the No.1 ranked test side in the world.
Under Virat Kohli, India has won six back-to-back test series, starting in Sri Lanka in 2015. Since defeat at Galle on that tour, they are also unbeaten in 19 tests, winning 15 of them.
''England was a tough series for us. We survived a draw in Rajkot (first test), and then turned it around to win 4-0. It showed the team's character. We treat all opponents equally. Every match and series is challenging for us. This series against Australia is no different,'' Kohli said Wednesday.
The Indian skipper will be buoyed by the availability of his first-choice players from the England series, barring injured pacer Mohammed Shami. Off-spinner Jayant Yadav was fit and available against Bangladesh, but Bhuvneshwar Kumar was picked ahead of him.
Any changes to the Indian combination will depend on the pitch's final appearance. It bore a very dry look one day ahead of the game, and is expected to take turn from day two, if not day one. The toss-up for the final place in the Indian eleven could be between Yadav and Karun Nair, who was dropped against Bangladesh despite scoring a triple hundred in his last test appearance at Chennai.
''One day before the test, this wicket looks incredibly dry. We have a few options and we will assess them in detail. There is no doubt it is going to be a difficult series, but I have confidence in the squad we have brought for this Indian tour,'' said Smith ahead of the first test.
Australia has experienced mixed results in test cricket recently. In July 2016, they lost 3-0 in Sri Lanka and surrendered their no.1 ranking. Then, they lost at home to South Africa, but managed to buck the trend with victory against Pakistan.
They have undergone changes in personnel during the latter half of their home season. Matt Renshaw could keep Usman Khawaja out, as the left-hander sat out the warm-up game in Mumbai. Shaun Marsh scored a hundred against India A there.
The pitch for that game was very different from the one seen at the Maharashtra Cricket Association Stadium here. Thus the visitors are still unsure if they want to play a third spinner or an extra batsman, along with pacers Mitchell Starc and Josh Hazelwood, plus all-rounder Mitchell Marsh.
---