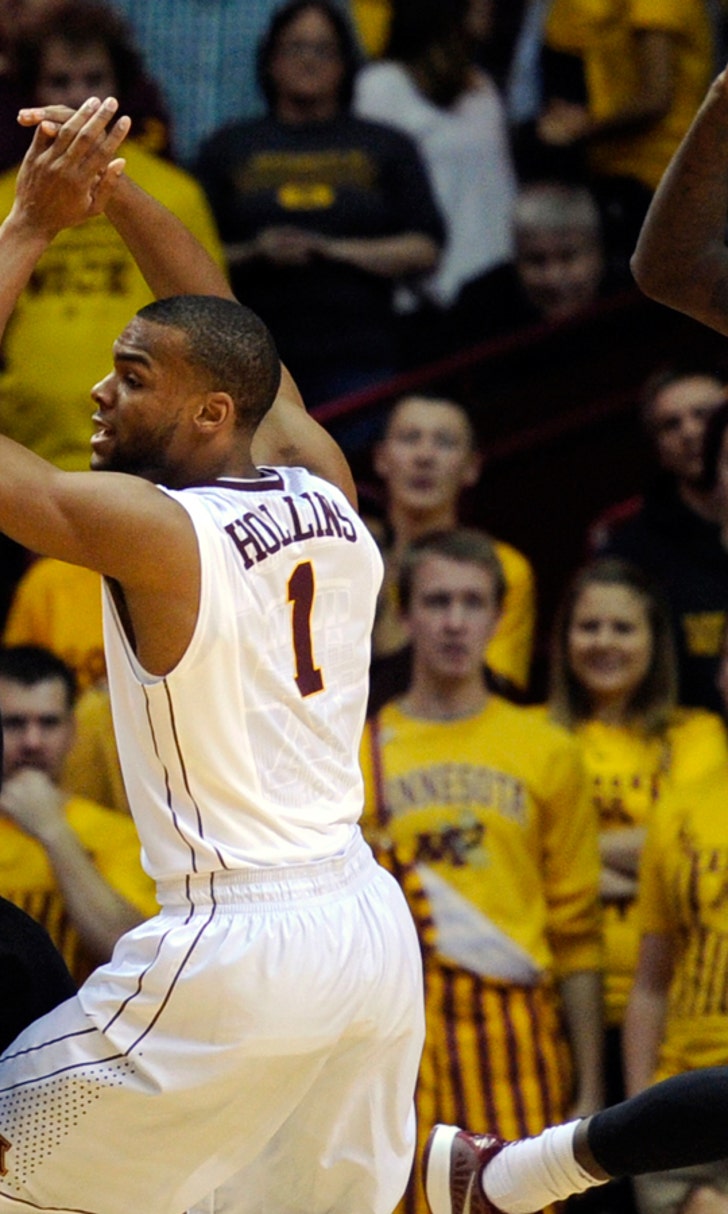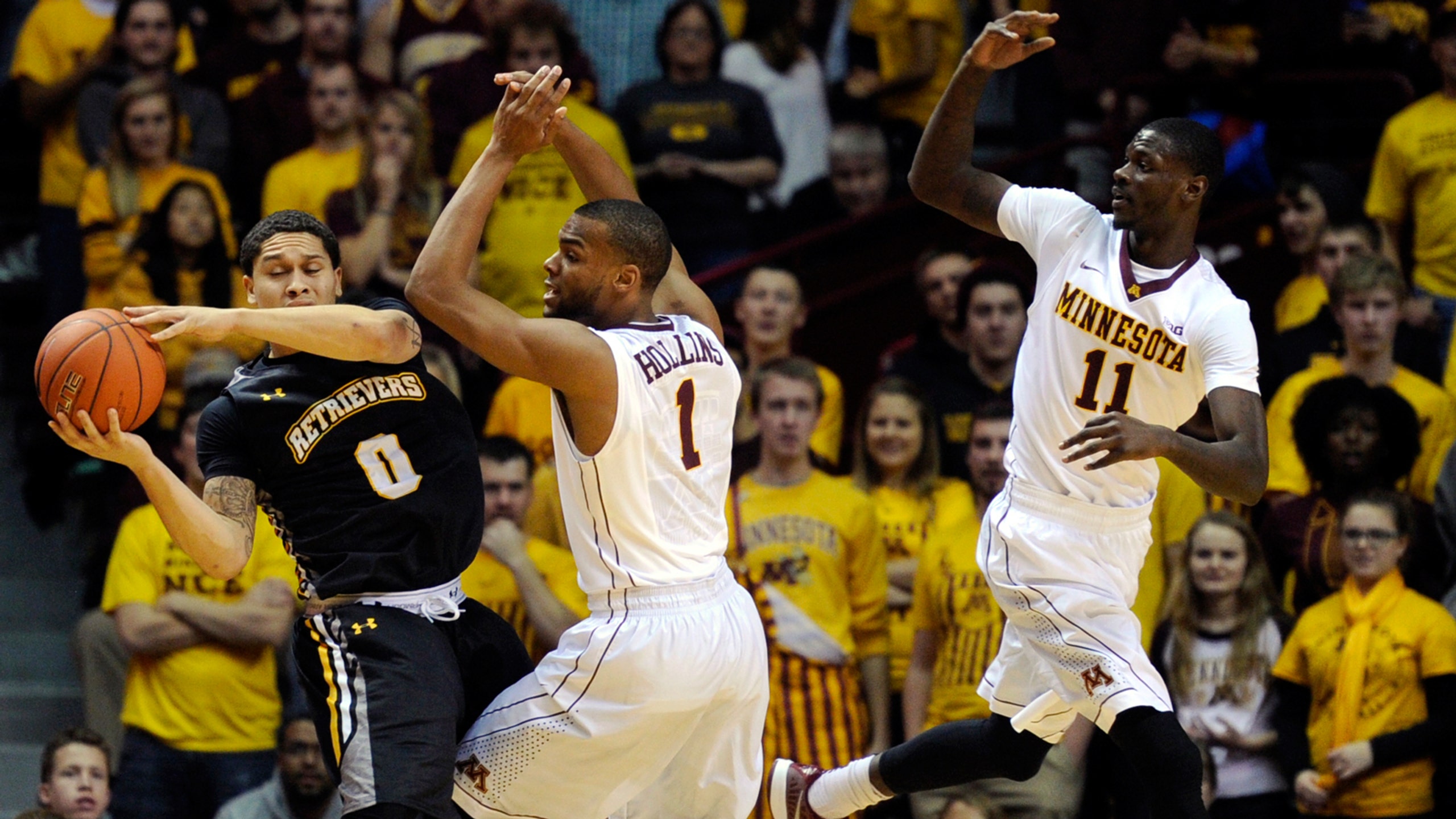 Gophers get defensive, take bite out of Retrievers
BY foxsports • November 22, 2014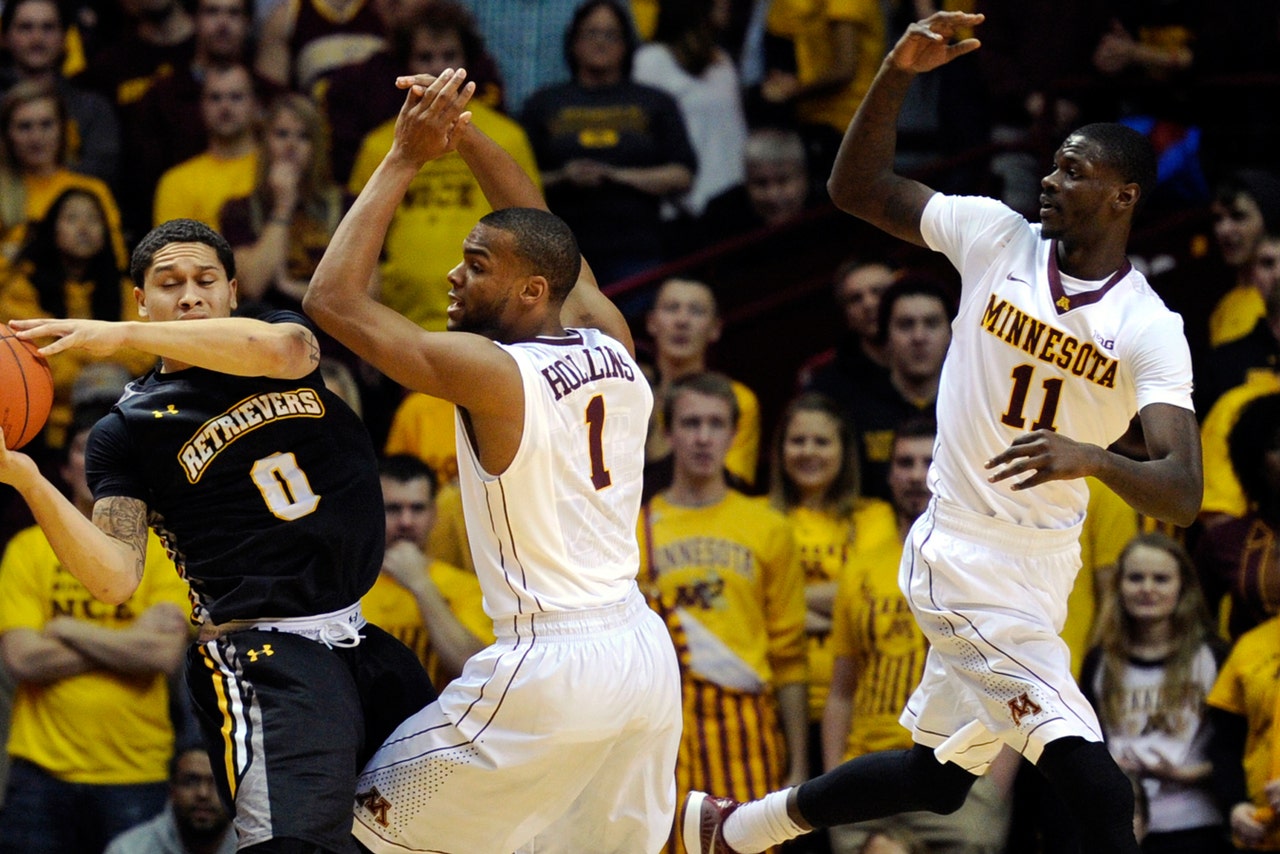 MINNEAPOLIS -- Things didn't often come easy for the Gophers men's basketball team on Saturday against Maryland-Baltimore County.
Two days after Minnesota rolled to a 52-point victory against Franklin Pierce and scored 109 points, it was more of a struggle against the Retrievers. Shots didn't fall. The fouls racked up. UMBC hung around for the first half.
The Gophers eventually pulled away for a 69-51 win thanks in large part to their defense, but it was a much different vibe than in Minnesota's previous two non-conference games, in which it coasted to victory. With a tougher slate of games on the horizon, Gophers coach Richard Pitino said Saturday's game was actually beneficial for his team.
"I thought we needed that game," Pitino said. "That was a good experience for us, although it didn't seem like it. We knew that team would come out and play hard, which they did. They made some tough shots early. We needed to play a game where not everything was going our way. That was certainly the case."
Minnesota shot a mere 38.9 percent in the first half, including just 3 of 13 from 3-point range and 1 for 3 at the free-throw line. UMBC led by as many as four after guard Wayne Sparrow buried a 3-pointer to put the Gophers in a four-point hole.
That's when the Gophers' defense stepped up the intensity. Minnesota forced the Retrievers into 14 first-half turnovers, which Pitino's team turned into 13 points en route to a 32-26 halftime lead. That six-point margin at the half was perhaps a little too close for comfort against a team that scored just 38 points on Wednesday against Loyola.
"They hit shots," said Gophers senior Andre Hollins, who had 12 points in the win. "It happens like that sometimes. We got into foul trouble. We picked it up. Throughout the game they got tired. They started making turnovers and careless things from being tired."
Minnesota could have used being tired as an excuse, as Saturday marked the Gophers' third game in a five-day stretch. They hosted Western Kentucky on Tuesday, followed by the 109-57 win over Franklin Pierce on Thursday, and then Saturday's 18-point win.
The Gophers knew this week's busy schedule would help prepare them for the postseason. None of the players used it as an excuse for the slow start in Saturday's first half.
"I can't speak for my teammates, but I felt pretty good out there," said Minnesota center Mo Walker, who had a team-high 15 points and added five rebounds. "It's tough playing three games in a week like this, one day of rest. It was tough, but the guys fought through it. I think we all played well."
With the offense sputtering, Minnesota relied on its defense. DeAndre Mathieu had one of his four steals early in the second half and took it the other way for a layup. The Gophers drew several charges, and turned up the pressure on UMBC's guards as the game went on.
The end result? A total of 23 turnovers for the Retrievers, which yielded 25 points for Minnesota. The Gophers pulled away in the second half thanks in large part to their defensive effort.
"Our defense has got to be our calling card," Pitino said. "The defense has got to be what we concern ourselves with. Thirteen steals is good. Turning them over 23 times is good. A little too much fouling, obviously. We've got to stop doing that."
After the season-opener against Louisville, Minnesota's non-conference schedule took a dip in terms of competition. It didn't seem to be a problem for the Gophers against Western Kentucky or Franklin Pierce, but UMBC was a bit peskier and made Minnesota earn the win on an off night for the Gophers' offense.
Now the intensity of the schedule ramps back up again. Minnesota heads to New York for the NIT Season Tip-Off at Madison Square Garden. The Gophers will face St. John's on Wednesday and then play either Gonzaga or Georgia on Friday.
If Saturday's win at Williams Arena taught Minnesota anything, it's that the Gophers can still win even on an off night. That lesson may come in handy on this upcoming road trip -- and the rest of the season.
"I don't know if you're ever totally where you want to be, because it's still early," Pitino said. "We've got two days to really focus in on a really talented St. John's team. . . . We've got a long way to go, but I like where we're at right now."
Follow Tyler Mason on Twitter
---