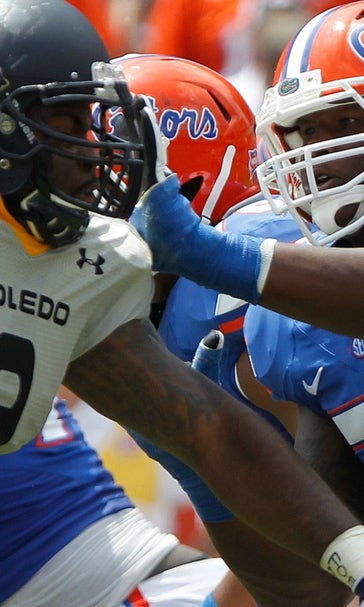 Gators notes: D.J. Humphries out, forcing shuffling on O-line
September 8, 2014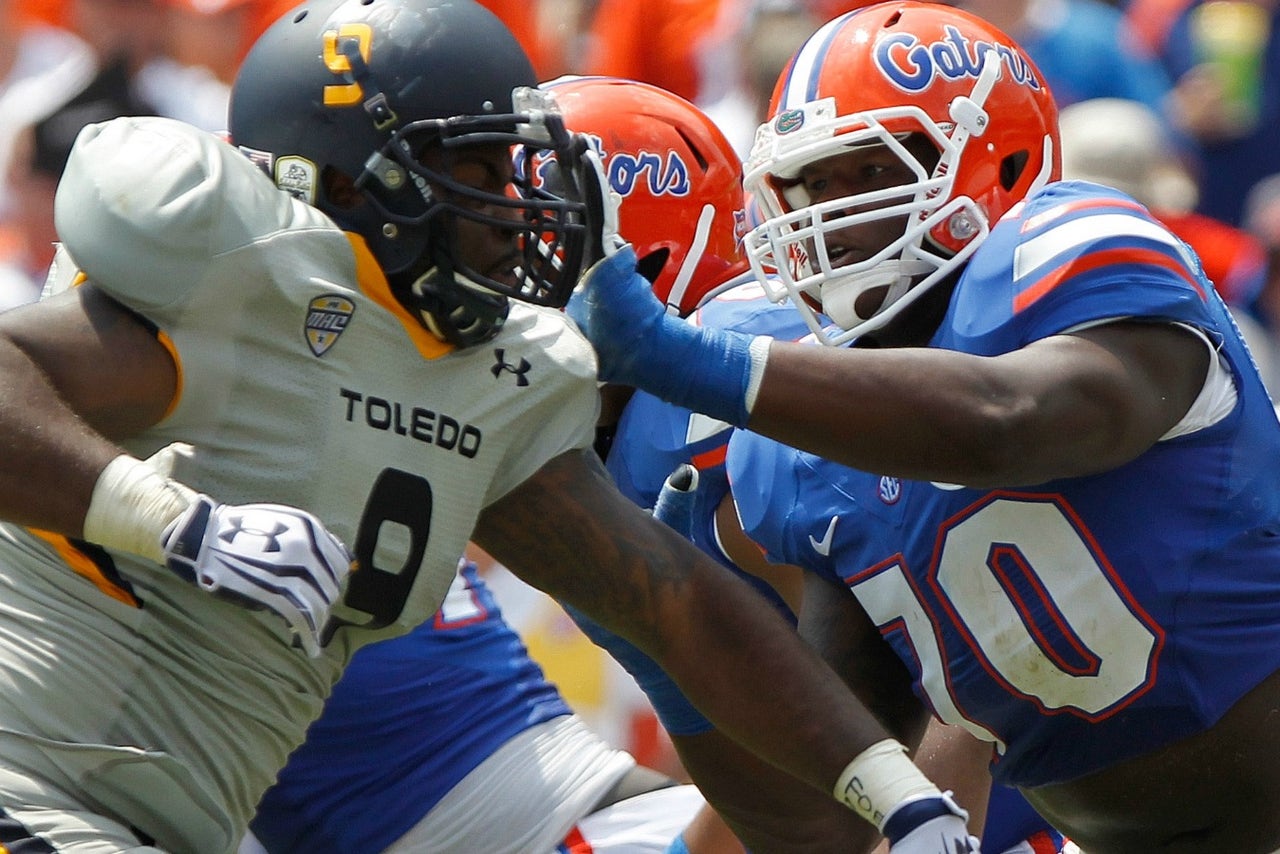 GAINESVILLE, Fla. -- Offensive linemen D.J. Humphries and Chaz Green give the Gators a pair of talented tackles when both are healthy. Humphries started at left tackle Saturday and Green started on the right side after missing all of last season due to a shoulder surgery.
When the Gators host Kentucky on Saturday, Green will be on the left side and redshirt freshman Roderick Johnson at right tackle. Humphries won't be available.
Gators coach Will Muschamp said after Saturday's 65-0 win over Eastern Michigan that Humphries left the game because of an injured ankle. At his Monday press conference, Muschamp reiterated that Humphries is expected to miss at least two games.
"We think we'll get him back after the open week," said Muschamp, referring to the off week between Florida's road games at Alabama and Tennessee. "He's dealing with a little bit of a high ankle sprain as well as a bone chip. As we move forward we'll know more but he'll definitely be out this week."
Humphries missed five games last season because of a pair of knee injuries. He added about 20 pounds in the offseason to help withstand the rigors of facing SEC defensive lines but is expected to miss at least the first two SEC games due to the latest setback.
While the Gators will be without Humphries, they got a good look at true freshman David Sharpe in the victory over Eastern Michigan. Sharpe played significant reps at left tackle and will serve as the primary backup to Green and Johnson. Left guard Trenton Brown can also slide out to tackle, where he started five games on the right side last year.
Despite Humphries' injury, Muschamp is confident in the offensive line's depth.
"We feel good there," he said. "(Antonio) Riles will move up at guard and get some reps when Trenton goes outside. We feel pretty comfortable with where we are."
Like Sharpe, Johnson made his first appearance for the Gators on Saturday. The 6-foot-5, 308-pound Johnson was redshirted a year ago and made a strong impression in fall camp.
"In my opinion, he's going to be very good," Muschamp said. "He played extremely well early on in the game. Obviously, there was some anxiety in your first time playing in those situations. But as the game wore on, we thought he played very well.
Trey Burton's most memorable game as a Gator came in 2010 when he scored six touchdowns in a victory over the Wildcats. It was a big week for Burton. An undrafted free agent, Trey made Philadelphia's 53-man roster.
On Saturday he watched little bro Clay catch a career-high seven passes for 42 yards against Eastern Michigan. Clay entered the game with three career receptions.
"Clay showed that he's very capable in the passing game,'' Gators quarterback Jeff Driskel said Monday. "He made some tough catches there. He's always been a really good blocker, but he'll have to step up for us."
With fifth-year senior tight end Jake McGee lost for the season due to a broken left leg, Burton, Tevin Westbrook and true freshman DeAndre Goolsby will serve as the tight ends. Goolsby did not play Saturday but Muschamp said the plan moving forward is to get him some experience on special teams and eventually on offense.
Muschamp said the improvement fans saw in Burton on Saturday wasn't by accident.
"He's changed his body a little bit. He's slimmed down," Muschamp said. "He's quicker than he's been, he's faster than he's been. He worked extremely hard on the Jugs machine all summer. He hasn't had many drops at all through fall and working into game week."
The Gators have won 27 consecutive games against Kentucky, which is the longest active streak in the country against a major opponent in an annual series.
As you might expect, Muschamp said none of that has anything to do with Saturday's game.
Still, each year when this game rolls around it's a topic of discussion. The Gators have defeated Kentucky by an average margin of 25.3 points over that span.
The most lopsided victory? A 73-7 rout in 1994. The closest game? A 24-21 victory in 2003.
A look at Florida's head coaches and their record against the Wildcats during the streak: Galen Hall (2-0), Gary Darnell (1-0), Steve Spurrier (12-0), Ron Zook (3-0), Urban Meyer (6-0) and Muschamp (3-0).
Prior to Saturday, Gators linebacker Neiron Ball was better known for his comeback story from a congenital vascular condition that caused blood vessels to burst in his brain than for his play.
That will change if Ball continues to play like he did against the Eagles. The senior finished with a team-high six tackles, 2.5 sacks, a forced fumble and one quarterback hurry.
"It feels so good," Ball said afterward. "Plays finally came my way."
Ball has always impressed coaches with his natural athletic ability. They hope he parlays those gifts into more production in his final season.
Muschamp knows how difficult of a climb back it has been for Ball.
"We almost lost him on the practice field," Muschamp said Saturday. "It wasn't about playing football at that point. It was about living. He's a guy that can really play well in space as far as linebacker is concerned. He's got good off-the-ball instincts. He's also a good end-of-line player. But he's a very good pass rusher."
Safety Marcus Maye (hamstring) is expected back for Kentucky after missing the Eastern Michigan game. Maye was hurt late in fall camp and is ready to go according to Muschamp.
In addition, true freshman cornerback J.C. Jackson re-injured his shoulder Saturday and his status is uncertain.
"We're going to look at his shoulder," Muschamp said. "It slipped out during the game and also happened in training camp. We're going to take a look at him today, see where that is."
Florida has now won 25 consecutive season openers, second to Nebraska (29) for the nation's longest active streak ... According to participation chart, 72 players got playing time against Eastern Michigan, including nine true freshmen ... Yes, it's only one game, but the Gators lead the nation in scoring (65 points per game); UF's 65 points were its most against an FBS opponent since a 65-3 win over San Jose State in 2003 ... Quinton Dunbar extended his school-record streak of consecutives games with at least one catch to 29 games; Dunbar finished with five receptions for 81 yards ... Andre Debose returned a third-quarter punt for 55 yards on Saturday, eclipsing his career-best return of 45 yards in Florida's 27-14 win against Bowling Green to open the 2012 season.
---