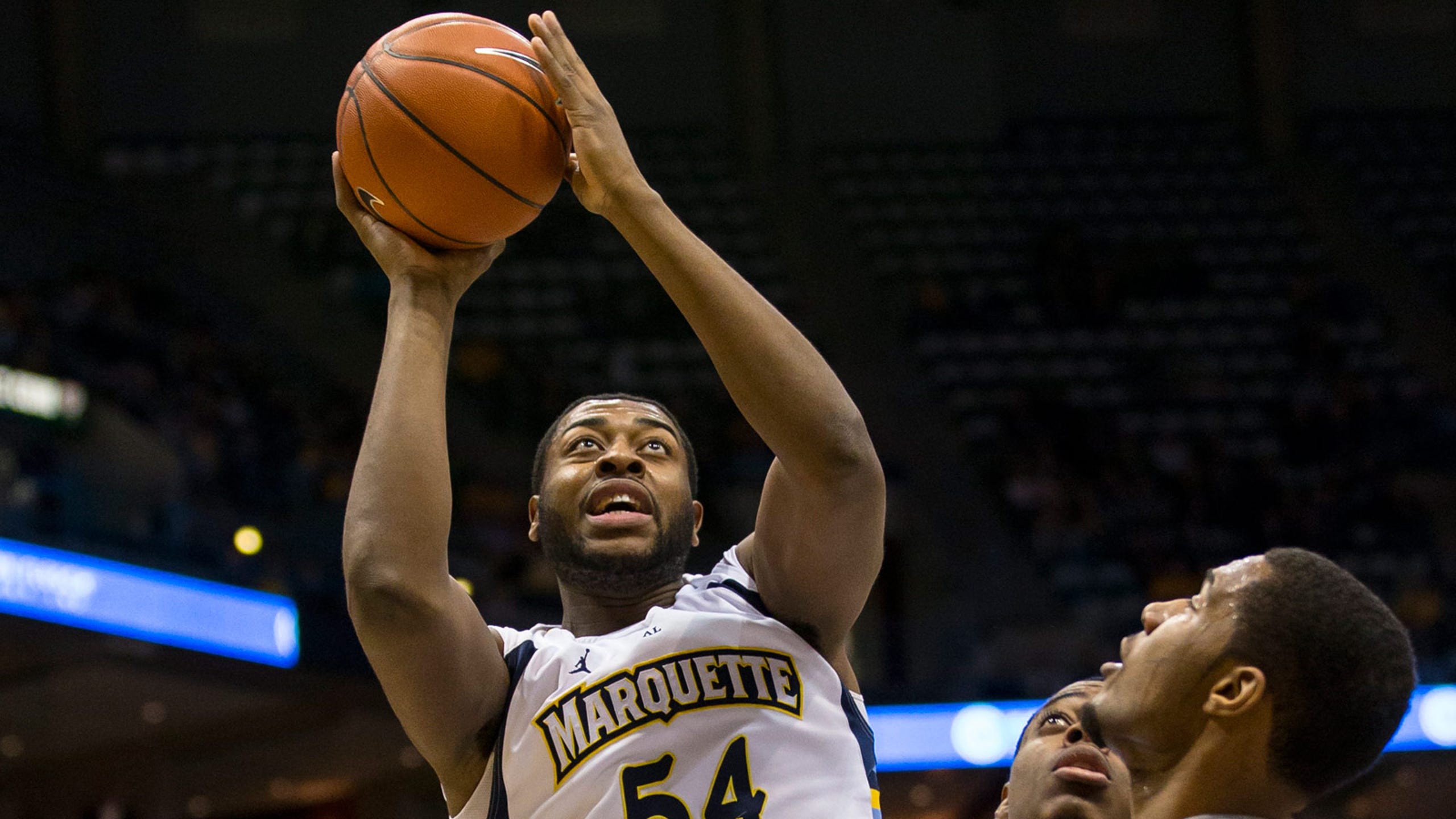 Gardner digs deep, leads Marquette to narrow win over Georgetown
BY foxsports • February 28, 2014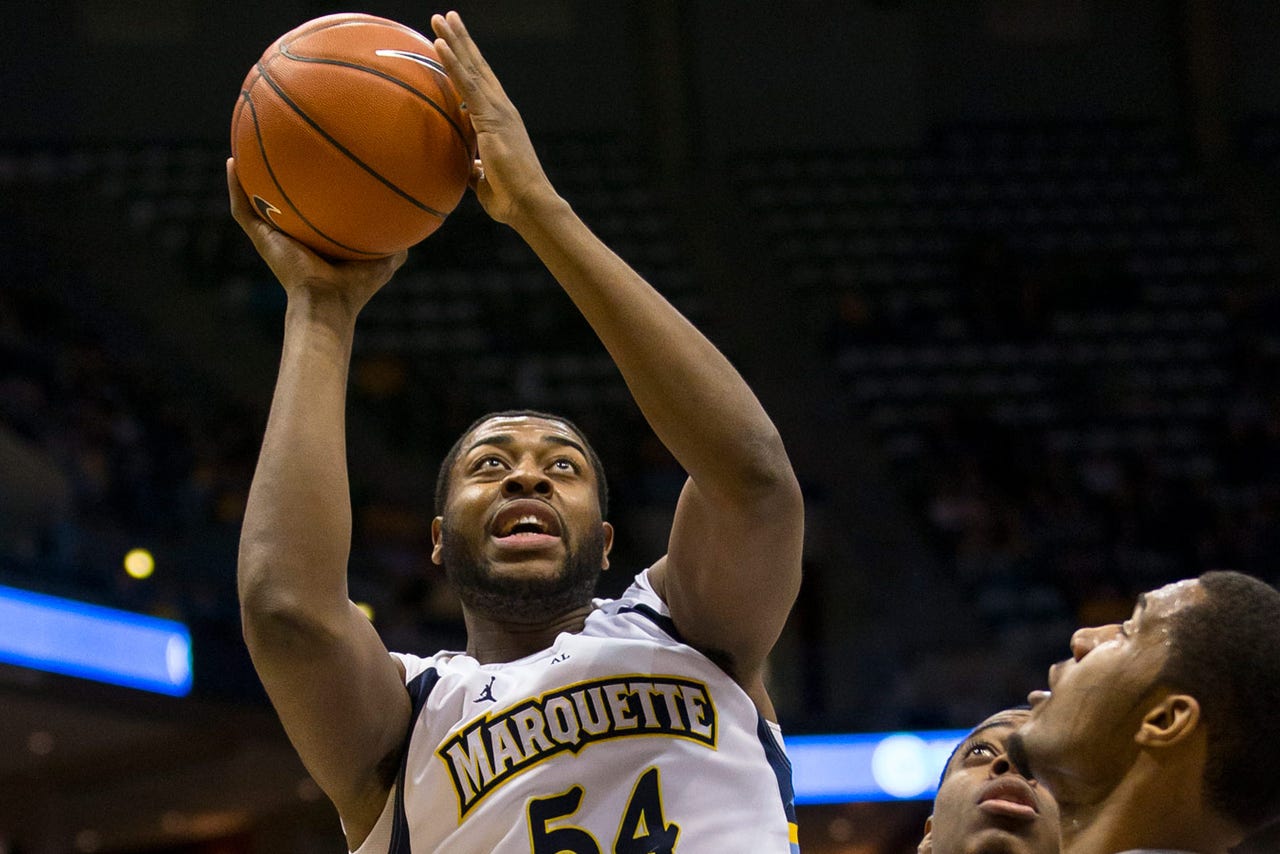 MILWAUKEE -- With three seconds left and Georgetown trailing by two points, Hoyas guard D'Vauntes Smith-Rivera drove to the basket and put up a runner in the lane.
When the shot rimmed out, Davante Gardner grabbed the defensive rebound, dribbled hastily to the corner and then exuberantly up the baseline as the clock expired and the buzzer sounded, determined, this time, to hold onto the ball.
He held on indeed, and so did Marquette (17-11, 9-6 Big East), closing out a 75-73 victory that keeps the Golden Eagles' flickering NCAA tournament hopes alive.
"We needed that win," Gardner said. "We've got to keep fighting to get where we need to be."
Gardner -- who said afterward that while he was dribbling out the clock he was telling himself not to throw the ball up in the air in celebration like he'd done at the end of Marquette's overtime win on Saturday over DePaul, when the Blue Demons were able to get a last-second shot because of his decision -- was a beast Thursday night. He put the Golden Eagles on his broad back and carried them to a win they desperately needed to stay on the tournament bubble.
The hefty senior finished with a game-high 26 points and added seven rebounds, none bigger than the final, clinching one. He manhandled the Hoyas inside, dominating their foul-depleted frontline, especially in the second half. Gardner missed just two of his 10 shots and only a couple of his dozen free throws, while dishing out three assists.
With Hoyas big men Moses Ayegba and Nate Lubick in foul trouble early in the game -- both would eventually foul out -- the 280-pound Gardner did as he pleased in the low post.
"My team kept drawing up plays for me because (the Hoyas) couldn't stop me, so I just did it for them, because they believed in me," Gardner said. "It feels like one of the greatest things ever, when your teammates believe in you."
Fellow senior Jake Thomas added a season-high 22 points, hitting 6 of 9 3-pointers. After his fifth, which concluded a 12-1 Marquette run early in the second half, Thomas celebrated by looking to the Golden Eagles bench and yelling at an assistant coach -- an inside joke, he said after the game. The referees interpreted it as taunting and Thomas was issued a technical foul, a call that made him incredulous but which seemed to rev up his teammates.
"In a weird way, we did come together after that. Ever since that call I thought we picked it up," Thomas said, adding diplomatically that the refs were "calling it tight the whole game."
The game, a whistle-fest fraught with fouls with which many on the sidelines and in the Bradley Center crowd of nearly 15,000 did not always seem to agree, was a back-and-forth affair whose margin was within a handful of points throughout the second half.
But time and again Gardner took it upon himself to be the difference, especially late in the game.
With 1:17 remaining and Marquette up 72-71, Gardner pounded it inside, missed a close shot, snared his own rebound, went up again and got fouled. He went to the line and, with Golden Eagles fans chanting "Auto-matic" around him, calmly sank both free throws to put Marquette up 74-71.
It had been like that the entire half, the big man playing in the penultimate home game of his four-year career at Marquette was utterly insuppressible. Gardner scored 18 of his points in the second half, asserting total offensive authority and showing emotion and fire not always on display in his game.
"They stayed single coverage on me so I had to just go at them and score," Gardner said.
Said Georgetown coach John Thompson III of Gardner: "He's tough. He's a load. He got it going. We gave him too many old-fashioned three-point plays. We tried to double him near the end. He's good."
A few minutes before his late, sealing free throws, with 4:37 remaining in the game and only 10 seconds left on the shot clock, Marquette's offense was stalling, unable to penetrate the Georgetown defense. Coach Buzz Williams called a timeout and immediately got down on his hands and knees on the floor to diagram a play that called for Gardner to get the ball on the left block.
Back on the court, Derrick Wilson delivered the pass to him, and Gardner went to work, backing in his man and finishing with a shot-putted jump hook. When Smith-Rivera came right back on the other end and hit a jumper to draw Georgetown to within 69-66, Gardner came through for Marquette again. He used his wide frame and fancy footwork to get inside and made a short basket, getting fouled in the process.
Gardner reacted with a ferocious, chest-beating celebration as his teammates mobbed him. After an official TV timeout, he sidled up to the line and sank the free throw to put Marquette up 72-66.
"With everybody at home and on TV knowing we were going to get it to Davante, it's not that easy," Williams said. "Our guys did a good job of getting him open."
When asked if the game plan called for the Golden Eagles to throw it inside to Gardner, Thomas said, "That's usually our plan in any game. When we see their big men in foul trouble we're going to try to exploit that matchup even more. Davante always does a good job of drawing fouls and it showed in this game even more."
Gardner and Thomas accounted for 48 of Marquette's 75 total points. No other Golden Eagles player scored more than eight, though Williams said after the game he was pleased with the team play and ball movement that produced 23 field goals on 20 assists.
With the win, Marquette swept the season series with the Hoyas with three Big East games remaining before the conference tournament.
"A lot of people counted us out," Thomas said of the Golden Eagles' struggles earlier in the season. "But we control our own destiny. We just have to keep going 1-0, 1-0, 1-0."
---