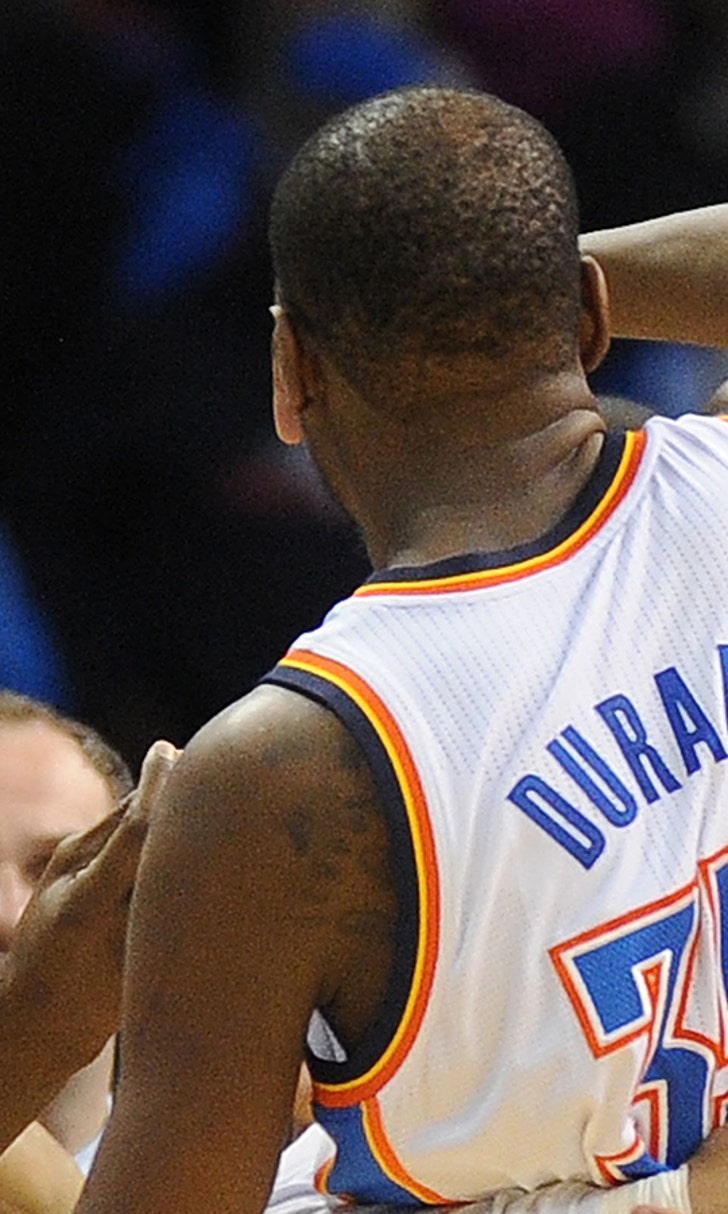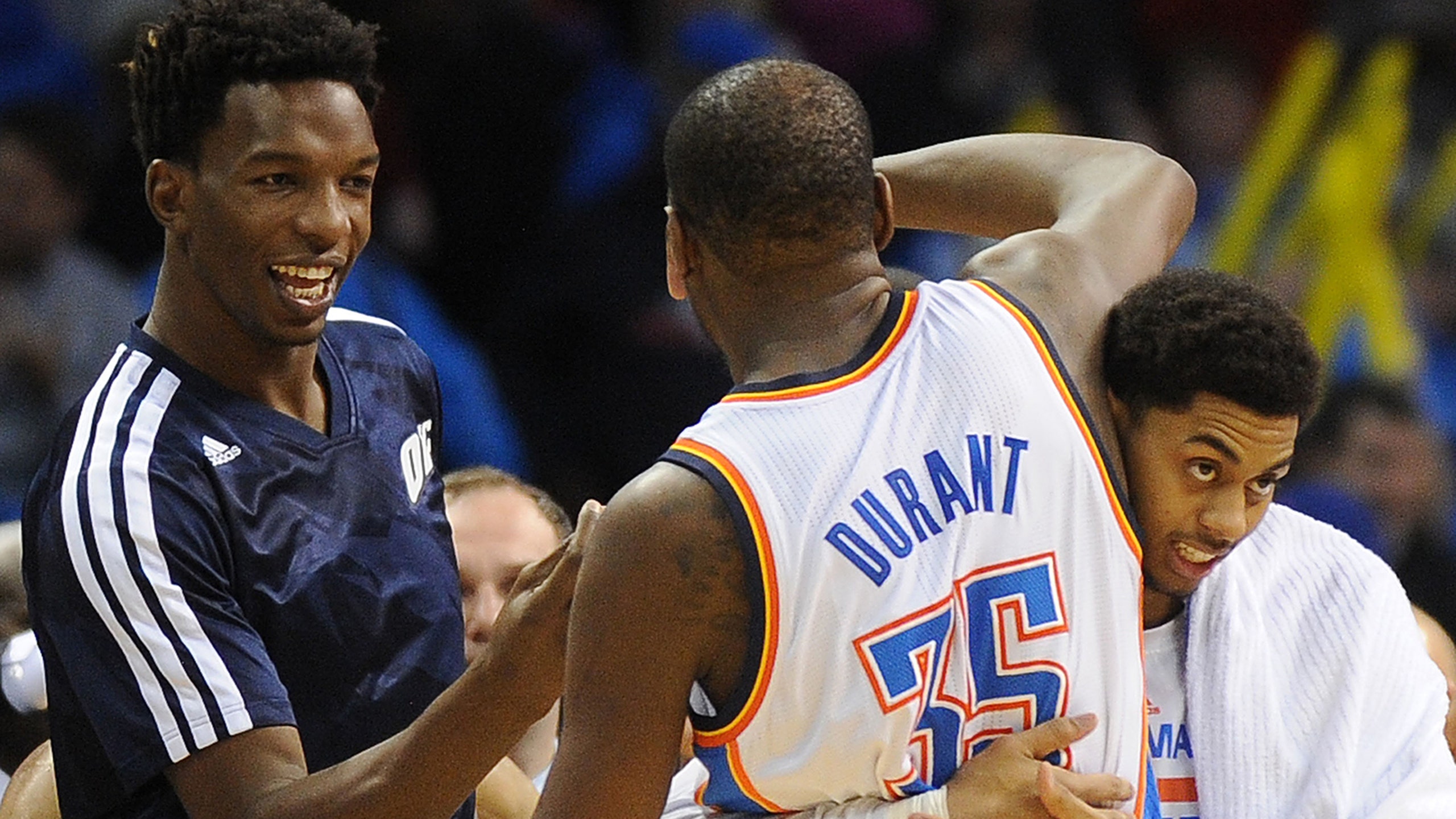 Durant does it again as Thunder rally past Hawks
BY foxsports • January 27, 2014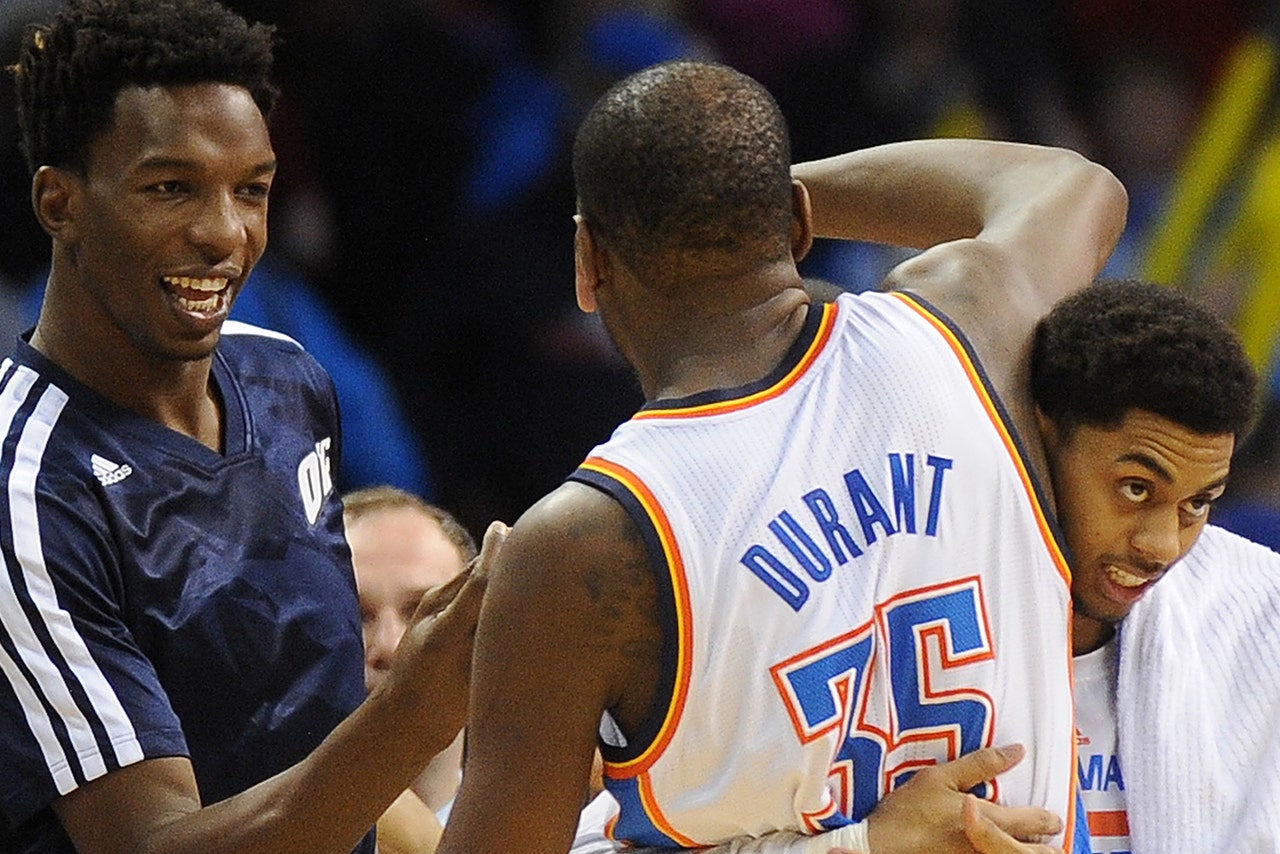 OKLAHOMA CITY - One of these games Kevin Durant will just be ordinary and this streak, this hotter-than-Cajun run he's on, will end.
Monday wasn't that night.
One of these games, Kevin Durant will stop figuring out how to make a shot when everyone in the building is expecting him to make it and when everyone on the other team knows he's going to take it.
Monday wasn't one of those games either.
Instead, Monday was one of those moments, in a season full of them, like when he scored 54 against Golden State on 19-of-28 shooting or when he made three  3-pointers in the closing moments against Portland, where you'll say you remember when. You will, because Monday was one of those nights. Again.
Durant was that good.
This time it was a pair of heavily guarded jumpers in the final 25 seconds, the last coming with 1.5 seconds left in a tie game when everyone in the building, including everyone wearing an ATL jersey knew he was going to get the ball. 
Durant did, made a 12-foot jumper, escaping an Atlanta double-team and won another game for the Thunder in another dynamic way, 111-109
"KD made big plays down the stretch like we're all accustomed to seeing," Oklahoma City coach Scott Brooks said.
Yeah, but can you really get used to seeing something you've never seen before? Sure, there might only be one storyline when it comes to the Thunder these days, but there are all sorts of different adjectives to use.
Against Golden State, Durant outscored everyone, setting a career high. Against Portland, he was fourth-quarter strong, going for 12 points in the quarter and finishing with 46 points. Versus Sacramento Durant needed only 15 shots to get to 32 points. An ordinary 36 points, as ordinary as 36 points can be, against San Antonio before getting 32 points, 14 rebounds and 10 assists against Philadelphia a day after missing a game with a sore shoulder.
All that in his last six games. 
"Kevin Durant is doing it better than everybody else right now," Hawks guard Kyle Korver said. "Superstars are guys who take over at the end of the game and there are a few of them."
Monday it was 41 points on 15-of-25 shooting, including five-of-seven from the 3-point line.
Durant has scored 30 or more 11 games in a row. His 41 against Atlanta on Monday gave him his sixth 40-point game this season and fifth in January alone. 
How hot?  Durant's streak is the longest of 30-plus point games since Tracy McGrady did it in 14 games in a row in 2003.  The 53.5 percent shooting in January makes Durant more than just a scorer, it makes him an efficiency expert, too. Sixty percent shooting Monday against the Hawks in 43 minutes played.
"It was an emotional game," Durant said. "I was up and down everywhere. I just had to keep it together at the end of the game. I'm just playing hard and being emotional." 
There's no one like Durant, not lately anyway. So good, he's not only covered for Westbrook, he's carried the team to the top of the Western Conference with wins against Golden State, Houston, San Antonio and Portland in the past two weeks. So good, Atlanta had seven players in double figure scoring and Durant was the story. 
"There are very few people in the world who have the ability to do what he's doing," teammate Nick Collison said. "To also combine all the other things you need, mentally being able to get up, takes a lot of effort. The best I've ever seen him play and we needed it."
Yeah, get in line on that one. The Thunder trailed by as many as 14 points in the fourth quarter and took their first lead since 2-0 when Durant hit a step-back, 16-footer over DeMarre Carroll. After Paul Milsap tied the game two seconds later, OKC called timeout.
"We tried to double him and we went the other way," Korver said. "It was a tough one. He's a special talent. He's on a roll."
Yep. We've noticed. 
Follow Andrew Gilman on Twitter: @andrewgilmanOK
---