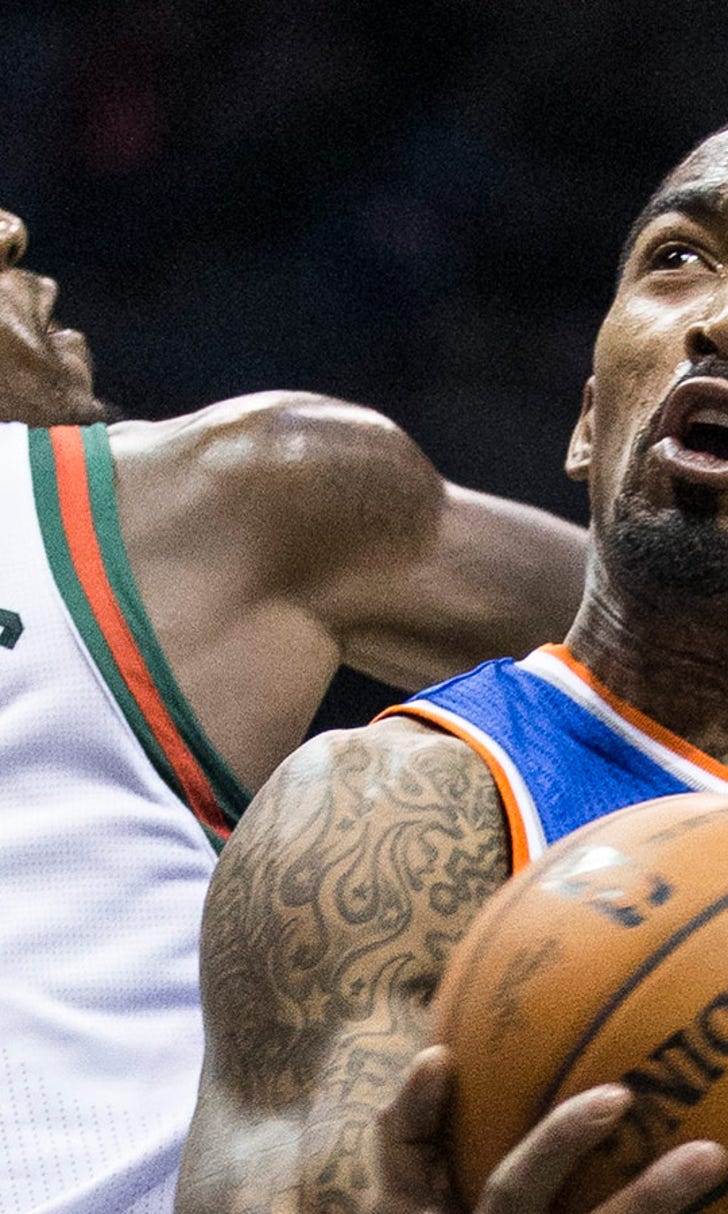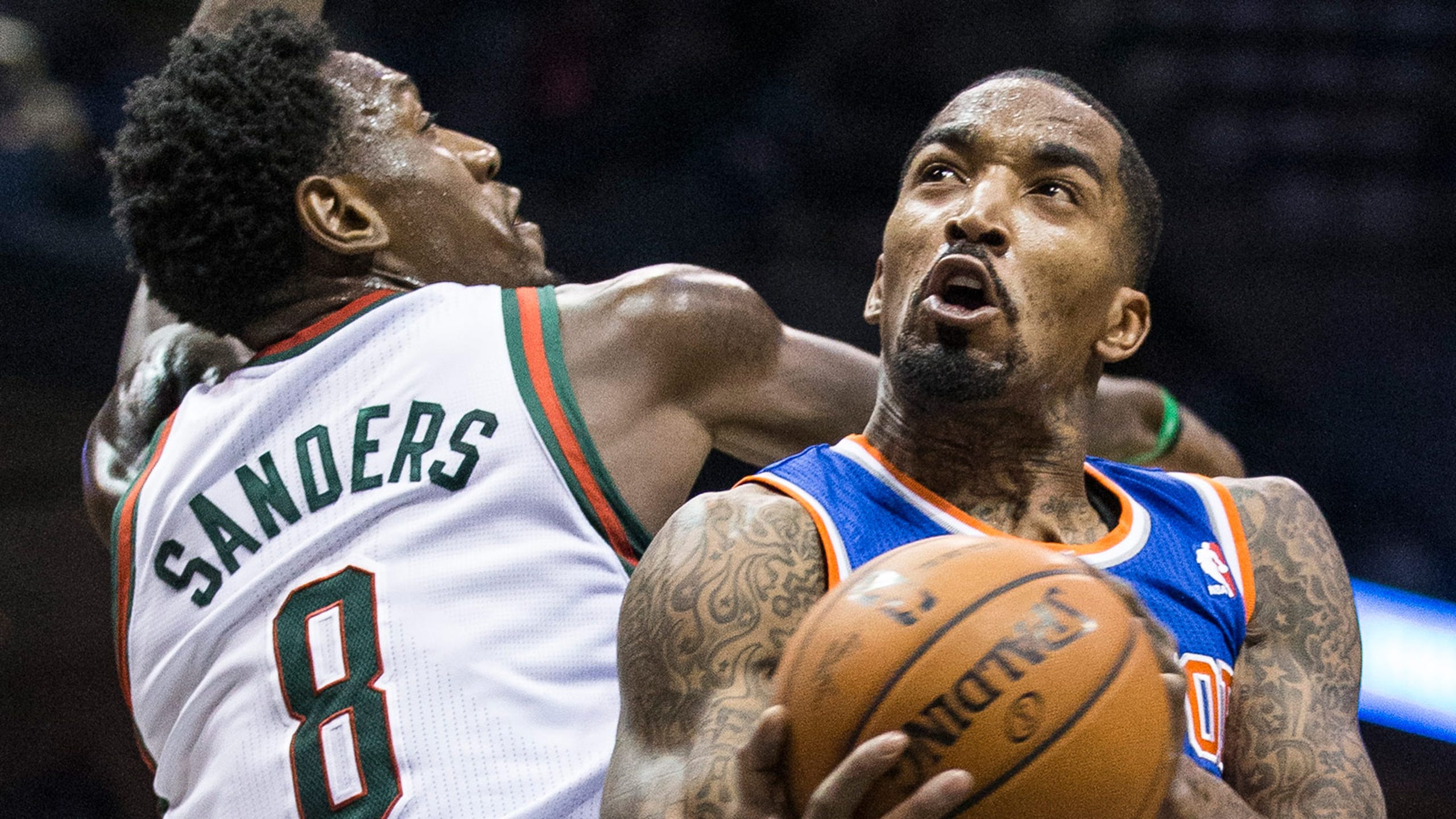 Bucks snap 6-game skid, beat Knicks 101-98
BY foxsports • February 3, 2014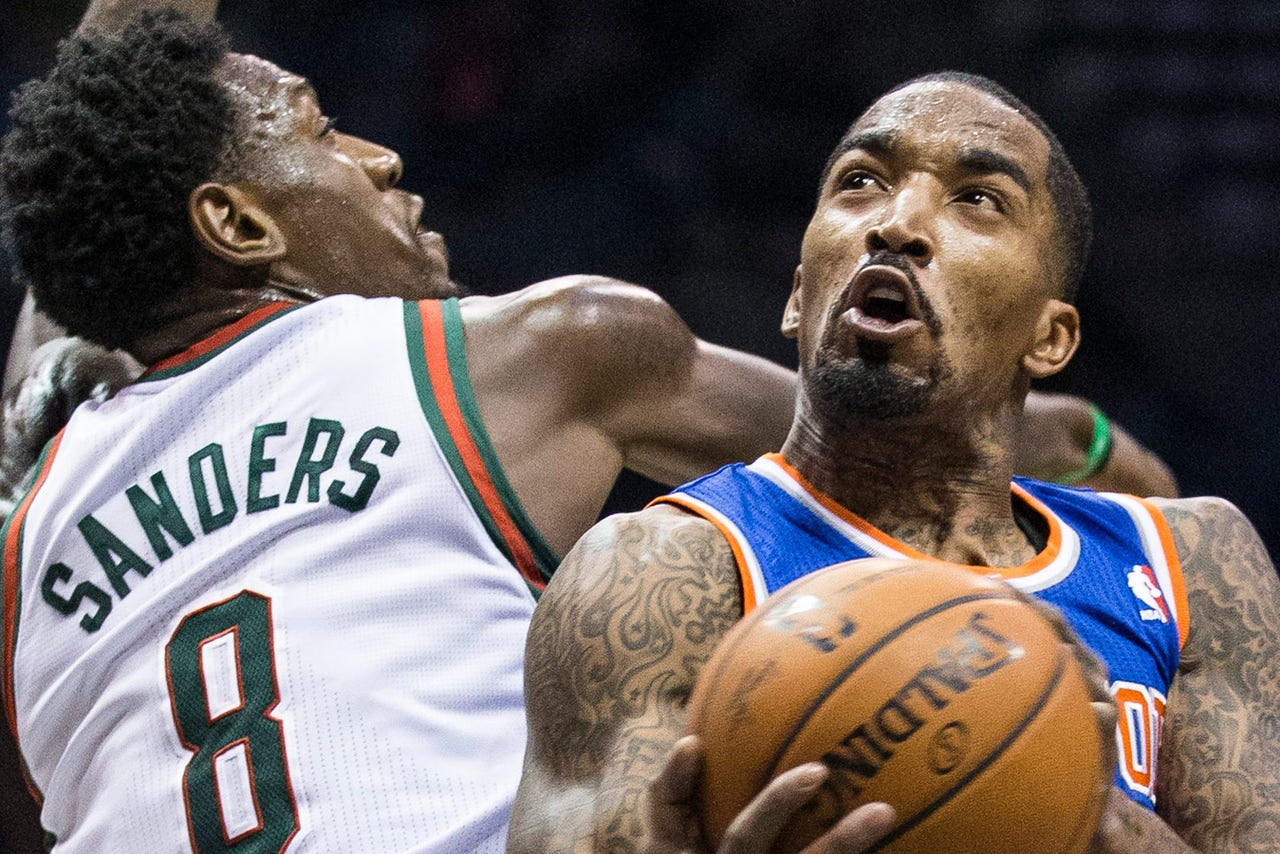 MILWAUKEE -- Brandon Knight took a couple dribbles and an important step forward in turning into the lead guard for the Milwaukee Bucks.
The third-year pro went shot for shot with Knicks star Carmelo Anthony down the stretch before nailing the most important one of the night.
Knight made a 3-pointer with 1.4 seconds left and finished with 25 points, and the Bucks snapped a six-game losing streak with a 101-98 victory Monday night over New York.
"That's his shot. He loves that little step-back, half-dribble 3," said forward Khris Middleton, who had 19 points.
With no timeouts and the ball in his hand for the Bucks' last possession, Knight quickly but calmly brought the ball up the floor after Anthony (36 points) hit a 3-pointer with 19.4 seconds left.
He played out the seconds ahead in his head. Don't get caught in a "bad situation" off a screen or trap, an outcome that Knight said had played out too many times before.
"So I just walked it down, got into rhythm and was able to knock down that shot," Knight said.
Raymond Felton leaped into the air with an outstretched arm to try to disrupt Knight, then turned in disbelief as the Bucks guard rushed down the other end to celebrate.
"When I went back and looked at it, Ray kind of backed off a little bit. I thought he could have been a little more aggressive," coach Mike Woodson said. "Ray's hand was up there."
The Knicks had one last chance, though Anthony misfired on a deep 3 before stumbling back into the first row of seats as time expired. He finished with 36 points.
Save for a sprinkling of onlookers wearing Knicks blue, the 11,000-plus fans at the Bradley Center rewarded the Bucks with a rousing ovation.
Wins -- let alone this kind of dramatic victory -- have been rare in this 9-39 season.
But Monday was especially important for Milwaukee because they fended off numerous runs by the streaky Knicks, who lost a second straight following a four-game winning streak.
This is the same team that's also had streaks of five wins and nine losses, too. New York hopes this isn't the start of another bad run.
New York rallied from a 10-point deficit in the fourth quarter, but ended up falling to the worst team in the league two nights after losing to the Southeast Division-leading Miami Heat.
"There are no freebies in the NBA. You can lose on any night to any team if you don't play well," said center Tyson Chandler (seven points, 10 rebounds).
Middleton hit a season-high five 3s for Milwaukee, which also snapped a seven-game skid to New York.
Rookie Giannis Antetokounmpo had 15 points and sparked the crowd that included his family with a rousing dunk in the fourth quarter, while Zaza Pachulia also gave the Bucks a lift off the bench with 12 points and seven rebounds.
New York was usually never more than a few possessions away and the last few minutes got even tighter.
Anthony hesitated before firing up a 3 with 19 seconds left to tie the game at 98 before Knight's last-second heroics.
Unlike most of the rest of the season, the Bucks had a counterpunch for every Knicks spurt.
"I made some mistakes at the end that can cost us the game, but Brandon was there," Antetokounmpo said. "The hero was there to knock down the shot."
Knight's back-door layup off a pretty feed by Pachulia with 27.5 seconds left gave Milwaukee a three-point lead to answer Felton's 3 on the previous possession.
Anthony finished 13 of 25 from the field and 5 of 10 from 3-point range. J.R. Smith had 30 points and seven rebounds.
Knight went 10 of 23 from the field and 4 of 8 from long range.
"My teammates did a great job tonight persevering," Knight said. "Our past habits have been to drop our heads and say `Here we go again.'"
New York led by seven early and had plenty of chances to gain control but went through inopportune dry spells and went just 15 of 24 from the foul line. Chandler was 1 of 6.
NOTES: Iman Shumpert returned to the Knicks' starting lineup after missing two games with a sprained right foot. He finished with five in 24 minutes. Forward Kenyon Martin sat out again with a nagging left ankle injury. ... Bucks F Caron Butler left in the fourth quarter with a sprained left ankle.
---