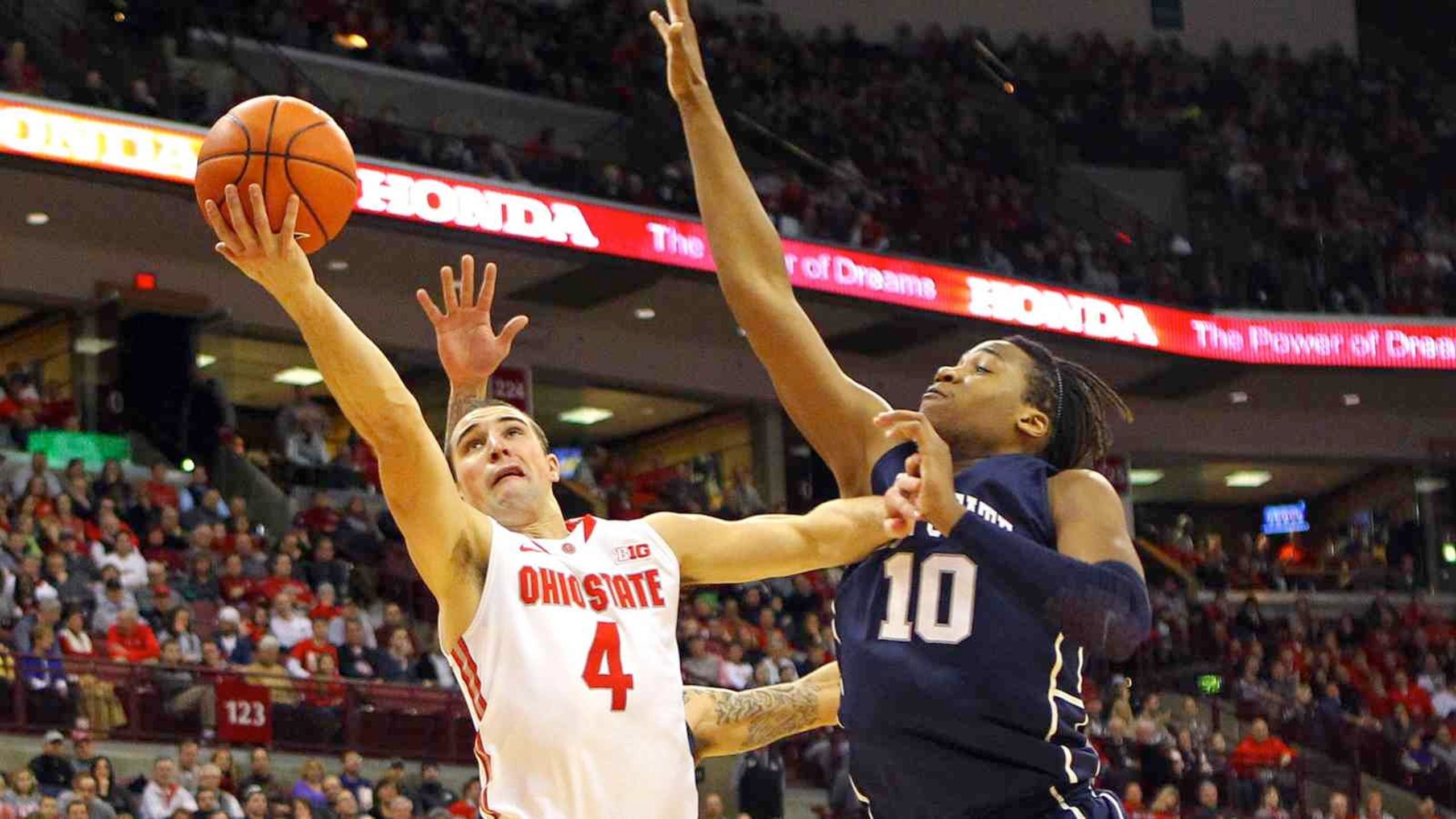 Buckeyes look to avenge OT loss to Penn St.
BY foxsports • February 27, 2014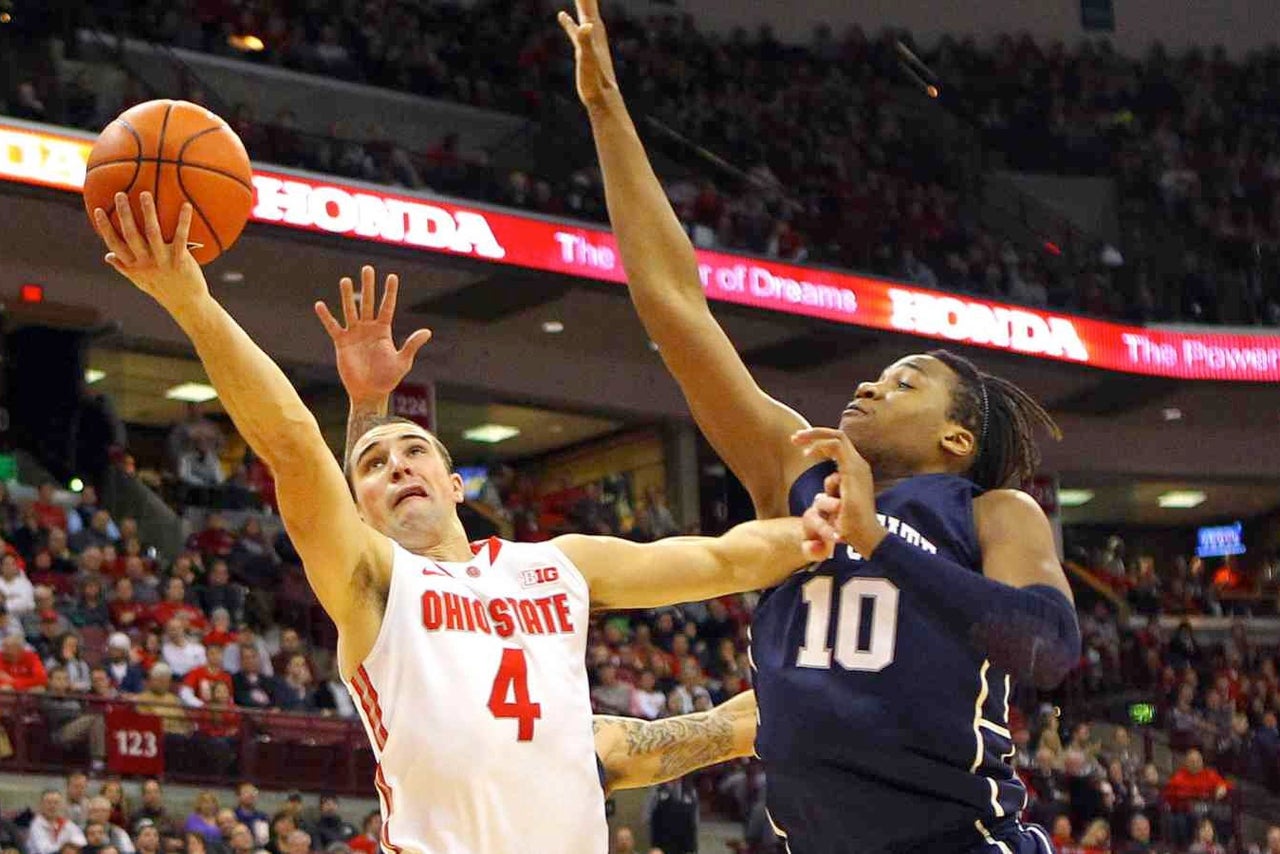 COLUMBUS, Ohio (AP) -- It's one of the most memorable -- or is it forgettable? -- home losses for Ohio State in recent years.
When Penn State pulled off a 71-70 shocker in overtime Jan. 29, it ended a string of 80 consecutive victories by the Buckeyes on their home court against unranked opponents. For the Nittany Lions to do it -- they came in 0-17 against Ohio State coach Thad Matta -- added to the Buckeyes' misery.
When the teams meet again Thursday night in Happy Valley, the No. 22 Buckeyes (22-6, 9-6 Big Ten) say they're a different team. Having won six of seven, including their last three, they have a lot riding on the outcome.
"We're not trying to fall through the tape, we're trying to bust through it, if you will," swingman Sam Thompson said about the upcoming finish to the season. "Every one from here on out is a must win. These last three games do a lot for our seeding in the Big Ten tournament and hopefully the NCAA tournament. We look at every game from here on out as a tournament-type game."
And it all starts with the Nittany Lions (13-14, 4-10), who also have a lot riding on their final home game.
They've lost four out of five, but senior night is always emotional. They'll be saying goodbye to school assists leader Tim Frazier.
In the first meeting, the Buckeyes were comfortably in charge by 11 points with just 7:58 left. Against a team that came in only 1-6 in the Big Ten, it seemed as if it was just a matter of time until they sealed the deal.
But D.J. Newbill hit a 3 to wrap up a furious comeback that forced overtime, then hit another 3 with 2 seconds remaining in the extra session to complete the stunner.
"It's amazing when you go back and look at where we were at that point and the level we've been playing at (recently)," Matta said. "We put ourselves in a very good position but just could not make the plays. Give Penn State the credit: They made some big-time shots, some great offensive rebounds, those types of things. We couldn't finish it down the stretch. We had our chances and didn't get the job done."
Ohio State's turnaround since then stems from shooting better along with stepping up a defense that was already among the best in the country.
The chaos that has reigned in the conference has also helped out the Buckeyes, who have steadily climbed in the standings during a season of unending upsets.
"With the way the Big Ten's going, a lot of teams have been losing. That's a great thing for us, so we can move up," said Ohio State's leading scorer, LaQuinton Ross. "The rest of the season, everybody in that locker room knows what's at stake and they know how good of a team that we have and that we can go far in the tournament."
He wasn't talking about the Big Ten tournament, either. The Buckeyes have fought back to the point where through Tuesday's play they were alone in fourth place in the conference. That is a major goal, finishing in the top four in the standings and grabbing an opening-round bye.
Some bracketologists have them as a No. 5 seed in the NCAA tournament.
Since the first Penn State meeting -- which capped a woeful 1-5 stretch for the Buckeyes after they'd started the year 15-0 and ranked No. 3 -- the players have taken more responsibility.
"One of the sayings going around in our locker room right now is, `No more my bads,'" Thompson said. "We don't want to be put in position in games where we mess up and have to say, `My bad.' We feel that at this point of the season, we can no longer live through those."
---