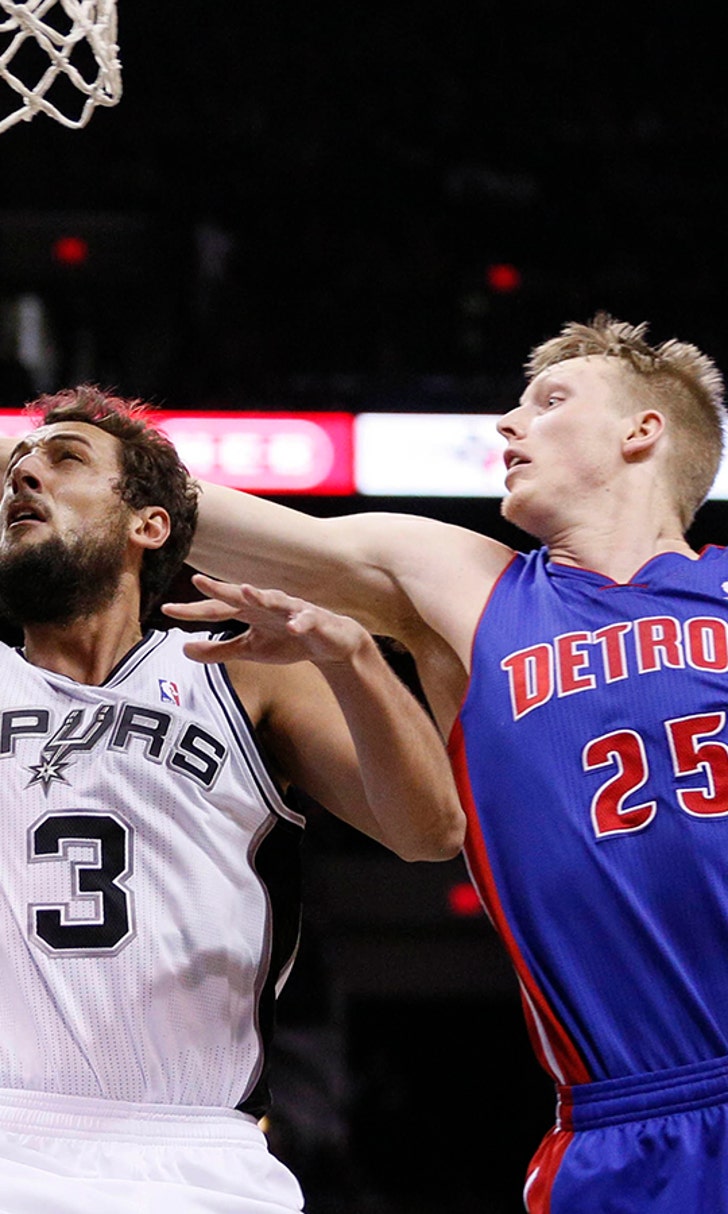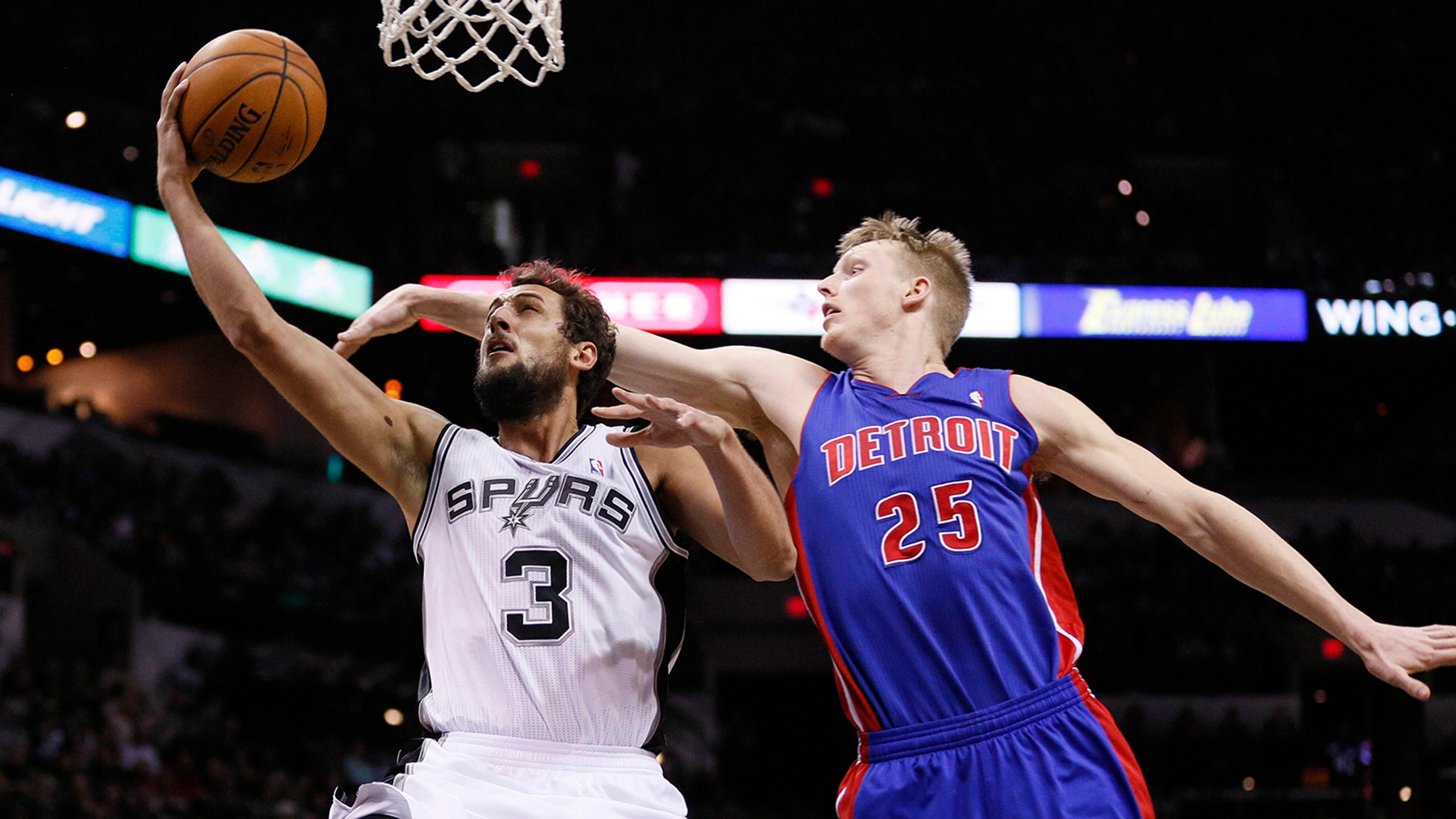 Belinelli, balanced Spurs beat Pistons
BY foxsports • February 27, 2014
SAN ANTONIO (AP) - The fact that San Antonio weathered a spate of injuries and a road trip that lasted nearly a month did not surprise Detroit coach John Loyer. But the efficiency the Spurs showed in their return home and return to health left him and the Pistons a bit awe-struck.
Marco Belinelli had 20 points to lead eight San Antonio players in double figures, and the Spurs worked through a lethargic start to beat the Pistons 120-110 on Wednesday night.
Playing without injured All-Star point guard Tony Parker, San Antonio matched its season high with 34 assists while going 44 for 82 from the field (54 percent).
"Against the Spurs, you do not guard against two or three players; you guard a system of players," Loyer said. "They just plug guys in and find a way. Their ability to shoot the basketball separates them from being a very good team to close to a great team."
Kawhi Leonard had 15 points for San Antonio in his return from a 14-game absence due to a broken finger. Manu Ginobili scored 16 points, Tim Duncan and Tiago Splitter had 13 apiece, Boris Diaw added 12, Patty Mills 11 and Cory Joseph 10.
Ginobili had a team-high nine assists, Splitter added six and Leonard, Diaw and Belinelli had four each as the Spurs tied the season mark they set Jan. 4 against the Los Angeles Clippers.
"You get 34 assists, that's really incredible," San Antonio coach Gregg Popovich said. "So the ball movement was fantastic, the pace, we rebounded a little better. It was a good win for them, being on the road so long. Coming home, they were a little anxious, playing a little fast in the first half. They calmed down and started playing solid basketball."
Josh Smith scored 24 points for Detroit, which has lost three straight. Will Bynum added 18 points, Rodney Stuckey 17 and Andre Drummond had 16 points and 17 rebounds.
The Spurs got off to a sloppy start despite having two practices during a five-day break following their annual Rodeo Road Trip that lasted nearly a month.
"It's a big problem with us and we know it," Duncan said. "I think we're trying to play very fast -- a little faster than we're used to playing. Guys are trying to be really unselfish and force things some times. We've got to take care of that at some point. It's a work in progress. That's what we use the entire season for."
The Spurs had 11 turnovers in the opening half, leading to 13 points and some pointed coaching by Popovich.
`'What the heck are you guys doing?" he screamed during a timeout following consecutive turnovers.
In the second half, San Antonio returned to the crisp ball movement that became a staple of its early victories. The Spurs had 10 assists in the third quarter while shooting 12 for 19 from the field.
Leonard had the initial assist of the quarter, leaping over a fallen defender to throw a bounce pass that Duncan gathered for a running slam ahead of Smith.
"He made a huge difference for us on both ends," Duncan said. "Just having his length in there, especially in situations where they're very good on the offensive glass. ... It was just great all around to have him back."
San Antonio went on a 17-6 run beginning midway through the third to take an 85-75 lead with 2 minutes left in the quarter.
Belinelli had seven points in the run and Ginobili added five points and assisted on two of Belinelli's baskets. Belinelli returned the favor later, drawing Kyle Singler away defensively on a fast break and dishing to Ginobili for an open layup that gave San Antonio a 111-99 lead with 3:36 remaining in the game.
"They are one of the best executing teams in the league," Loyer said. "They are a good team coached by a great coach. There comes a point in the game where you tell yourself you are in the game, down three or four, and then it turns into an 11-point game before you know it."
Leonard missed his first two tries from the field in his first game since Jan. 22, coming up a foot short on a 16-foot attempt from the right corner on the game's opening shot. He was credited with a follow of a missed free throw that Drummond appeared to tip in.
"You got 20,000 fans watching you -- yeah, it took me a while," Leonard said. "Just (trying) to not think about my hand. Just go out there and play."
Leonard followed with a 3-pointer and threw down a right-handed dunk on Smith off an alley-oop pass from Joseph. Leonard grabbed the brace on his right hand after the dunk, but quickly rose to race back on defense.
"I thought he was great," Popovich said. "That's a long time to not be on the court. His rhythm was pretty good. He played decent defense, took a few shots and made a couple. He did well. He did better than I would have thought, really, after all that time."
Smith scored eight of Detroit's final 10 points in the first quarter and had 20 in the first half.
"We put up a good fight, but in order to beat an elite team like San Antonio, especially on the road, you have to be able to kind of play perfect basketball," he said.
NOTES: Popovich had lunch with former President Bill Clinton, San Antonio Mayor Julian Castro and former mayor Henry Cisneros. Clinton was in town to celebrate Cisneros being honored with the International Citizen Award from the World Affairs Council of San Antonio. ... Ginobili's left foot burst through the bottom of his sneaker as he planted while guarding Stuckey, leaving the shoe dangling from his ankle as if it had been unzipped. Popovich had the Spurs call a timeout to check on Ginobili, who shrugged when asked what happened. A ball boy quickly raced to the locker room to get a replacement in time for Ginobili to return to the court. "It was a great pit stop," Ginobili said.


---