Arizona State Sun Devils
Arizona State Sun Devils
ASU focusing on fundamentals, not emotions, of Territorial Cup game
Published
Nov. 17, 2015 5:33 p.m. ET

Even in a game as special as the Territorial Cup, there are still some universal truths that are no different than any other football game.
"This game has been a game where it comes down to turnovers," said Arizona State coach Todd Graham, who is preparing for his fourth Territorial Cup showdown vs. Rich Rodriguez and the Arizona Wildcats. "You've got to win that battle. The years we've won that battle, we've won; and the years we haven't, we haven't."
Graham was on the winning side of his first two Territorial Cup encounters, but the Sun Devils were 42-35 losers last year in Tucson in a game that sent Arizona to the Pac-12 Championship game as the South Division champions.
The stakes won't be as high this year -- Arizona is 6-5 and has clinched a lower-tier bowl berth; ASU is 5-5 and has two more opportunities to get the necessary six wins for bowl eligibility -- but that doesn't mean they won't be high. The two bitter rivals will meet at 1:30 p.m. Saturday at Sun Devil Stadium in a game that can be seen on FOX Sports 1.
"It doesn't matter what the records are. It doesn't matter what you've done up to this point. The bottom line, this is a rival game and one that is very passionate on both sides," Graham said.
"This is one that's the most important game on our schedule ... to our fans and to our coaches and to our players."
While the Sun Devils still have one more game to play, this will be the final home game of the season and Senior Day for Graham's first recruiting class of 2012, plus a small group who were recruited by Dennis Erickson -- Graham's predecessor. One of those is quarterback Mike Bercovici, a fifth-year graduate student.
"You wait for this game all year, the second the schedule comes out, but this is something ... extremely special for us seniors just to know we have one last opportunity to put it out there on the field, last time on Kush Field, last time in Sun Devil Stadium for our parent that have been coming here for four or five years," Bercovici said.
"We know what the mission is Saturday, and we're not going to be distracted by the emotions of Senior Day, but it a pretty monumental day for us seniors."
Bercovici tried to downplay the emotional significance of the rivalry -- echoing the sentiments of his coach that it still's a football game that boils down to fundamentals.
"It boils down to character, fundamentals, basics; things that we learned the second you step foot on this campus," he said, "keeping the ball high and tight, own the football at quarterback, swarming to the football. That's what it takes to win this football game."
---
---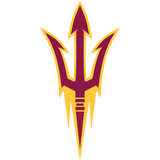 Get more from Arizona State Sun Devils
Follow your favorites to get information about games, news and more
---