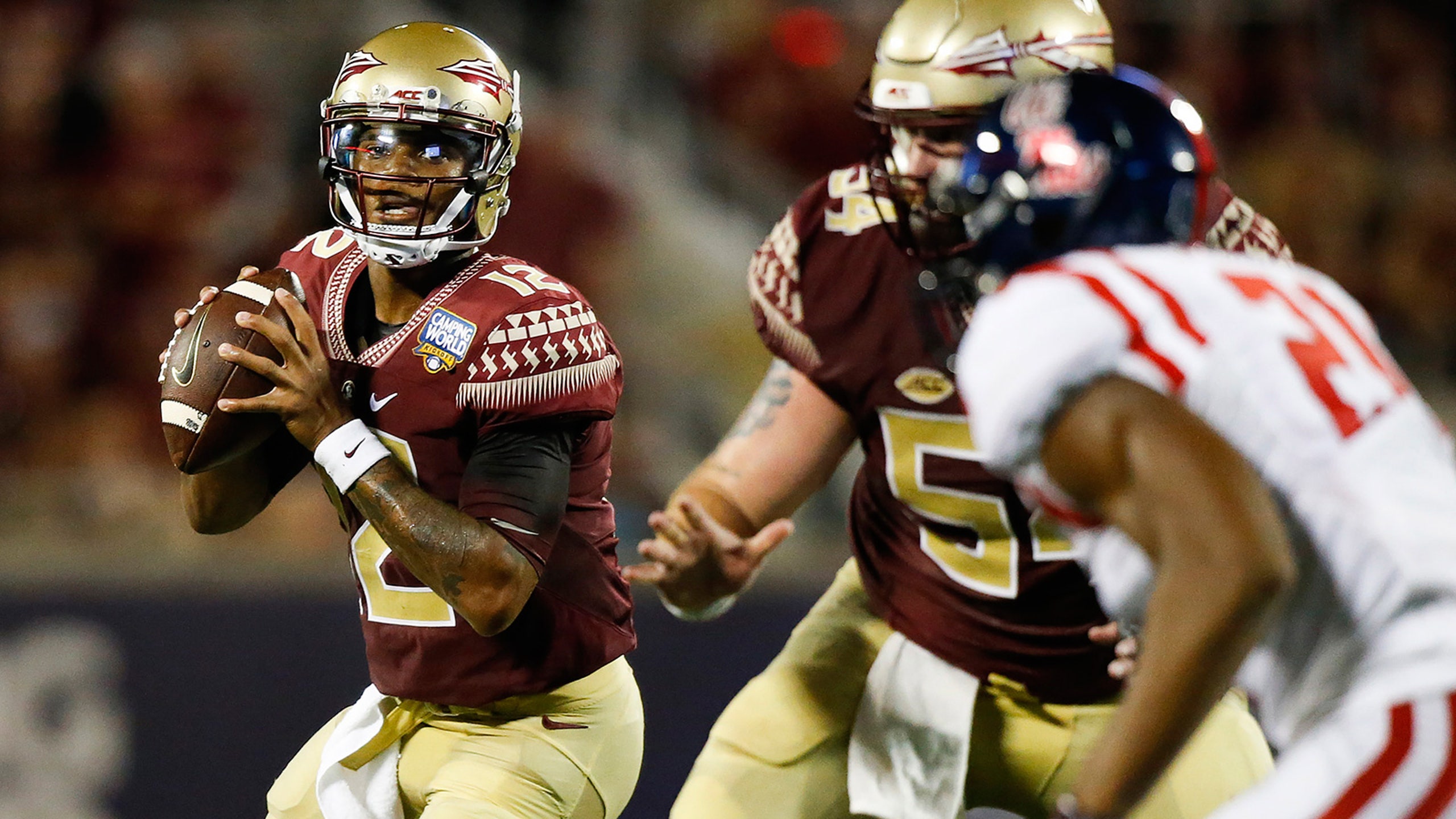 After acing first test, Deondre Francois' development key to FSU's title hopes
BY foxsports • September 8, 2016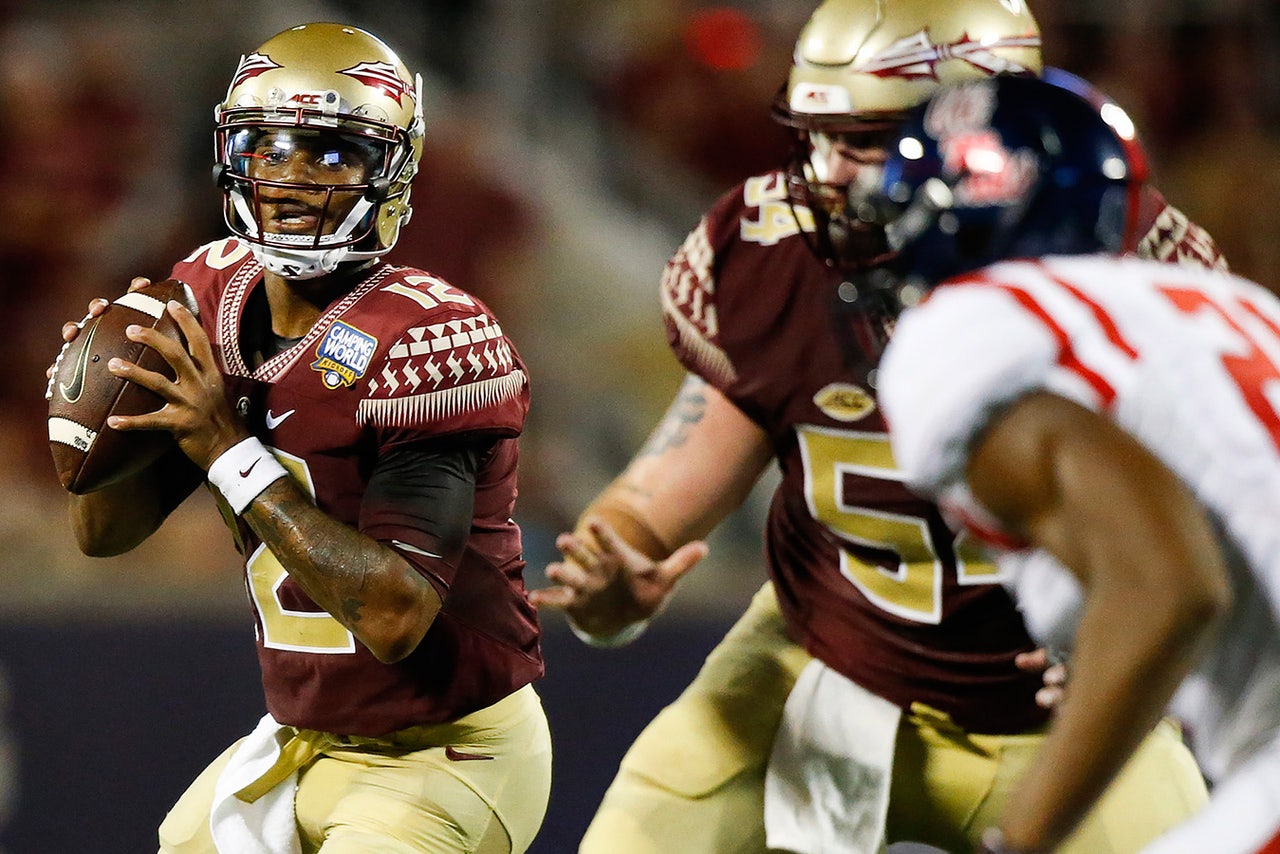 Jimbo Fisher first noticed the arm talent, then the young quarterback's meticulous nature. On Monday night, as he matched up against a top-20 Ole Miss team in his collegiate debut, the college football world witnessed two additional Deondre Francois attributes firsthand: resiliency and, as the game clock expired, upside.
Fisher still sees flashes of that prep signal-caller out of Bradenton's IMG Academy, though. After all, it's only been one year.
"You could tell he was a very conscientious young man while you were recruiting him, thought things out very diligently," Fisher said of the redshirt freshman's recruitment. "I told him sometimes he overthinks. That's one of the things I think is good, because I'm the same way. I overthink things sometimes, and I think you can be good and bad about making decisions.
" ... Once we got to seeing the psychological disposition, the intelligence, the character and all those things, it really just lit us up about him."
The struggles did not fall squarely on Francois' shoulders — for starters, the offensive line resembled a five-man turnstile — but he admitted after the game to "first-time jitters" holding him back. Though his reads were often correct, Francois said he wasn't completely trusting what he was seeing. Prior to the final drive before halftime, he had completed 11 of his 19 passes for 143 yards.
"Things got rough," Francois said, "but we kept chopping."
The first half's final series turned the tides — and perhaps Florida State's playoff prospects. Francois found Cook, Jesus Wilson and Travis Rudolph as he marched the Seminoles down the field with time running down. As the offense faced a 3rd-and-10 in the redzone, Francois waited and waited, standing tall in the pocket as Ole Miss' landsharks closed in, finally unleashing a touchdown pass to Rudolph over the middle a split-second before taking another shot.
"That gave us, really, momentum going into the second half. We knew we were getting the ball so we had to score before the second half," said Francois, who had to be helped off the field after the play. " ... I stood in there as long as I could. I just let it go and prayed (Rudolph) made the catch."
The rest put Francois' name in stellar company, most notably the NFL quarterback giving the Seminoles their halftime pep talk: Jameis Winston. (The on-field similarities are inescapable given his redshirt freshman status, FSU's lofty postseason goals and the way-too-early dark horse Heisman chatter.) The Seminoles rattled off a 33-0 run as Francois finished with the second-most passing yards (419) by a freshman in school history. Fisher did not hide his new standout, either. Francois attempted 52 passes and added 59 more yards on the ground.
He looked the part, the former top recruit stepping into the leading role for a program that has placed three quarterbacks in the first round this decade.
If there are any lingering doubts as to whose job this is when senior quarterback Sean Maguire eventually returns from a broken foot, they are on the back burner and quickly losing steam. Staring down an SEC recruiting power with plenty of returning contributors on defense, Francois aced his first test. A light came on, and then it burned brightly on a national stage.
Now what?
"All parts of his games," Fisher said when asked what his quarterback can improve upon moving forward. "Communication, run fakes, run drops, eye discipline, getting blitz reads, everything. I don't mean it in a bad way, but it's something he's just got to continue to just get better in all phases of his game. There's nothing that is perfect and there's nothing that is imperfect.
"It's just part of your development and where you go as a player and you've got to keep finding a one percent, a half a percent each week to get better and better."
In this regard, the Charleston Southern matchup could not come at a better time.
After proving to the nation that he's ready for the spotlight, the freshman receives an FCS tune-up to run down Fisher's extensive checklist. Louisville, and arguably the most dangerous defense the Seminoles will face during the regular season — the Cardinals are at least on the short list with Clemson, Florida and Ole Miss — await in Week 3. It will be Francois' first true road test. There will likely be more hits like the one he took when delivering that crucial pass to Rudolph.
He nailed that introduction, though.
---
---