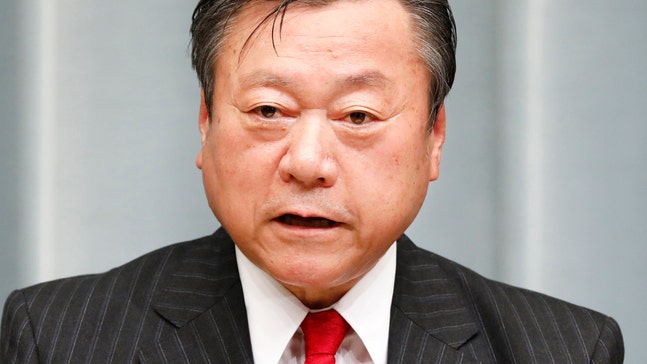 Tokyo Olympic minister promises transparency on spending
Updated
Mar. 4, 2020 7:59 p.m. EST
TOKYO (AP) — The minister in charge of the 2020 Tokyo Olympics said Tuesday that national government spending on the event is billions less than a recent national government audit showed.
Tracking Olympic costs is difficult with many murky areas and disputes about what are — and what are not — Olympic expenditures. It gets particularly difficult as deadlines near, late spending is needed and budgets shift.
Japan's national government is only one source of Olympic funding with local governments chipping in, as well as a privately funded local organizing committee that receives money from the International Olympic Committee.
"We need to ensure transparency and gain understanding from the people," Olympic Minister Yoshitaka Sakurada said.
Earlier this month, a 178-page report by the national government's Board of Audit said the central government's share of spending was 801 billion yen ($7.1 billion) calculated at a rate of 113 yen to the dollar.
That report estimated Japan's total spending — by national government, local governments, and private money — would reach $25 billion to prepare the games, with the figure likely to go higher.
The costs contrast sharply with Tokyo's winning bid in 2013, which projected overall Olympics costs of 829 billion yen ($7.3 billion).
Organizers immediately disputed the audit figures and said many costs were not for the Olympics. IOC President Thomas Bach said local accountants might calculate costs differently.
In issuing the revised numbers on Tuesday, the Olympic ministry said national government spending so far was 172.5 billion yen ($1.53 billion). It said this included funding for the new national stadium and 52 other projects.
The ministry said another 546 billion yen ($4.84 billion) was "difficult to specify" as Olympic — or non-Olympic — spending.
The ministry said an additional 82.6 billion yen ($730 million) "could not be linked to the games."
The report said the numbers don't add up because there is some overlap in the categories.
Even with the revisions, Japan is on track to spend at least $20 billion to prepare for the Tokyo Olympics with governments picking up about 75 percent of the bill.
The national government is only one source of funding for the Tokyo Games.
The privately funded local organizing committee is paying 600 billion yen ($5.3 billion). In addition, the Tokyo Metropolitan Government is contributing about 1.4 trillion yen (12.4 billion), with smaller contributions from surrounding prefectures.
---
---