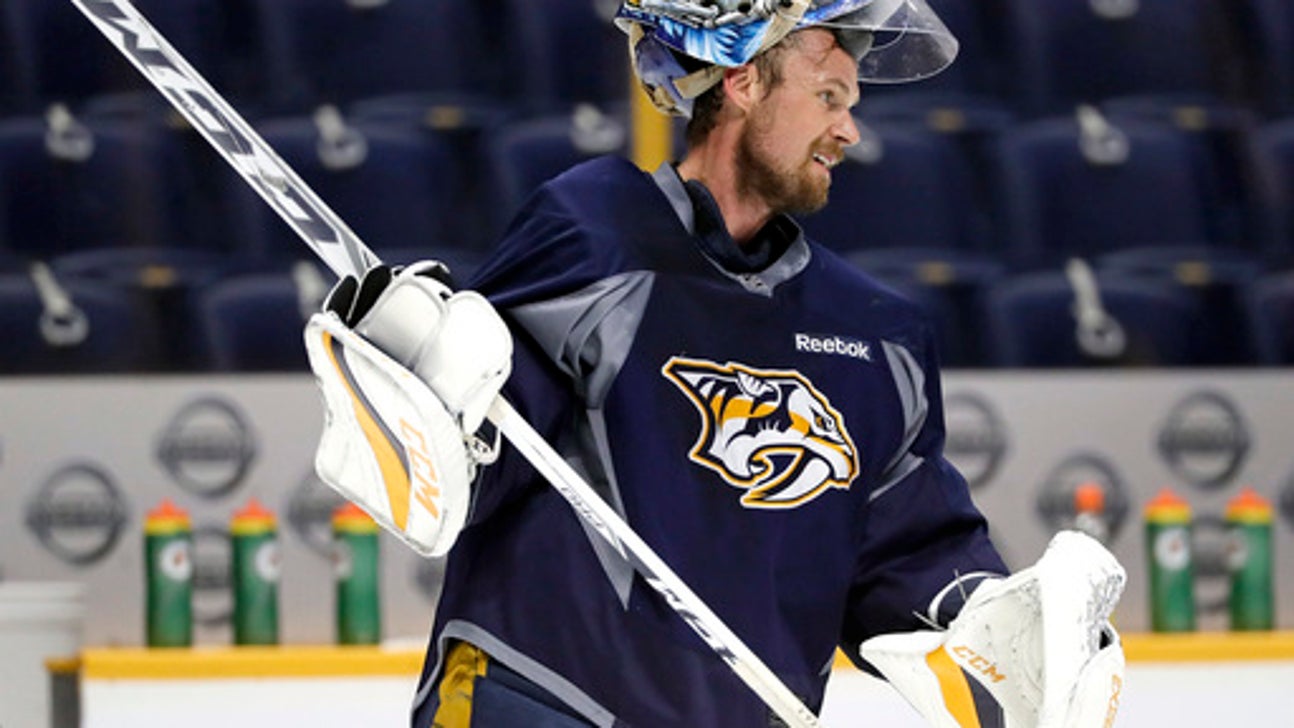 Predators aim to claw back in series vs. Penguins (Jun 03, 2017)
Updated
Mar. 4, 2020 11:24 p.m. ET

Nashville Predators coach Peter Laviolette said Friday morning that he's liked all but 10 of the 120 minutes his team has played in the Stanley Cup Final.
Those 10 minutes have put his team in an 0-2 hole as the Predators prepare to host Game 3 against the Pittsburgh Penguins on Saturday at Bridgestone Arena in Nashville, Tenn.
A 5-3 defeat in Game 1 Monday night saw Pittsburgh score three goals in the first period's final five minutes, then snap a tie in the last 3 1/2 minutes of the contest with Jake Guentzel's wrister and an empty-net tally.
Wednesday night's Game 2 was tied 1-1 after two periods, but Guentzel scored 10 seconds into the third. That was followed up by two more goals in the next three minutes, and that secured a 4-1 victory.
"There's been a lot of good hockey in the 120 minutes played so far," Laviolette said. "There's been a lot of things we've really liked. We've had a couple of tough puck bounces with regard to us putting two in our own net. We need to have more production."
Four goals in two games hasn't cut it against rookie goalie Matt Murray, who was the best player on the ice for most of the first two periods in Game 2. Murray made 31 saves in that span as the Predators consistently dictated play.
While there was a bit of fortune involved -- Calle Jarnkrok missed an open net on a rebound shortly after Pontus Aberg scored Nashville's only goal -- Murray displayed the poise that has come to mark his play in his brief playoff career.
"Murray was able to swallow most of them up," Penguins forward Conor Sheary said. "There were spurts when they got a few chances in a row where Murray had to make some big saves."
Contrast that with Pekka Rinne's struggles in Games 1 and 2, and one has the flash point for this series. Rinne stopped just seven of 11 shots in Game 1, then saved 21 of 25 shots before being pulled for Juuse Saros with 16:32 left in Game 2 after Evgeni Malkin scored.
Laviolette did not confirm Rinne as the starter for Game 3, but the Finnish veteran was in net at Saturday's morning skate, normally an indicator of that night's starter.
If, as expected, Rinne does get the call in Game 3, he'll at least do so in a place where he has dominated this postseason, going 7-1 with a save percentage of nearly .950 and a goals-against average of less than 2.00. He's won all three Game 3s in this postseason, ceding just four goals.
During a Thursday night practice and again on Friday, Predators players spoke of having the confidence to get back into the series on home ice. Defenseman P.K. Subban guaranteed a Game 3 win mere moments after Game 2, then doubled down on his prediction Thursday.
The loud sellout crowd is certain to inspire Nashville, but doesn't figure to intimidate the defending Stanley Cup champs. They are 5-4 on the road this postseason, and clinched the Cup last June on San Jose's home ice.
"I think we have to embrace the energy that's going to be in the city and the building," Pittsburgh coach Mike Sullivan said.
---
---