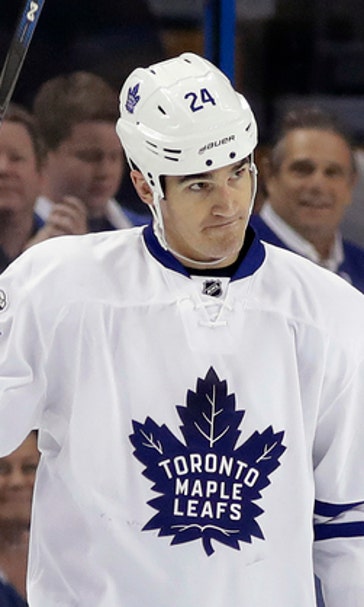 Devils' Boyle returns to practice after leukemia diagnosis
October 23, 2017

NEWARK, N.J. (AP) When Brian Boyle received word last month that he had cancer, a return to hockey was the last thing on his mind.
''I didn't know what to expect,'' Boyle, an 11-year NHL veteran, said Monday. ''I was scared. I was nervous. It was the worst feeling ever. After the initial shock wore off, I started to think about the rest of my life, my wife, my kids. Hockey was a little down on the scale.''
The 32-year-old Boyle said he started to feel fatigued in August, but didn't think much of it.
''It would come and go in waves,'' Boyle said. ''I thought it was just because I was running around chasing two kids.''
A blood test revealed that Boyle had chronic myelogenous leukemia (CML), a form of blood and bone marrow cancer.
''When you're looking across the table at a doctor and he says to you that you have leukemia, you tend to listen,'' Boyle said. ''It was disappointing news. Thankfully, they found it in time.''
But from the minute he was diagnosed in mid-September, right before training camp was set to begin with his new club, the New Jersey Devils, Boyle always believed he would be back.
On Sunday afternoon, almost one month to the day of his diagnosis, Boyle returned to practice with the Devils. He signed a two-year, $5 million contract with New Jersey in July. Boyle has to take medication in the morning and before he goes to bed, and that's all the treatment he needs at the moment.
''I'm very fortunate to be here,'' Boyle said after his second day of practice went smoothly. ''Once we got the medication under control, I knew I would be back. I didn't think I'd be out as long as I have been.''
The 6-foot-6, 245-pound Boyle is a physical player, so he could not return to practice until he received medical clearance for contact. There's no timetable for his return to game action.
''This was just the first step,'' Boyle said.
Boyle split last season between Tampa Bay and Toronto, scoring 13 goals with the Lightning but failing to reach the net in 13 games with the Maple Leafs. Boyle gained fame for his gritty five-year stint with the New York Rangers, reaching his career high of 21 goals with the Rangers in 2010-11.
Devils coach John Hynes said Boyle's comeback serves as an inspiration to his young team, which is off to a 6-2 start. Hynes said he didn't know what to expect when he received news of Boyle's illness, and he knows it'll be a while before Boyle suits up for a game.
''He didn't have training camp, so he's a little behind,'' Hynes said. ''We still have to see what he will be like in physical battles. How he handles shifts, and then, how does he handle doing that day after day.''
The Devils don't play again until Friday, giving Boyle time to find his footing in practice.
''It's a good week for him to come back,'' Hynes said.
Like Boyle, defenseman and team captain Andy Greene said he didn't know what to expect.
''My initial reaction was shock,'' Greene said. ''As soon as you hear leukemia, a lot of things go through your mind. It was all about what it meant for his family and himself. He loves hockey, but he had to think of his long-term health. We all knew what was going on. Brian was pretty straightforward with the guys. So we knew that Brian would be back.''
Boyle said he reached out to former NHL standout Jason Blake, who came back to play six more seasons after being diagnosed with CML in 2007.
''Once I talked to him, the light switch went on,'' Boyle said. ''I said, `I can do this.' He had been on this ride. It was the worst feeling ever and I was glad to know I wasn't the only person.''
He said he feels like he's been through a battle.
''I feel tested,'' Boyle said. ''It's the best way I can put it. It was very scary after the fact. I couldn't believe it was happening. My parents, my wife's parents, there was a tremendous amount of stress on all of us. But what got us through it was faith. I always had a tough time voicing my faith. We were all under attack for about a month. But my faith never wavered. With that, I think we all became battle tested.''
---
More NHL hockey: https://apnews.com/tag/NHLhockey
---
---