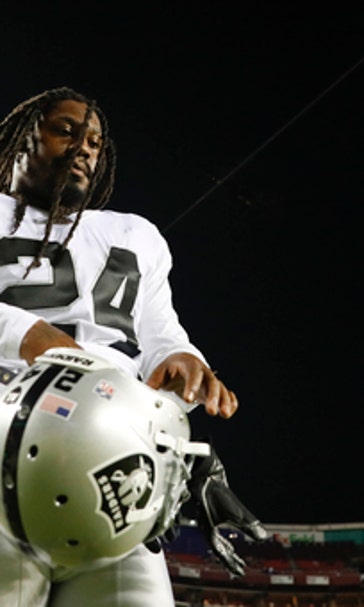 Ready for prime time? Dolphins face Raiders on Sunday
November 2, 2017

MIAMI (AP) Exciting options this week for Sunday night TV viewers include ''Keeping Up With the Kardashians'' on E!, ''Vitamix - More Than a Blender'' on QVC, and ''Anger Management'' on the CW, which might be the best choice for Dolphins and Raiders fans.
Or they can watch their own teams. The matchup between the Dolphins (4-3) and Raiders (3-5) will test the patience of their supporters and the tolerance of the prime-time audience.
The records are misleading; both teams are reeling. The Raiders have lost five of their past six games, including a 34-14 thumping last Sunday at Buffalo. The Dolphins are coming off a 40-0 loss at Baltimore, their worst defeat in 20 years.
Oakland has been the better prime-time performer of late. The Raiders' lone win since mid-September was a Thursday night upset of Kansas City in Game 7, and they've won six of their past eight night games.
The Dolphins' drubbing at Baltimore also came on a Thursday night. They've lost four of their past five night games and now play three in a row, including in their next game at Carolina, giving the nation plenty of chances to watch the NFL's worst offense.
''Very seldom do you get back-to-back national TV games, and we're going three in a row,'' Dolphins offensive coordinator Clyde Christensen said. ''We can change the impression of the country.''
Or not. Here are things to know about this week's alternative programming to the Kardashians and Vitamix:
DOLPHINS SHAKE-UP: In the wake of the humiliation at Baltimore, coach Adam Gase fumed about missed assignments and poor study habits, then jettisoned 2016 Pro Bowl running back Jay Ajayi to the Philadelphia Eagles for a fourth-round draft pick.
Kenyan Drake and Damien Williams will replace Ajayi, which hardly guarantees improvement for an offense averaging a league-low 13 points per game.
''We've still got to open up holes for them,'' quarterback Jay Cutler said. ''We've got to get the ball to them out of the backfield. The other 10 guys, including myself, all have to do our part to help the running back position.
''I don't think it's an indictment on Jay that we traded him, because he's a really, really good player, and I think he's going to go up to Philadelphia and do well.''
Cutler rejoins the lineup after missing last week's loss with cracked ribs.
BEAST MODE'S BACK: Oakland gets a boost with the return of running back Marshawn Lynch. Beast Mode was suspended last week after running onto the field during a skirmish against Kansas City and shoving an official. The Raiders rushed for just 54 yards on 14 carries without him in last week's loss. Lynch has 266 yards on 72 carries this season.
''He's a physical guy. He brings passion for the game,'' coach Jack Del Rio said. ''Those are things that we welcome back.''
NO PICKS: The Raiders are the first team in NFL history to fail to intercept a pass in the first eight games of the season. Oakland has only five takeaways compared with 11 turnovers, a big turnaround from a year ago when the Raiders had a plus-7 turnover margin at the midway point.
''We need to be playmakers aggressively going for the ball, competing,'' Del Rio said. ''That's what I'm looking for. That's what we're looking to get this second half.''
ROAD TRIP: Following the game at Buffalo, the Raiders flew to Sarasota, Florida, and practiced this week at the IMG Academy. Oakland had a similar routine last year between games at Jacksonville and Tampa Bay, winning both.
''I believe it gives the team some time to gel,'' linebacker NaVorro Bowman said. ''When we have adverse situations, we're able to stick together and not go home and focus on other things.''
DOWN AND DISTANCE: The Dolphins have converted 29 percent of their third and fourth downs, worst in the league. They're averaging 4.3 yards on first down, worst in the AFC.
''Our biggest issue has been we haven't put ourselves in great position on third down,'' Gase said. ''We've been in a ridiculous amount of third-and-10, third-and-11-plus. The percentages of converting those are so low. Right now every yard we can get to get us in third-and-6 or less is really a step we need.''
---
AP Sports Writer Josh Dubow in Oakland, California contributed to this report.
---
AP NFL website: www.pro32.ap.org and http://twitter.com/AP-NFL
---
Follow Steven Wine on Twitter: http://twitter.com/Steve-Wine. His work can be found at http://bigstory.ap.org/content/steven-wine
---
---