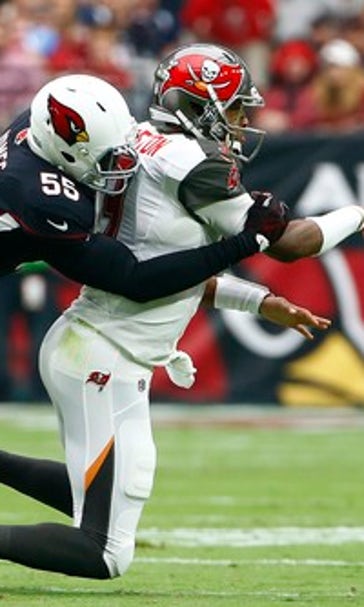 Peterson gives Arizona a run game, Tampa rally falls short
October 15, 2017

GLENDALE, Ariz. (AP) Amazing what a difference one man can make to an NFL team, especially if that man is Adrian Peterson.
For five games, the Arizona Cardinals had the worst running game in the NFL. Then Peterson came to town.
Five days after he was traded to the Cardinals after a brief, unsatisfying stint in New Orleans, Peterson showed his trademark dynamic power in Arizona's 38-33 victory over Tampa Bay on Sunday. He rushed for 134 yards and ran for two touchdowns .
Peterson, traded by the Saints to Arizona last Tuesday, had heard all the talk about how he simply didn't have it anymore.
''I do a great job of blocking out, but I'm hearing it, and when you hear those things it kind of hits you a little bit,'' he said. ''But for me, I never lost focus, and I have always understood what God has blessed me with.
''So being able to come here and have the opportunity to display it, that was satisfying.''
Big games by Arizona's three ''old guys'' - Peterson, Carson Palmer and Larry Fitzgerald - almost weren't enough as backup quarterback Ryan Fitzpatrick rallied the Buccaneers from a 31-0 deficit.
The game wasn't secured until Fitzgerald gathered in Tampa Bay's onside kick attempt with 2:02 to play. The Buccaneers had no timeouts so Arizona was able to run out the clock.
''No moral victories in the NFL,'' said Fitzpatrick, who threw for 290 yards and three touchdowns but was intercepted twice. ''We just didn't get it done. ... There's a couple of throws I'd like to have back that really cost us, but I was proud of the way the guys fought.''
Fitzpatrick came on in the second half in relief of Jameis Winston, who left with a right shoulder injury.
Tampa Bay lost at Arizona for the second year in a row. The Buccaneers lost to the Cardinals last season 40-7.
Here are some things to consider after Arizona's victory over Tampa Bay:
TOUGH WINSTON: Winston was injured in the first quarter but tried to keep playing. He finally left for good after three straight incompletions in the second quarter.
''He's one of the toughest guys I've ever played with,'' Fitzpatrick said. ''So for him to have to come out of a game, that was killing him.''
Winston downplayed the injury.
''Not concerned at all,'' he said. ''It was just pain. That was the only reason I didn't come back.''
X-rays were negative, coach Dirk Koetter said. An MRI was planned for Monday.
NEW O-LINE: The Cardinals' offensive line has been a major problem all season, but the revamped unit was solid on Sunday.
Two players were back from injuries - left tackle D.J. Humphries and left guard Alex Boone. Earl Watford, the ex-Cardinal signed two weeks ago, started at right guard in place of struggling Evan Boehm.
''I got lucky to come back the same week that Adrian Peterson got here,'' Humphries said. ''What a week to come back.''
DEEP HOLE: The Buccaneers outscored Arizona 33-7 after falling behind 31-0 early in the third quarter.
''It's just one drive at a time,'' Fitzpatrick said. ''We got a touchdown and we got that second touchdown and the defense scored a touchdown. At that point, we really had a chance.''
Arizona's final touchdown came after the Cardinals' Tramon Williams intercepted Fitzpatrick's pass at the Tampa Bay 1-yard line.
''I made too many mistakes,'' Fitzpatrick said, ''especially the big one giving them seven points, for us to complete the comeback.''
INJURED PETERSON: Arizona's other Peterson, standout cornerback Patrick, left the game in the fourth quarter with a quadriceps injury.
''I'm OK, just a little stiff right now,'' he said. ''I'll be OK for next week for sure. I just didn't want to put full power on it and put myself in harm's way.''
But Peterson had second thoughts about leaving the game as he watched the Buccaneers pull closer and closer.
''If I had to do it again,'' he said. ''I would've toughened it out.''
LONDON BOUND: The Cardinals were to leave Monday for London, where they will spend the week preparing for next Sunday's game against the Los Angeles Rams.
It will be the second trip to London this season for Adrian Peterson, who was there with the Saints earlier.
''It's good that we are leaving tomorrow to adjust to the time,'' he said. ''It took me about two and a half days to really adjust. I don't know how Miami did it coming in on Friday, but I knew we had an advantage.''
New Orleans beat Miami 20-0 in London on Oct. 1.
---
For more NFL coverage: http://www.pro32.ap.org and http://www.twitter.com/AP-NFL
---
---